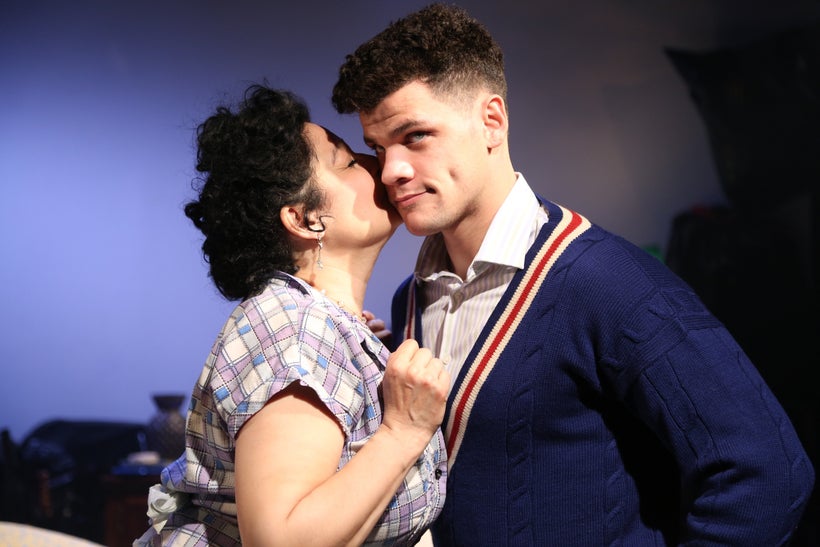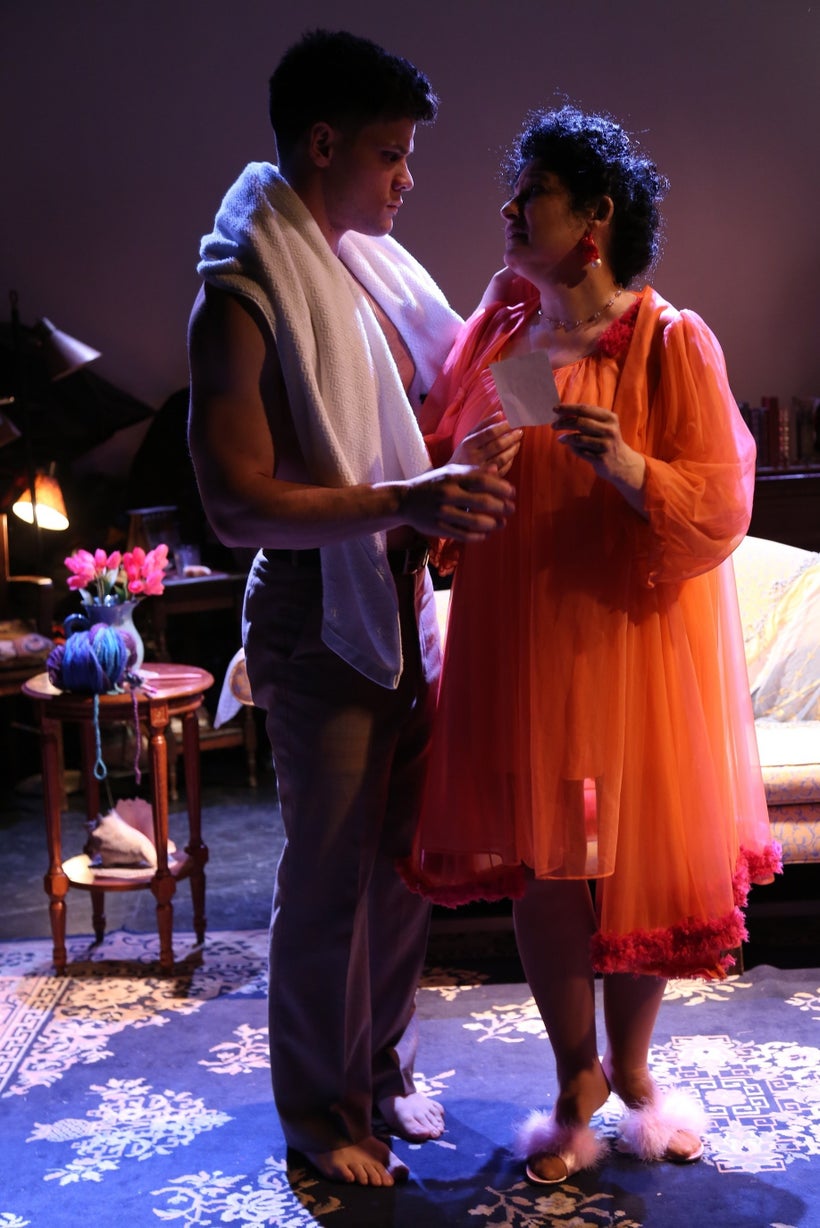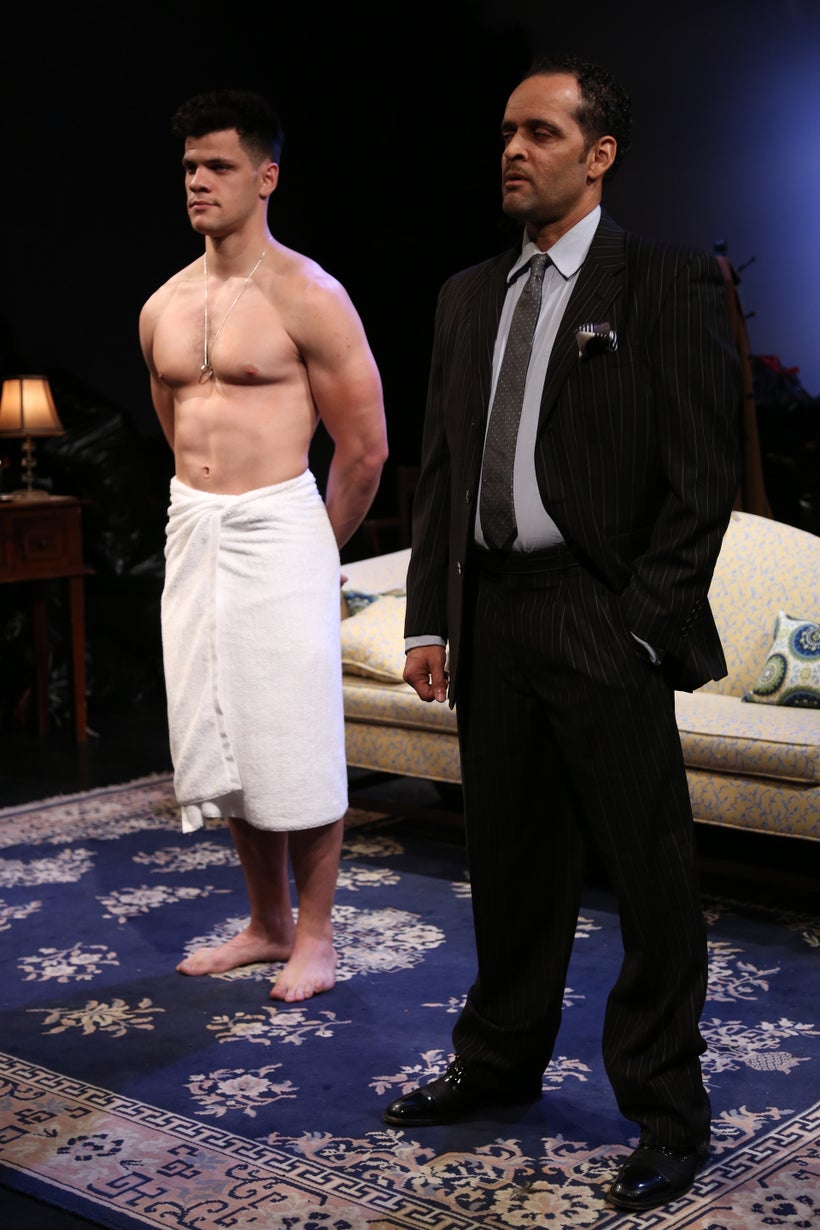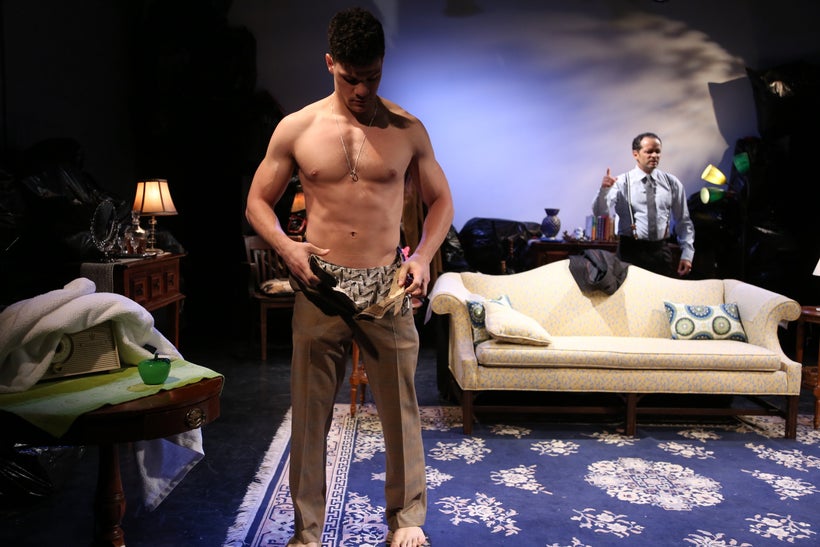 (This article originally appeared on The Huffington Post on 2/19/17.)
Joe Orton's comedic pychodrama Entertaining Mr. Sloane was considered quite shocking when it came to the stage— first in Orton's native England in 1964, and then on Broadway in 1965. A 1970 movie version, directed by Douglas Hickox, titillated potential ticket-buyers with the promises of "sadism, homosexuality, nymphomania, and murder!" Courtesy of Phoenix Theatre Ensemble, Entertaining Mr. Sloane is enjoying a revival at New York City's The Wild Project, directed by Craig Smith. Theater aficionados in The Big Apple in 2017 may have become unshockable, even with such tantalizing themes as "sadism, homosexuality, nymphomania and murder!" But even those who think they are unshockable will likely be left gasping— and guessing— throughout this lively new production. As Entertaining Mr. Sloane progresses, astute audience members will think they "figured out" just what's going on with this quartet of likably unlikable characters, two of whom are fighting for the soul and sometimes the body of our fit title character. But then, the next scene will come along— and all the audience learns is that they haven't even scratched the surface of this deliciously decadent piece of vintage vice.
As the audience waited for the actors, we were serenaded with the sounds of oh-so-innocent 60's American pop classics like Be My Baby, Leader of the Pack, and Calendar Girl as we took in the play's setting: "a house on the edge of a rubbish dump". We soon meet the lady of the house: the "41" (ahem…)-year old Kath (Elise Stone), a buxom, matronly spinster. She's interviewing a potential tenant: the 20-something Mr. Sloane (Matt Baguth). The dynamic between the two is bizarre from the get-go. Kath acts toward her strapping potential housemate with a mix of maternal instinct and not-so-veiled flirtation, with her wild eyes suggesting that she's either a bit off-kilter, or highly libidinous, or both.
(Something is clearly going to happen between the two…)
We then meet Kath's elderly father, Kemp (John Lenartz). Despite the fact that the older man is going blind, he thinks he recognizes Mr. Sloane (Cue the mysterious music…) , and tells a baiting story about an old friend of his who was murdered a while back by "a young man with very smooth skin". The murderer was never found, and the case went cold. The tension between Sloane and Kemp builds up until the old man stabs the young one in the thigh with a fork. Sooner than we can say "No Sex Please, We're British!", Mr. Sloane is lying on the settee with his pants off, being nursed by a more-than-willing landlady who's fascinated by his blond leg hairs. Kath clearly has not-so-motherly desires for Mr. Sloane (Later on, when Kath comes out in a sheer coral-colored nightgown and sprays perfume around the room, that pretty much says it all…), but the play soon welcomes the fourth character, who also takes an interest in the young man. It's an interest, we suspect, which is not too different from his sister's— but severely, shall we say, "coded" due to the taboos of that era. That character is Ed (Antonio Edwards Suarez), Kath's well-off and somewhat imperious-acting brother, who's fond of going away on men-only retreats and occasionally warns Sloane about his interest in "birds", AKA women. ("It's a phase, and with me behind you, you will grow out of it!", he declares in one of the most delectable of double entendres.) Ed's interest in Sloane manifests itself with his offering the younger man a job as his driver— and soon, Sloane's look changes from "the lad next door" to counterculture "bad boy", complete with tight black leather pants and matching chauffeur cap. The dynamic between Ed and Sloane S-L-O-W-L-Y becomes more intense than just employer and employee, with Ed "warning" Sloane about his "crafty tart" of a sister, and inviting his new protegee to come live with him.
(All together now: Something is clearly going to happen between the two… )
As promised, the play delivers its share of "sadism, homosexuality, nymphomania and murder!"— although it all happens in ways we least suspect. How can an audience in the era of naked First Ladies and transgendered decathlon athletes can still be shocked by a 53-year old British play? It's because director Craig Smith, the play's creative team, and the cast expertly transport us back to not-so-jolly old England in the 60's, an era where the country was slowly coming into its sexual revolution— albeit with a gun to its head. The characters are very "British"— never ceasing to be mannered, prim-and-proper, and… well, very "British" about all matters sexual— all while still engaging in various games of manipulation (sexual and otherwise…) In some kind of trans-generational sympathy, we feel how stirred the original audiences must have been at Orton's rebellious vision. Yet, like the characters, we revel in the debauchery. The acting of all four players is superb. As Kath, the delightful Elise Stone is a larger-than-life force of nature. As Ed, Antonio Edwards Suarez brews with the forbidden desire that dare not speak its name (The "g" word is never even mentioned.) As Kemp, John Lenartz magnetically plays a man who may be going blind, but who clearly sees right through the other characters' posturing activities. And lastly, there's the "Mr. Sloane" of the play's title. The other characters start out over-the-top, and never quite come down from there. As Sloane, the handsome Matt Baguth instead builds up momentum very slowly before finally revealing the "real" man who's the center of all the attention. And just like with the rest of this twisted tale, it's not quite what it seems.
For those who have never seen the play, the final moment of Entertaining Mr. Sloane alone is worth the 53 year wait!