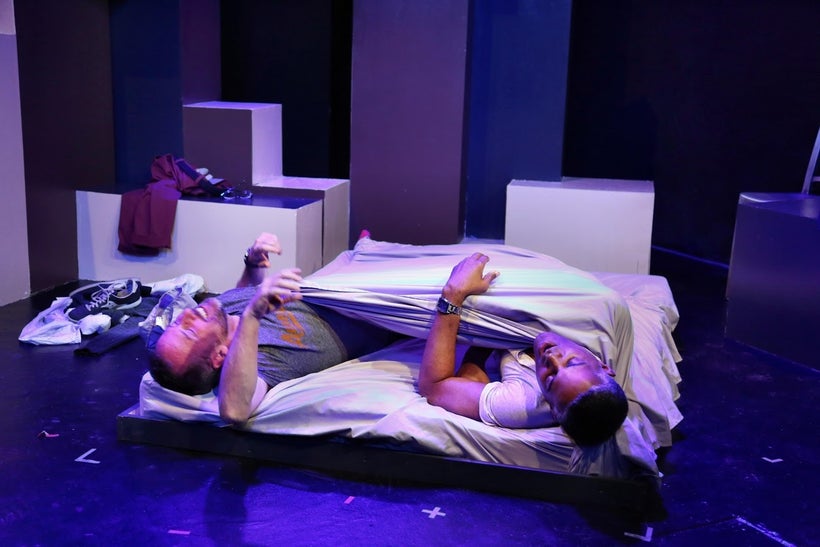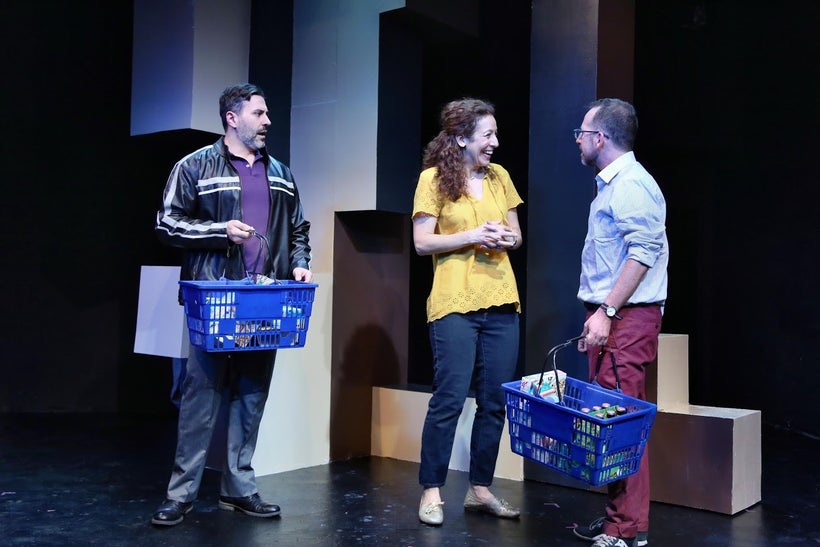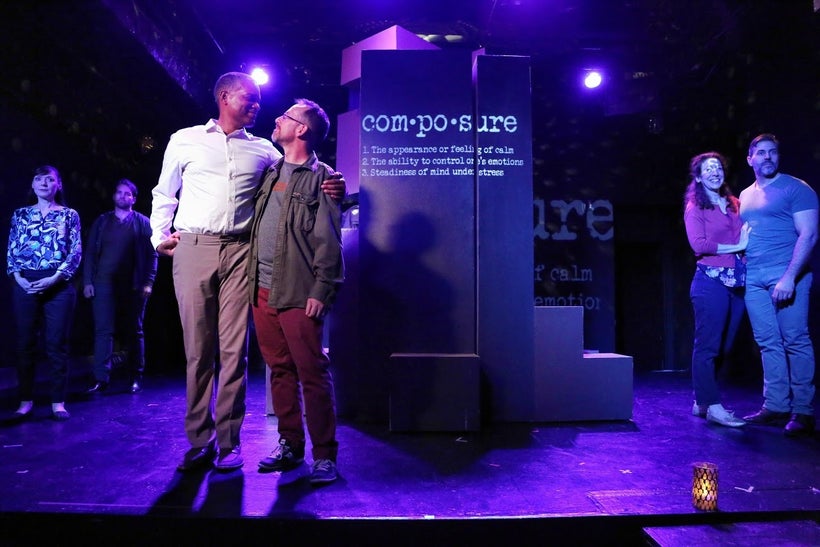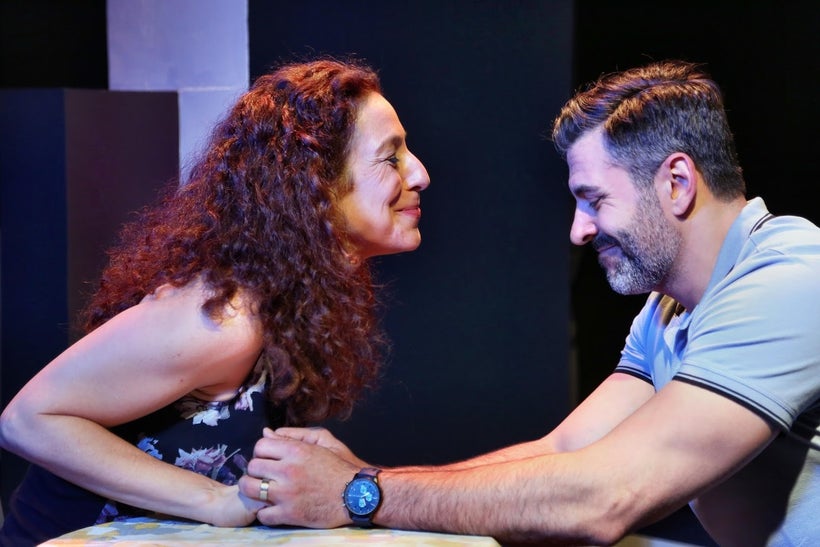 (This article orgininally appeared on The Huffington Post on 6/6/17.)
Scott C. Sickles' engrossing drama Composure, directed by Fritz Brekeller, opens with two sets of couples on stage. One couple, Jeff (C.K. Allen) and Amanda (Susan Izatt), are in the process of divorcing after 14 years of marriage. Tommy (Rob Ventre) and Beth (Christine Verleny), a seemingly happy and still-married couple with two young daughters, are the second pair. The setting is a nameless Northeastern university town. The concurrent conversations of these two couples are interrupted by the unexpected sound of gunshots. The audience, taken by surprise, soon learns that the shooting was a murder/suicide: a young love triangle gone tragically wrong.
The next character we meet is Fletcher Driscoll, an alumnus of the university who's now a professor. (As played by Robert Bruce McIntosh, Fletcher looks every bit the part, right down to the glasses and the cardigan…) A single gay man, he is returning to his hometown for six weeks to direct a new production of Shakespeare's Romeo and Juliet. In the wake of the town's recent events, the timing of the new play becomes a source of controversy due to its parallels with the real-life tragedy. That's not the only way in which Fletcher's arrival shakes the local population, however. Fletcher is visited at the university by the newly divorced and newly "out" Jeff, and the two men experience an instant and unexpected chemistry. The dramatic wheels of Composure are set in motion. Shortly afterward, Fletcher meets married couple Tommy and Beth at the supermarket. Beth is intrigued by Fletcher's love of Shakespeare and by his air of worldliness; she's flattered when her new friend invites her to the opening night of the play. Taking it one step further, Beth also encourages her imperious-acting husband to spend some time with his former classmate Fletcher during his visit. The doting wife, however, doesn't (yet) know what the audience soon learns: the two men had shared an intimate experience 30 years prior, when Fletcher was a self-described "wimpy, 15 year-old theater fag" and Tommy was "a big, strong, handsome older boy".
Meanwhile, the whirlwind romance between Fletcher and Jeff, meant to last six weeks ("Five weeks more than Romeo and Juliet", one character notes), slowly turns into more than just sexual chemistry (Could it actually be l-o-v-e?)They are facing more than just an "expiration date" on their new romance, however. External forces are challenging their relationship. Fletcher is still haunted by ghosts from his past with Tommy. Beth soon learns that something happened between these two former schoolmates, and she confronts Fletcher. In addition, yet another character emerges: one who we never see on the stage, but who plays a major role nonetheless. That character is Jeff's late brother-in-law and friend Ellis, who apparently bore a strong physical resemblance to Fletcher. The dramatic wheels keep on turning…
While it's a safe bet that most of the people in attendance at New York City's Workshop Theater that night know how Romeo and Juliet ends, Sickles' script will keep everyone guessing about the fates of his intertwined characters. It's at the opening night of Shakespeare's timeless love story— the climax of Composure— when we finally find out We also meet the last major character in Composure: Christopher (Cliff Miller, in a brief but haunting performance), the lone survivor of the shooting— who shares some years-belated, eye-opening new revelations about that fateful murder/suicide.
Brekeller's direction is organic and fluid, and the entire cast is excellent. As Fletcher, Robert Bruce McIntosh is compelling as a character who uses his humor and over-the-top charm to mask some unresolved emotional pain. As the more emotionally candid Jeff, C.K. Allen makes for an equally magnetic complement to McIntosh's Fletcher. As Beth, Christine Verleny is endearing as a wife whose unyielding brand of loyalty to her husband (not so much "blind" as perhaps "severely nearsighted") inspires equal parts sympathy and humor. In a patently unsympathetic part, Rob Ventre plays the cocksure Tommy to the hilt. It's easy to dislike his character while holding a sense of fascination for his presence at the same time. Susan Izatt (Amanda) has a face truly made for the stage: her huge, expressive eyes make her wordless acting as powerful as her delivery of dialogue in some pivotal scenes.
It may have been over 400 years since The Bard brought us the story of his iconic star-crossed lovers, but Composure is truly a theater experience for the smart audiences of 2017. The characters, dialogue, and situations are all painstakingly authentic (Dare I say "post-romantic"?)— most notably in the scenes between Fletcher and Jeff as they get to know each other in the beginning of the play. Anyone exploring the jungles of the dating world— gay or straight—can relate. That said, the second half of Composure offers more than just a touch of that fantastical, larger-than-life (Dare I say "romantic"?) aura which transcends the realism—much to the delight of the audience and of this reviewer, I might add…