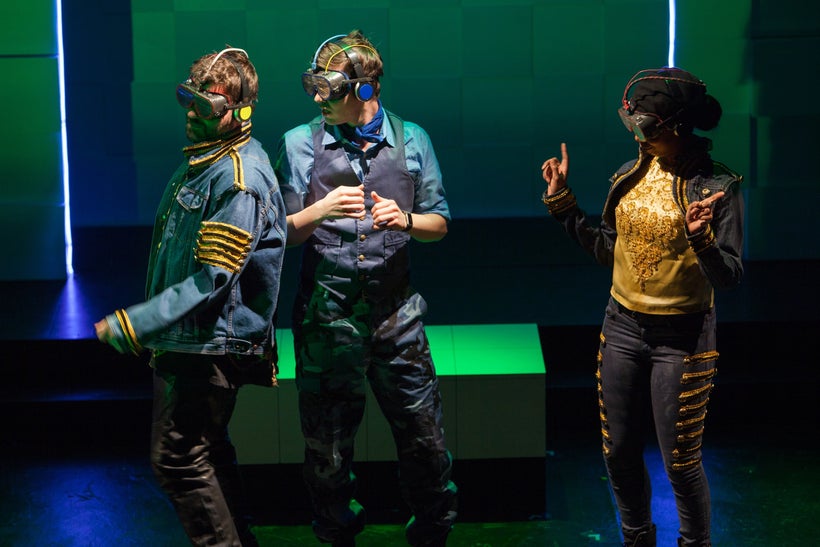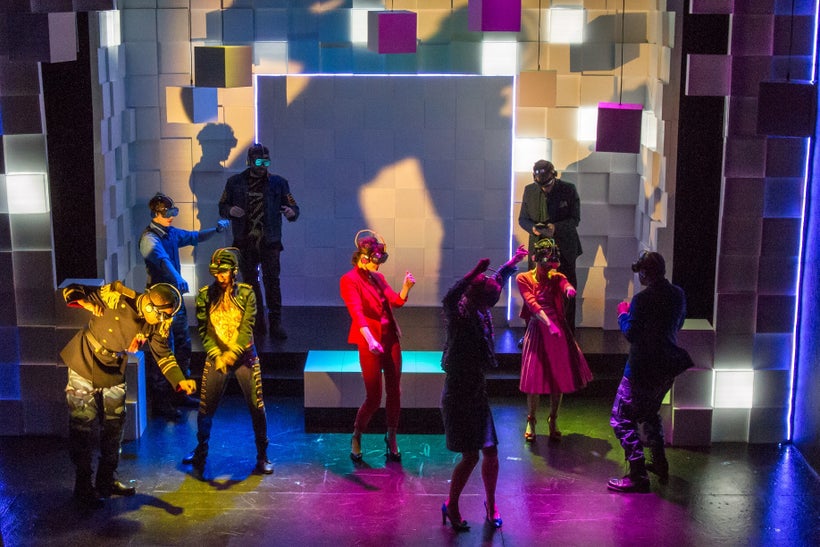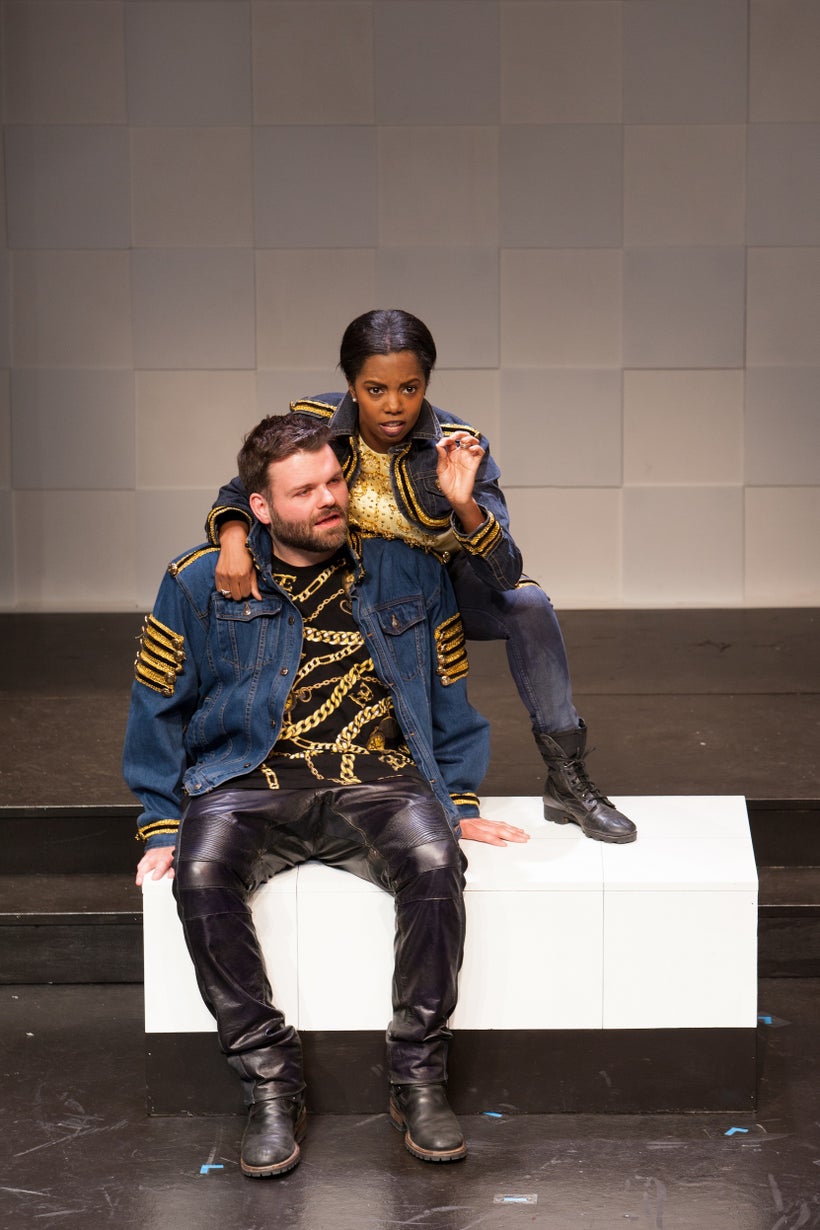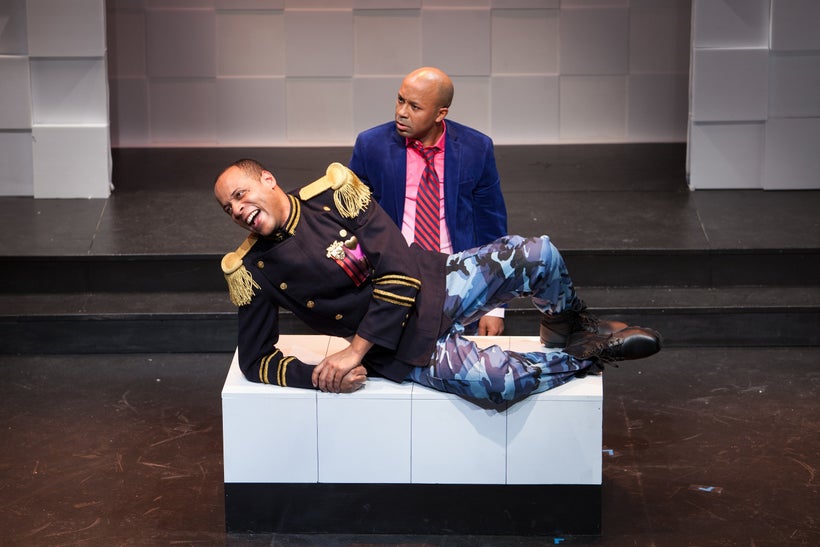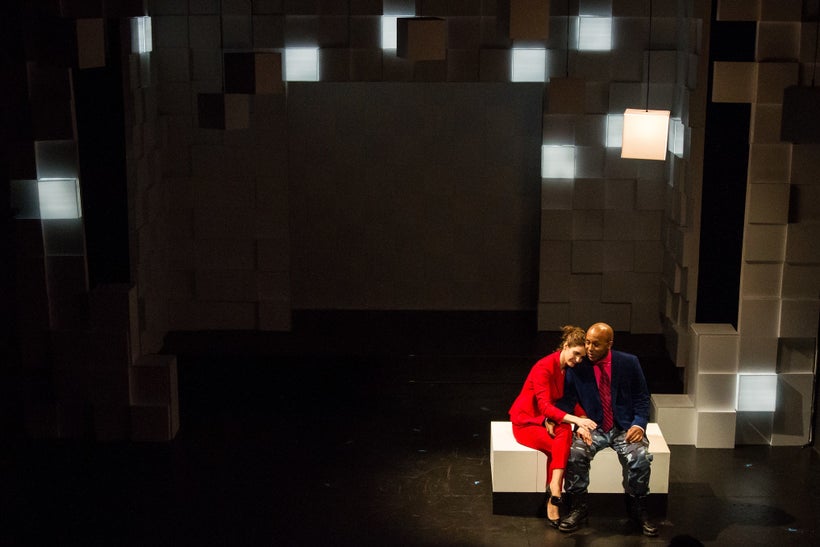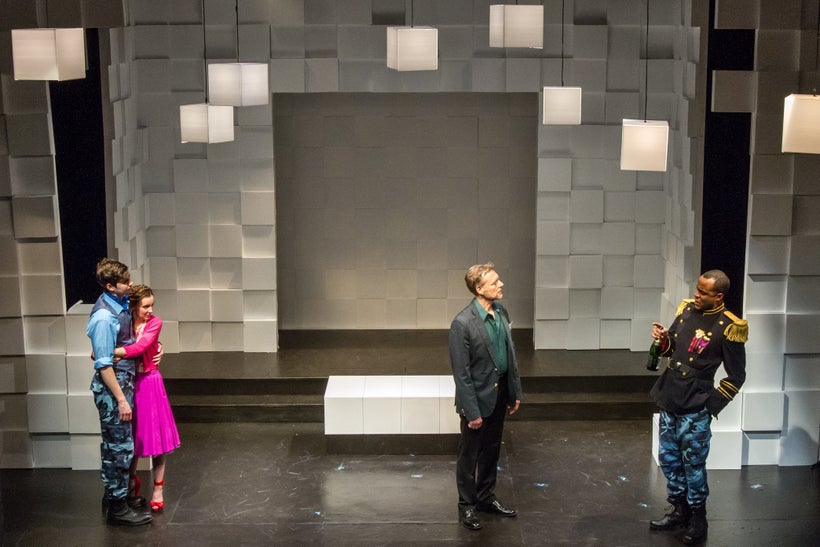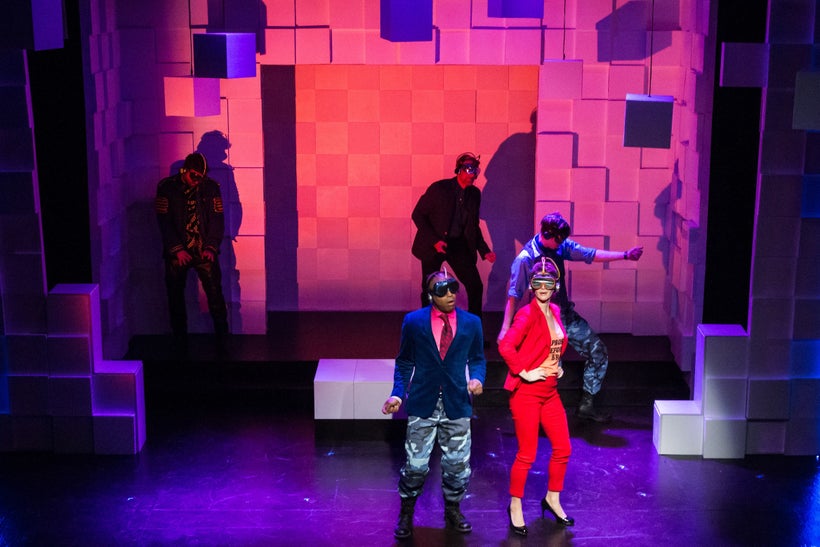 (This article originally appeared on Huffington Post on 2/20/17.)
Picture it: Sicily, sometime during the Renaissance…
Don Pedro (RJ Foster), a Prince of Aragon and respected soldier, is making his anticipated return to Messina. How do the excited women on stage react when they see the handsome and imperious nobleman? They do exactly what you'd expect anyone to do when they spot a celebrity: They take a selfie with him!
Much Ado About Nothing has been one of Shakespeare's most enduring works since it first premiered on the sixteenth century stage (presumably, without the selfie scene…). There's a reason. Underneath the laughs, the play remains as smartly entertaining as ever. The oft-performed piece about love, marriage, and mistaken identity (not necessarily in any order) has some serious undertones about the dangers of gossip and shaming. During the play, we realize just how little has changed— except that in 2017, there are more sophisticated ways to spread that gossip: namely, social media. Make no mistake, however: Much Ado About Nothing is indeed a comedy, with New York Shakespeare Exchange's lively new reinvention of The Bard's timeless piece incorporating elements of farce, word play, and even slapstick. Intentionally or not, Ross Williams' renegade adaption also allows the actors themselves to occasionally poke some gentle fun at the playwright's famously quaint, overindulgent dialogue— and, it suits this production perfectly. Like much of his work, this funny valentine of a play explores yet another chapter in history's eternal battle of the sexes— a battle which promises to continue for at least another 394 years.
But back to the plot: Don Pedro, upon his return, is accompanied by his companions Count Claudio (Cory O'Brien-Pniewski) and Lord Benedick (Devin Haqq). Claudio gets eyes for the young, innocent-looking Hero (Kim Krane), daughter of Messina's governor Leonato (Christopher Randolph) and niece of Antonia (Amanda Barron, whose character was given a gender switch from the original "Antonio"). Marriage may be in the air for Claudio and Hero. The impish Benedick, in the meantime, openly proclaims that he has no plans to tie the knot with anyone. Things start to change for all the characters during a techno-trance dance party where the ravers dull their vision via goggles to heighten their other senses. Benedick dances incognito with the lovely but high-spirited Beatrice (Carey Van Driest), who shares his cynicism about marriage. Their dance only reinforces the pair's self-declared proclamation that they don't like each other. Don Pedro and his men, however, are determined to see Benedick and Beatrice together, and they arrange for Benedick to "overhear" a conversation in which they reveal that Beatrice is madly in love with him. At the same time, Hero and Claudio arrange for Beatrice to similarly "overhear" their discussion of Benedick's undying love for her. Will the feelings of these two over-the-top characters, Benedick and Beatrice, morph from repulsion to attraction? The audience does eventually find out, but not before we get to enjoy some superb physical comedy, courtesy of Haqq and Van Driest. (Kudos to Van Driest, especially, for being able to flawlessly scuttle around the stage in some very high heels!)
Meanwhile, Don Pedro's Machiavellian brother Don John (Sam Leichter), self-proclaimed "plain-dealing villain", plots to prevent the wedding of Claudio and Hero. With the promise of "1000 ducats" , Don John recruits an equally unscrupulous friend, Borachio (DeAnna Supplee), to choreograph the illusion of Hero engaging in a forbidden romantic liaison. His trick works, and the first climax of the play occurs when Hero is shamed on her wedding day with accusations of being "un-virtuous" and "disloyal". Her fiancee rejects her, as does her father Leonato, who declares, "O Fate! Take not away thy heavy hand! Death is the fairest cover for her shame, that may be wished for!" In a play where the ladies do indeed have their say, the treatment of Hero is something of a kick-in-the-ass reminder about the treatment of women in general during that era. Ultimately, the "alternative facts" falsely branded onto Hero are debunked in a campy, circus-like trial— with Sam Leichter now hilariously playing the buffoonish Constable Dogberry to the hilt. Justice is served, and there's not just one but two happy endings!
Much Ado About Nothing boasts a look that's as dynamic as its cast, especially the high-tech lounge-style set design by Jason Lajka and the costumes by Elivia Bovenzi. Not many designers would be bold enough to combine the blindingly bright colors in the characters' ensembles the way she does (Teal suit, blue shoes, and chunky purple jewelry, anyone?). It definitely evokes the fun spirit of the fashion of the '80's— and, again, it fits the mood of this production very well. And so, I have to quote the character Benedick after he eventually breaks his vow of confirmed bachelorhood: "A college of wit-crackers cannot flout me out of my humor"… which is exactly how I felt after seeing this play.
Much Ado About Nothing continues through Sunday, March 5th, at Urban Stages, 259 West 30th Street, New York City. Visit www.ShakespeareExchange.org for more information.