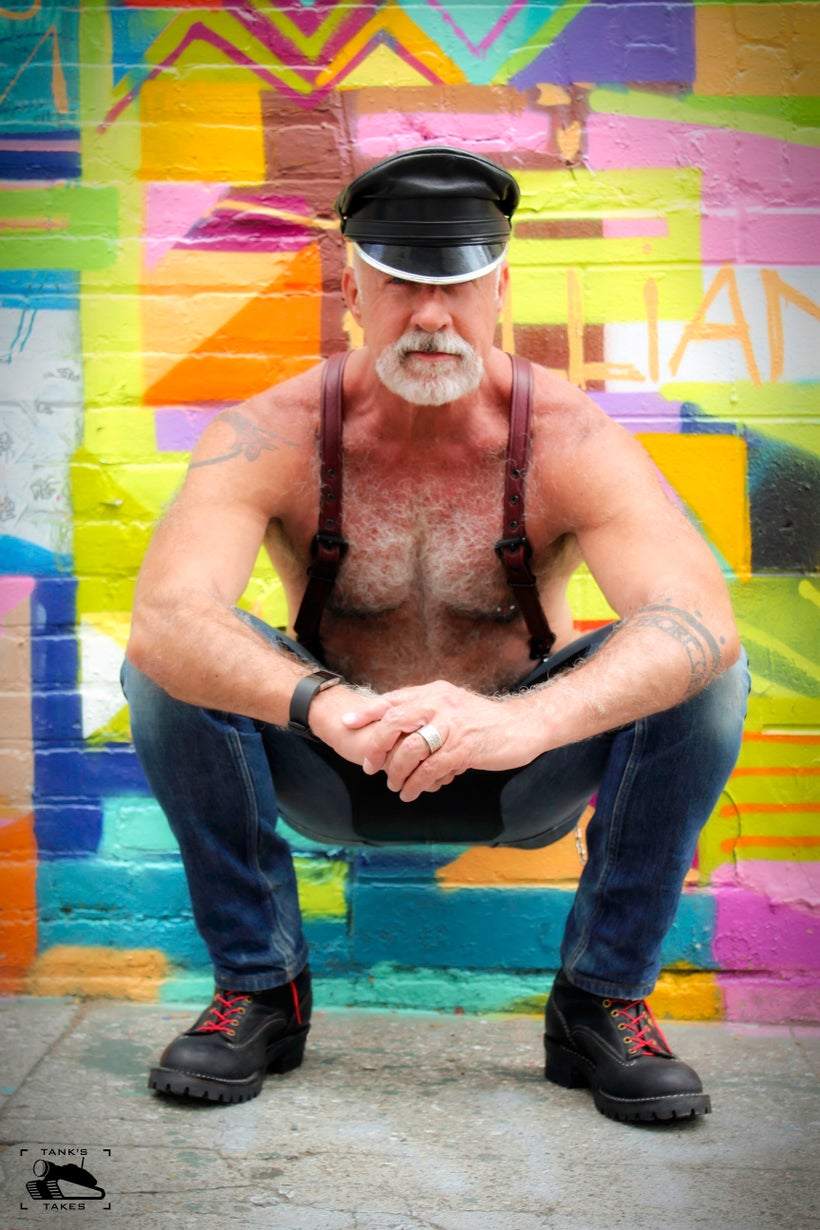 Many Americans choose to take it easy and unwind (or "chillax", as the kiddies say…) during Memorial Day weekend.  However, in Chicago, the last weekend in May is less about "rest and relaxation" than about "fraternity and faire la fête" for the GLBTQ's international Leather/BSDM/Kink community. That's because thousands of Leathermen, Leatherwomen, kinksters of all varieties, and their admirers from all over the globe convene to the so-called Windy City for International Mr. Leather (IML).  IML, one of the biggest Leather events in the world, is all about Leather awareness and education, unity in the Kink and in the GLBTQ community at large, and… celebration, of course! And, there's also that climactic moment on Sunday evening when one lucky man is selected to be the face and body of the Leather Nation. What was born as a relatively small annual event in the 1970's — the late Chuck Renslow's "Mr. Gold Coast" Contest held at Chicago's Gold Coast Leather bar — has gradually became the major happening that it now is as we approach 2018. IML has expanded from 12 contestants its first year to 63 in 2017, with men from a large number of different countries who encompass many ethnicities, ages and lifestyles.  On May 28th, 2017, the strikingly handsome Ralph Bruneau (officially, Dr. Ralph Bruneau, PhD, MFT) of Los Angeles was named International Mr. Leather #39.  At 65 years old, this silver fox broke new boundaries in the history of the contest.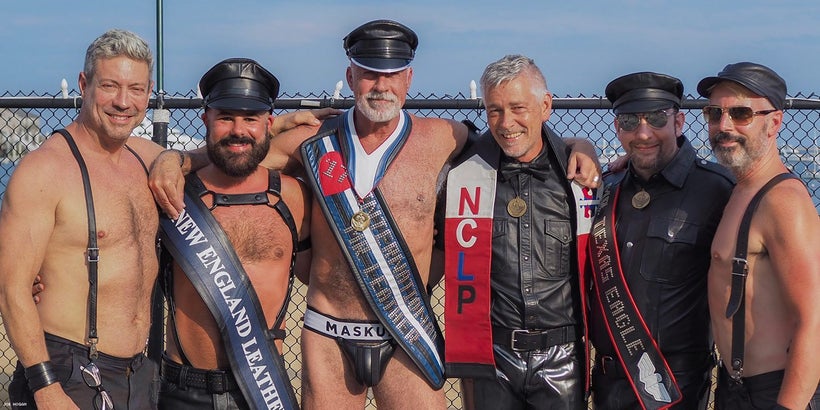 As Mr. GNI Leather 2016, Bruneau represented Gay Naturists International (GNI), a gay/bisexual/gay-friendly men's social nudity group and the largest naturist organization in the world. His victory launched the tongue-in-cheek question, "How can a nudist be a Leatherman?!"— and inspired lively conversations about the gay male naturist lifestyle for those who didn't  know that such a lifestyle even existed.  One of the tenets of nudism/naturism is accepting the beauty of the human body in its many variations— both your own as well as others'.  But Bruneau would be the first one to tell you that loving yourself is far more than skin deep: It's about having a healthy soul as well.   For GLBTQ individuals, achieving complete self-love can sometimes be a challenge.  As a mental health therapist, Bruneau has worked to help people meet this challenge: He has a sex-positive, kink-positive practice in his native LA. He's been nationally recognized for his contributions to the field of Marriage and Family Therapy in California, and has used his experience to teach and lecture about intimacy and sexual expression for over two decades. He is actively involved in eliminating the trauma of "gay shame" that plagues so many in our community, thanks to  decades of living in a homophobic society. And, he is also committed to ending the practice of "conversion therapy".
Bruneau is about halfway through his title year.  As the Leather community's most visible ambassador, he's kept a busy schedule of travel— spreading representation, education, and activism.  In between destinations, our International Mr. Leather 2017 took the time to speak with me about naturism, the Leather community, what he finds sexy, and much more!
JR: Hello, Ralph! Thanks for taking the time from your busy travel schedule to speak with me! So… you've been traveling quite a lot. What has been your most rewarding experience so far… and why?
RB: Well, the IML contest itself would have to be one the most rewarding experiences of my life. After that, there have been a number of amazing experiences. Marching in the Los Angeles Resist March with the Grand Marshal, Alexei Romanoff, one of the founders of my BDSM club, Avatar, was truly special. Riding on the San Francisco PRIDE titleholder truck with IMsL, Girl Complex, and IML runner-up, Geoff Millard, was an honor. Speaking in Berlin at Folsom Europe about Conversion Therapy as an extreme example of the trans-phobic, homophobic, and sex-phobic narratives that shape our sex lives and expression, was a new level of integration of all aspects of the man I have become.
The experience that speaks most to my heart, however, was the 2017 Gay Naturists International "Gathering." I was able to return to my sponsor club as IML 2017 and help to select my successor, Mr. GNI Leather 2017. It was so meaningful to me. We re-launched the Pocono Eagle, a dungeon space, and four Leather barracks. So many former Mr. GNI Leather titleholders were there as well as my sash-dad, five of my IML 39 brothers, and our IML den daddy with his family. It was a naturist and leather-filled homecoming that I will never forget.
JR: That's great to hear!  So, let's get some history here: When did you first "come out"?
RB: I took the leap in New York when I went to study and become an actor. My first coming out was in 1974, when I was 21, and went to the Mineshaft, the first gay bar that I'd ever been in. Thanks to the legendary Mineshaft, I wasn't dipping my toe in the water, I took a big ole cannonball in the deep end.
On one of my first visits, I got the head nod to approach a sexy older (30-ish!) guy. We talked. We flirted. He told me to strip. I did. He tied up my genitals with hemp and led me on that leash over to his friends.
I was a young actor and it was a different time but I regret not being as free as I wish for fear of not getting roles because I was gay. I imagine there are a great many LGBT men and women that wish their youth had been of a time and place where more freedoms were possible.
Coming out as gay and coming out in the kink world were two different struggles. Psychotherapist, author and former IML, Guy Baldwin, talks about the second coming out as a Leatherman. I think this is very true. It is a new level of risk, courage and self-disclosure.
IML has created further opportunities to come out. This interview. Now. At 65. Still working on being as authentic and expressive, not only for me but for those that follow. Having an IML and role model like Guy helped me to make the choices I have made. I hope to do that for others.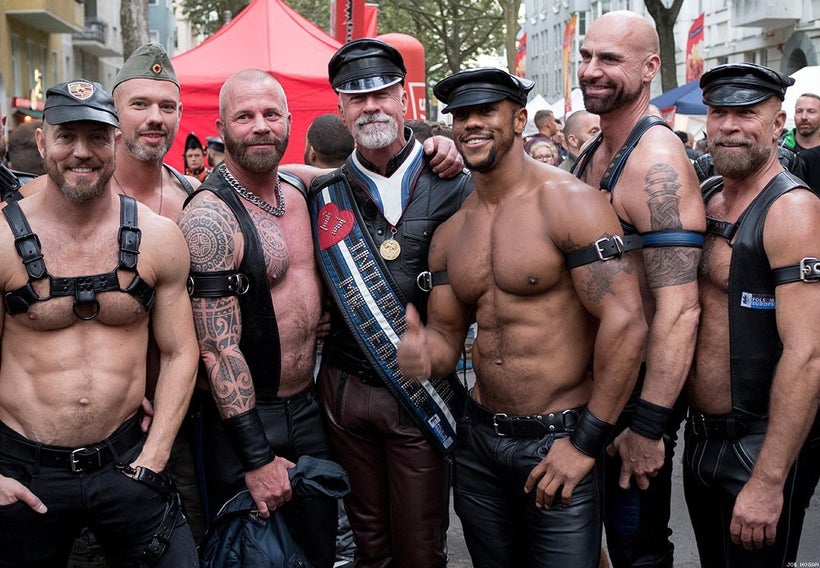 JR: You certainly do! Now… so often, in the news stories about your win at IML, the writers almost always refer to you as "the oldest winner in the history of the contest". Do you ever get tired of hearing that? Does it have anything to do with our age obsession in the GLBTQ community at large?
RB: (Laughs). No, I don't get tired of it. I'm proud of it. I think it actually speaks to a possible shift in obsession with age in our community. See, I don't think I'm inherently different. I'm not genetically blessed, a natural beauty, or a gym bunny. I work hard at my job, my fitness and my relationship(s). I'm pretty smart, pretty attractive, pretty skilled at my work and play, and I'm very committed to the health and growth of my tribe. That a man my age can win IML changes what's possible. Doors open. There aren't exceptions, there are just firsts.
I also think many times IML can be an archetype. If so, I'm a daddy archetype. Maybe as a subculture we are becoming more accepting of different kinds of archetypes.
Additionally, I think that it's easier to talk about how each IML is different from one another, rather than the many ways we are alike. I'm the oldest (by over a dozen years) and I'm also the first naturist to win. It expands the definition of what IML can be and by extension, what a Leatherman can be. What people can aspire to. I have met a good many of the men who have become IML before me; I hope any similarities to them are as noteworthy as our differences.
JR: Since we are on that subject: I'm sure that you've seen a lot of changes in GLBTQ culture through the decades. What's been the most positive change? What's been the most negative?
RB: There are so many ways to answer that question but I'll tell you my first thought. I came of age in NYC in the '70s and '80s. It was the Mineshaft, Fire Island, the trucks, the docks, old Times Square, the West Village, and the Meat Packing District. There was so much freedom. We had ways of finding each other and connecting with each other—as men and as sexual partners. It was after Stonewall and before AIDS. It was a blissful and innocent time for me and many others. It certainly wasn't perfect. There were many cultural issues to address… but for me it was an amazing, albeit naïve, moment. I am forever grateful to have had it.
Then Ronald Reagan, Ed Koch, HIV/AIDS hit and everything changed. The bright fluorescence of fear, rage, and death woke us. It is the most negative thing I have experienced in my life. The neglectful genocide of my generation of gay men has changed me forever. The men I grew of age with are gone, but it's larger than that. My age group was decimated. I don't see many men who look like me at events, bars, etc. It can be lonely and disorienting.
What has been positive, however, is to watch the ways in which our community faces adversity with empathy and solidarity. Strong lesbian women and allies saved my ass and my soul in the '80s. Women were treated with neglect or even disdain by many men in those days— but they showed up to help us, to fight for us, to advocate when we had no more strength left. Amazing. There was no precedent or expectation but it happened. I see that now: allies showing up for the POC and trans communities within our Leather subculture. In these times where it could be "everyone for themselves", we are finding strength and voice in unity.
We are certainly not perfect. Our community, like all communities, can be petty, cruel, and unaccepting just like the larger culture. I hope we strive for inclusion and unity even though we fall short sometimes. It was one of the values Chuck Renslow, who created and produced IML until his death earlier this year, always stressed.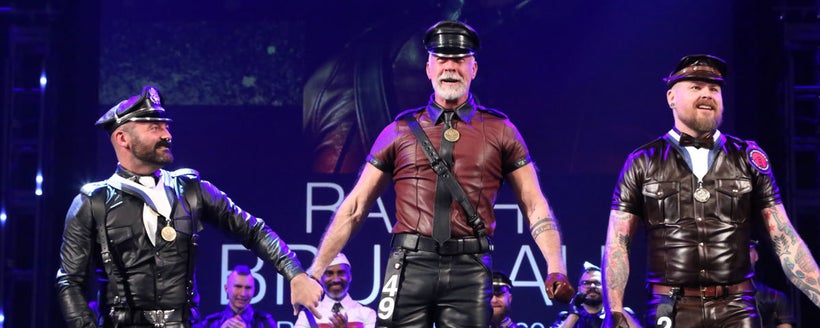 JR: Agreed! One of your missions has been to educate people about the dangers of "conversion therapy" through your #BornPerfect campaign. I remember as far back as the '70's that conversion therapy was found to be both ineffective at best, cruel and dangerous at worst. In your opinion, why do we still have to be fighting against this decades later?
RB: Only one answer: Homophobia.
We live in a county with deep puritanical roots— and they run through the medical and psychological fields as well as the way we govern. Every medical and mental health organization has come out against the barbarism of Conversion or Reparative Therapy, but it continues to be practiced in most states in the country.
We live in a homophobic, sex-phobic, trans-phobic culture which values freedom for parents and providers, over the health and security of children in this case. It's astounding.
There is so much evidence that the practice doesn't work and the results can be depression, anxiety, high rates of addiction, and suicide. We have nine states, DC and many municipalities that have enacted legislation to abolish the practice. What we're doing is working.
Because I'm a mental health professional, I've been engaged and involved since legislation was being drafted in California. We were the first state to pass and enact a ban on Conversion Therapy for minors. This was just a few years ago. I have faith that there will be a tipping point and the practice will be banned completely.
It's still a fight, however, and people need to be aware of the problem, consequences and solution which is why I have been working with NCLR and the #BornPerfect campaign. As I said in my speech at IML: "Join me. Protect our kids. No LGBT kid should ever be told they are anything less than born perfect." (Sorry. Couldn't help myself!)
JR: You are forgiven! (Laughs)  So, there has been much talk about how the Leather/Kink/BDSM has been affected by the closures of our bars and clubs… and some have also opined that the community is in some ways more about "playing dress up" than the actual lifestyle. What would you say about that?
RB: One of the incredibly eye-opening aspects of traveling as IML is the distinct ways in which we affiliate. I have met many men who don't have, or no longer have, gay bars or clubs in their home towns. Many have to travel a far bit to find a club, bar, or event. They do though.
I've always thought of our community as a tribe or a pack. Sure we can hook up on Recon or Scruff but the energy of place is so vital to us, in my opinion. Even at IML, there are tens of thousands of Leathermen and Leatherwomen who come to meet up in a large group of like-minded folks. Communing is vital. Tons of them don't even come to the contest but come for what the contest represents: a celebration of Leather and Kink. Next year is the 40th anniversary. It will be the first IML since Chuck's passing, and I'll be stepping aside for a new IML #40. Two of those things should make this next year a very significant one!
As for "playing dress up"… I don't know. I love play. I think even the most serious or intense scene needs an element of play. I think someone in a pink or gingham harness is expressing themselves as much as someone in high hide (full leather). What they're expressing might be quite different but there is a huge band which I believe falls under the banner of Kink and Leather. I have a PhD in Clinical Psychology so, for me, if there isn't play, even in the most intense expression or scene, it leans toward "acting out" and not expression for me. Not play = not safe and not fun.
JR: A lot of us see the Leatherman as the epitome of traditional, unapologetic masculinity and sex appeal. But as one of our most visible role models in the Leather/Kink communities, what do you personally find sexy in a man?
RB: There are a lot of things that I find physically attractive. I don't really have a type. There are a lot of ways that people act that I find attractive. You don't need to share my desires to be attractive to me.
I would say, however, that the ability to connect is vital. My work is relationships. That isn't an accident. I think the ability to connect and be intimate is the most important aspect of life. I learned a long time ago— and it was hard-won knowledge— that physical beauty does not make someone sexy. A big brain and a big heart are as sexy as a big package. My husband is beautiful. I was smitten with his looks from the first time I saw him. He was/is totally out of my league. Twenty-four years later he is still beautiful and sexy. He's sexiest these days when he's playing with our puppy (I mean bio-pup in this instance!). It's sexy as hell to see the way he lets himself play with her. It is, as you say, "unapologetic". No restraints. Just play. Very sexy.
I love that as much in a conversational partner as I do in a sexual partner. Power exchange in my community really has to do with trust and exposure. How much of yourself will you show/give to me? Pain/predicament may be one form of that, but it's about exchange. Sexy is when you show or give yourself to me, or I trust you enough to give or express myself to you. Again, it's why I do what I do. I think intimacy and self-expression are sexy. You could be a Tom of Finland image come to life (very sexy, by the way…) and if there's nothing behind or under the look, I'm not interested.
JR: On the subject of the naturist lifestyle: A lot of Americans just don't get it! When we compare ourselves to people in Europe, for example, there still seems to be a fear or apprehension about the human body. In this age, it seems to be getting even more pronounced: I use the example of how guys wriggle into their underwear underneath their towel in the locker room at the gym. In your opinion, have we become more modest in the last few generations? Is it just an American thing?
RB: I think it is very different. GNI is Gay Naturists International, so we have men from all over the world in attendance. I think the men who go, regardless of nationality, are going because of shared values. Naturism in the US is less natural, if you will, than in Europe where nudity is less sexualized. It just isn't part of our culture. While GNI isn't a bathhouse or sex club, the men are gay or bi and there is an element to the nudity that might feel different than on a European beach, for example. The erotic energy is more expressed, though not sexualized.
The connection between nakedness and sexuality is basic. We know that humans get erections in utero. We know that the impulse to touch yourself for pleasure is a very primitive instinct or drive. But in our culture, from the moment we are small, if our hands wander below the mid-line we are told not to do that, not to touch there— either by swatting our hand away or from a disapproving look. These messages continue throughout our lives. LGBT folks are told—not just in the extreme of Conversion Therapy—that we must adapt and conform by eradicating, limiting, or secreting our desires and longings. This can range from disapproving looks and bullying, to parental rejection, to the possible motivation for the murders in Orlando incited by images of two men kissing.
Both the Leather and naturist communities openly defy these societal constructs and celebrate the body erotic and natural. This is the intersection of the two communities for me.
I have been going to nude beaches for decades from Fire Island to Herring Cove to Blacks Beach to San Onofre. I frequent the gay/naturist sections of said beaches, mind you, so the energy was/is more cruisy. I have seen a tremendous shift in the past decades though. While there are some that remain, they seem to be diminishing and are more difficult to get to. Last time I was at Herring Cove in Provincetown, they were giving citations for nudity. There used to be nudity allowed in the Castro in SF, but they have changed those laws now as well.
So, yes, I agree, there is a "fear and apprehension" about the human body. I think we pay a high price for that. As a therapist, I see a lot of individuals and couples who are greatly impaired in their physical and sexual expression by these prohibitions and restraints. I think the fear and apprehension is even greater when it is an "other" body, a woman's body, a POC body, an LGBT body. I don't believe this to be "modesty;" however, I see it as a symptom of a morality that seeks control and prohibition. Naturism and Leather culture resist this notion and, instead, argue that nudity, eroticism, and sexuality are organic and natural.
JR: How true! Lastly, what can all of us in the Leather/Kink family, and in the GLBTQ world at large, do on a daily basis to make life better for our community?
RB: Ha! I don't know. Floss? Tip your bootblacks? Kidding/not kidding. That's such a large question, though. There are a ton of things that can and should be done to ensure the health and vibrancy of our community. I'm not sure being IML 2017 makes me a unilateral expert on what all of us can and should do to better our community. I think there are a number of leaders in our community that contribute from their particular priorities, experiences, or passions. Let me just speak from mine.
Again, unity from strength. Chuck Renslow was an activist, a Leatherman, a business owner and, in many ways, a politician. He spoke on many occasions of the importance of unity. We as a community need to protect and unite, obviously, but we also have an obligation beyond our community to protect and affiliate with those who are in need. We share our strength. As I said earlier, my life and spirit was saved by women in our community. I am forever grateful. I think we have to continually look at the ways in which patriarchy, institutional racism, misogyny, trans-phobia, and other oppressive forces operate within our subculture— and then, take steps to topple them.
My personal belief is that our youth are our most vulnerable.
I don't have kids. I've never wanted kids. I don't like kids. I do, however feel responsible to use my personal, professional, and whatever titular power I have as IML to protect those who can't protect themselves and who need our protection. This is my belief, this is my fight. I'd love for you to join but don't require or expect that you will.
I do think, however, that the fight to end Conversion Therapy is a fight for freedom from shame and stigma for generations to come. I believe, additionally, that it is a fight for freedom from shame and stigma for all of us, right now. Because, I think, Conversion Therapy is an extreme example of the sexphobic, transphobic, homophobic narratives that have shaped the lives of all of us – the way we view our sex lives, our relationship with our genitals and bodies, the way we play – BDSM , vanilla or other, and the way we can—or cannot—connect with others.
I have no shame. I did have shame. No LGBT kid should ever be told that they are anything less than #BornPerfect. They are, I am, we are all born perfect. In fighting for them everyday. I fight for freedom – personal, physical, sexual, relational, and psychological freedom. I don't believe my natural state to be a state of sin, but a state of grace. From here I can live, love, relate, and sex without restraint and prohibition. This is how I play and I'm having a hell of a time. I never thought this is where I'd be at 65. I'm savoring every minute.
JR: Thank you, Ralph! Anything else you'd like to tell the masses?
RB: Nah. I've blathered on long enough. Come see me in Chicago over the Memorial Day weekend. It's our 40th anniversary and it's the first IML since Chuck's passing. I know it's gonna be an amazing event to be a part of. Come say goodbye to IML 39 before he gets put out to wuzzieland. I love the warm embrace this year has given me as IML. The two other men on the podium with me at IML nicknamed me "Golden Daddy". This has truly been a golden time. I'd love to look out into the audience and see 4,000 smiling faces saying goodbye. 'Til then, "Ralph Bruneau, PhD, MFT, IML 2017, #39!"
You can follow Ralph Bruneau on Facebook, Twitter, and Tumblr. Learn more about IML at www.IMRL.com. Learn more about Gay Naturists International (GNI) at www.GayNaturists.org.