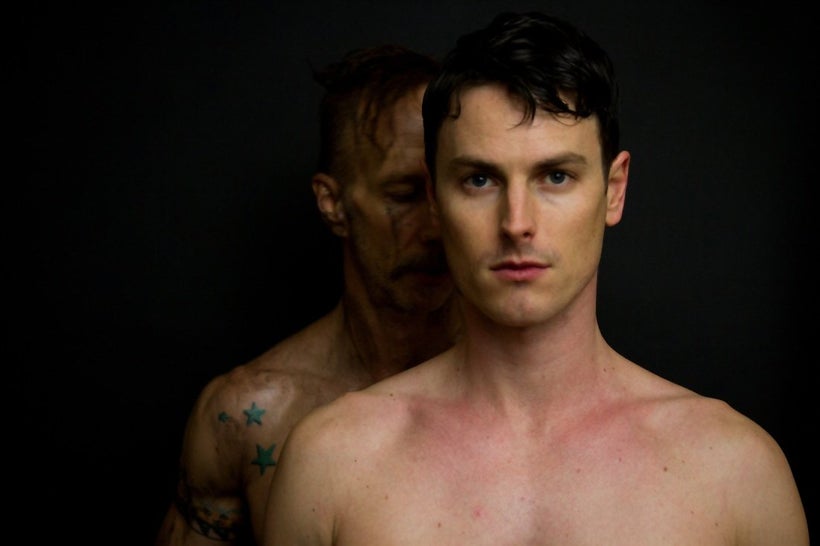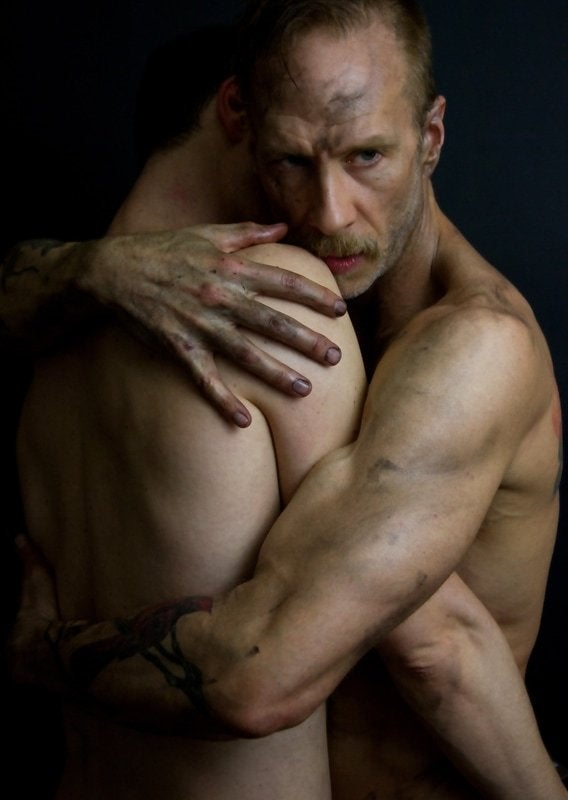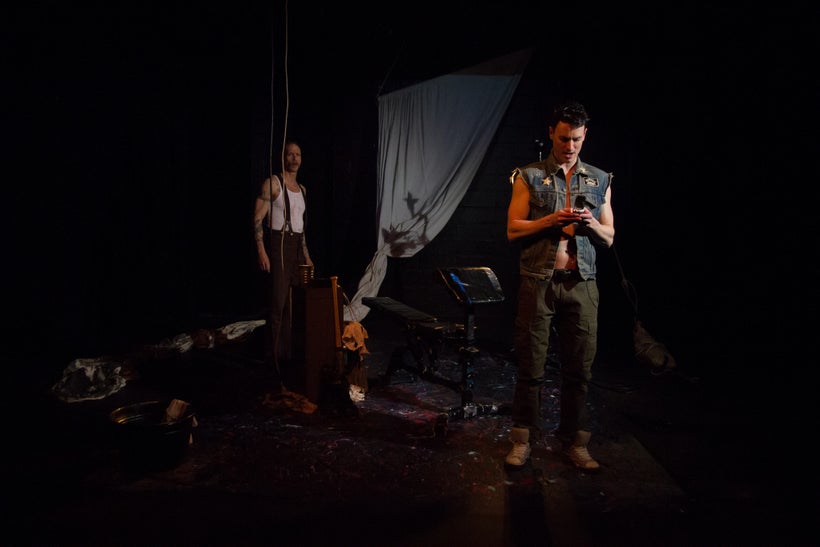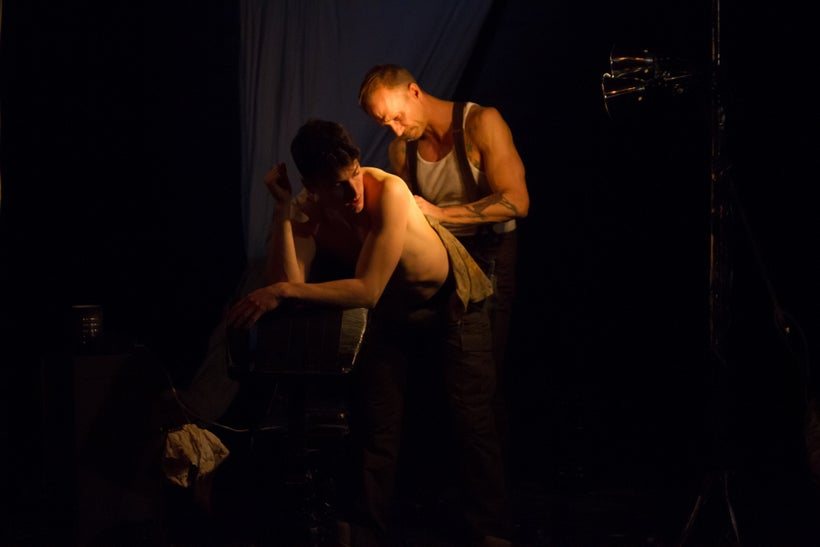 Playwright Bartlett and Obie Award-winning director David Drake transport the ancient Hellenic story to modern times— specifically, to an underground subculture of the urban gay male world. Most of the play takes place in "The Cage"— a badly lit, bare-bones makeshift tattoo studio. It's actually the basement of an dance club called "The Heavens", in an unnamed city where it always seems to be raining. We meet the two characters. The younger man, known only as "The Canvas", is inspired by Ganymede, "the most beautiful of mortals". Played by Todd Flaherty, he is indeed, shall we say, "easy on the eyes"— but this hard-bodied character knows just how hot he is, and his vanity is demonstrated when asked, "How much caffeine have you had today?" His response: "The usual. A couple of Mountain Dew Code Reds chased with three or four shots of five-hour energy, and a handful of uppers. But I had some— a LOT— of vodka to slow me down. I needed something. After that little bit of smack, crack, crank, my heart felt like it was gonna bust outta my chiseled super sexy rock hard swimmers chest." His cocksure attitude, narcissism, and self-destructive tendencies turn out to be a defense mechanism, however, for dealing with his emotional prison: We learn that this twenty-something is in a mentally and physically abusive relationship with an older, purportedly well-to-do man who we never see on stage. Barely aware of his own masochism, his only periods of relative liberty come when he go-go dances at the club upstairs, incorporating a mixture of striptease and erotic slam poetry.
The second character (played by J. Stephen Brantley), inspired by Hephaestus, is known only as "The Artist". He's middle-aged, lean and sinewy, well-inked, and seemingly hardened with life. We later learn that he's living in that dark basement studio without a phone, TV, or computer. The Artist has been recruited to tattoo the bare back of his human canvas, as instructed by the young man's abusive lover. Initially, the younger guy is resistant to the painful undertaking, but he soon sees the inking sessions as an opportunity to escape his equally painful abuse. Throughout their meetings, The Canvas both flirts with and taunts The Artist in equal parts with lines like "I like it bare with older guys!" and "You are so my type. All hot and tortured and shit!" He also shares his stories about the unrelenting abuse he faces, from being deprived of food to getting his face bloodied. The Artist, however, sticks with his take-no-shit attitude and resists the sexual advances. Very s-l-o-w-l-y, the relationship between these two different but equally pained men turns from a psychological pissing contest to something of a fragile symbiosis. The Canvas learns to enjoy The Artist's warm hands rubbing ointment into his back after the needle work. The Artist, in turn, starts to show a more (Dare we say?) nurturing side— and quite possibly, even a glimmer of some sort of sexual reawakening. The challenging characters are savagely portrayed by Flaherty and Brantley; their bold performances inspire equal amounts of fascination and pathos. The production features some innovative directorial touches by Drake.
So, the big question becomes, "Will they or won't they?" We wonder if the two men will physically consummate their relationship, especially because the sexual tension and pervasive sense of mystery builds up throughout the entire play. Because Bareback Ink is so awash with symbolism throughout, those familiar with their Greek myths may already know what's in store for at least one of these two characters at the end of the play. For others, let's just say that there is indeed a powerhouse of a "climax" at the conclusion— and without giving too much away, I'll reveal that it's quite "uplifting".
Hard Sparks' Bareback Ink continues through Saturday, March 18 at IRT, 154 Christopher Street (third floor), New York City. Visit www.HardSparks.com for more information.