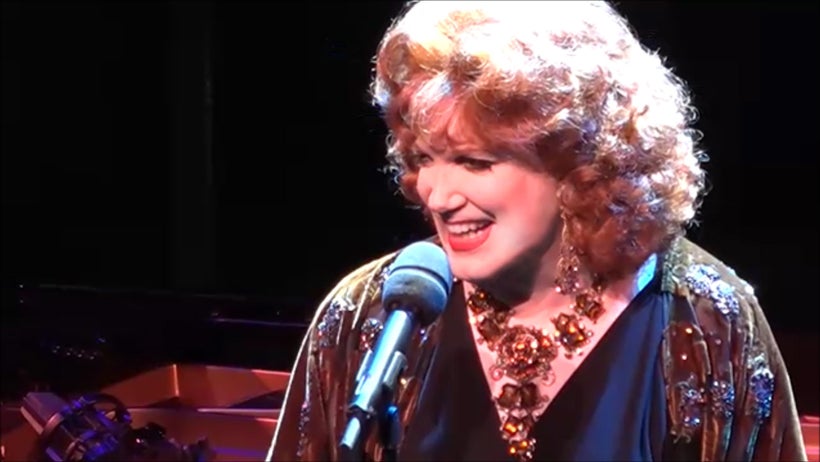 (This article originally appeared in Huffington Post on 3/6/17.)
In a particularly vibrant era of downtown New York City's arts and nightlife history, multiple award-winning playwright/performer Charles Busch gained fame as a trailblazer in a newly emerging counterculture: a bold, renegade artistic scene that defied both gender and genre. It was a new, daring sensibility which challenged both the artists as well as their audiences. Decades later, Busch continues to be the darling of the arts scene in his native New York. Beyond his hometown, his plays— including Vampire Lesbians of Sodom, Psycho Beach Party, and The Tale of The Allergist's Wife— continue to delight audiences worldwide, as have the movie versions of several of his plays. Charles Busch is known for creating larger-than-life, colorful characters in all his works. For the last five years, however, the multi-hyphenate grand dame of drag has found a new career on the cabaret circuit, playing perhaps his most larger-than-life and colorful character of all: Charles Busch himself.
The self-described "cabaret chanteur chanteuse" tells me that he has played just about every hamlet and township in California—"practically going door to door"— but amazingly has not yet played in Los Angeles. That's about to change, as Busch and his creative team (including his longtime musical director Tom Judson) head to the Golden State for a ten day tour. Busch's Los Angeles show, That Boy/That Girl, will play at Rockwell Table & Stage on March 13 and 14 . Busch also has shows in Costa Mesa, San Francisco, and San Diego on his itinerary. He tells me, "My goal is to give the sense that I'm entertaining the audience in my living room. I'm sort of Sheherazade. I have 52 years of endless anecdotes about my life and the people I've met. I love the intimacy of cabaret: that you really can share who you are with the audience— but at the same time, you don't want it to be indulgent and have it turn into 'cabaret confessional'! I choose songs that have an emotional connection to. I like to share with the audience just what that connection is. Sometimes it's humorous, sometimes it's serious. My act is maybe 65% music, 35% chatter." And yes, before you ask, Mr. Busch will still be will be drag!
Charles Busch spoke to me about his upcoming tour, 40 years of doing drag, and much more…
JR: Hello, Charles! Thank you for speaking with me. Congratulations on the new tour!
CB: Thank you. I'm looking forward to this crazy tour that we're doing. I've never done anything like this before. Five cities in ten days. It's like Billie Holiday with the Artie Shaw band! I hope I can get through this without resorting to heroin! That might be the only way you can do a tour like this! (Both laugh) Usually we have two days between cities… but this is kind of nuts. We're doing three nights in Costa Mesa, at The lovely Samueli Theater. The next morning, we leave for San Francisco. A good friend of my musical director, Tom Judson, has opened up his own club. It's very "East Village". It reminds me of the Limbo Lounge in the East Village in the '80's. It's Called Oasis and it's a funky place. It's been a big success. Justin Bond and Varla Jean Merman have played there. It will be fun to try a different kind of venue than I usually do. We're on that night, and then there's L.A. the next night. Two shows there. And then we actually have a day off. Then it's Palm Springs, and we do two nights there. This will be the third or fourth time we've played Palm Springs. We're in a new venue, a lovely room called The Purple Room. It's a place that's been around a while but has been revamped. Tommy Tune and a few others have played there. It's the place to be! Between cabaret dates and benefits, I've performed quite a bit in Palm Springs. I love it. I totally "get" Palm Springs. I get the whole picture: the climate of the desert, the mountains… I can even see myself possibly living there in the future!
JR: (Laughs) As much as I love New York, so can I! Maybe we will be neighbors!
CB: Also, about two years ago I was in a benefit for charity: a staged reading of The Women with an all-star cast of ladies: Florence Henderson, Lorna Luft, Lucie Arnaz, Michelle Lee, Mo Gaffney… We had a ball. But back to the tour: After Palm Springs, we actually do have three days off, and then we go to San Diego. That will be a benefit for The La Jolla Playhouse. So yeah, it's a crazy tour! We keep going up and down the coast! You'd think that we'd slowly make our royal progress northward! But instead we go south to north, north to south… The last time I played California, we played San Diego and Palm Springs, but in the middle we took a detour to Three Oaks, Michigan! That made even less sense. But you take 'em as you get 'em, honey! We seem to have a genius for playing in the worst weather. We've played Key West in July and Wisconsin in January! The challenge is that we're actually doing two different shows: We're doing one show called The Lady at the Mic in Costa Mesa and Palm Springs. The other times, we're doing my regular touring act. If I can remember all this, it means that I am in fabulous shape, both mentally and physically! If I pull this off, it will be so affirming that I am in top form! If I don't pull it off, then it will be very distressing! (Laughs) I just hope I don't get all the stories mixed up! My act is a very personal thing. It's a collection of me telling anecdotes about my life and my career and people I've known, and also a collection of songs from all types of different composers.
JR: To your fans who know you primarily from your plays and from your roles on movies and TV, is it a surprise for many to discover that Charles Busch can actually sing?
CB: It's a surprise to me! (Laughs) Where I started and where I am now is quite different, I think! Tom (Judson) is very strict with me with all those pesky little things like tempo and pitch. Imagine! But I've just learned so much. And the more you do something, the more confident you get. The more confident you get, the more skilled you become. So, I really have grown a lot. But I also made a radical move last year: I took some singing lessons. That was very helpful. The way I've approached this whole singing racket is through acting. I've always tried to find songs that I can turn into into a mini-play, songs that are very "actable". But what I am finding now is that I can actually "sing" them more now. I was originally being very "Elaine Stritch" in that my insecurity or fear that my vocal chops weren't all I wanted them to be. I was doing a lot of "talk singing". When I really listened to myself, I think that now I can trust the music more. I am trying to use the melody for dramatic purposes. It's not just the lyrics. The actual melody itself is the emotion! In the early '90's I did quite a few cabaret engagements. At that time, I felt that the audience was really there to see me be funny, and that I could maybe get away with one or two ballads. But now, there are no rules! I sing quite a few dramatic songs. But I also get the laughs too. And the laughs always come right away, honey!
JR: (Laughs) People will want to know: As you move towards to "playing yourself" rather than a fictional character that you've created, are you still going to be performing in drag for this tour?
CB: I'm still in drag! I'm pondering at some point perhaps "de-dragging" my act, but in this West Coast tour, I'm still in costume. But sometimes, I wonder "What constitutes drag?" I still try for a glamorous look, but I don't wear falsies, and I wear pants… so it becomes a fine line. Does wearing a wig make it drag? Or false eyelashes? I've always enjoyed that in my plays: to test the audience in what constitutes drag. In Psycho Beach Party so many years ago, I played this character named "Chicklet"… a teenage girl. There's a scene when I'm on the beach, and I'm changing, and I was topless. So there I was in my bare chest, and I said, "Oh, I'm built just like a boy! I wonder I'll ever fill out!" It was one of the biggest laughs I've ever had in my career. In Vampire Lesbians of Sodom, my breakthrough play, there was a scene where I was I was this young virgin being sacrificed. I was basically nude, except for a G-string, a wig, and a pair of heels. But it was still drag. Drag is more of a frame of mind than a costume!
JR: Hmmm… I never knew that! Now I'll have to look back to see whether you were ever wearing falsies in any of your roles!
CB: (Laughs) A big part of the pleasures of performing in cabaret is projecting a version of yourself that is very close to who you really are. And so, I can't help but feel that my having "padding" is that it's like an armor that's separating me from the audience. It's just a feeling. I usually wear pants— jumpsuits or slacks— rather than the artifice of a big gown. After 40 years of doing drag— 40 years!— I am just so at ease with the mix of masculine and feminine in my own personality that it's not about transformation at all. I do tap into the more feminine part of my personality; it's just very easy for me to do. It's almost like simply walking into another room. My onstage persona is very, very close to who I am in real life; I just dial it up a bit. If indeed in the future, I eliminate the drag component completely, it won't be that big of a deal. In fact, if I'm performing at a benefit where I'm only doing one song, for example, I usually won't do it in drag!
JR: Well, you look great as both a man and as a woman! So, without giving too much away, can you give us a sneak preview of what to expect on your tour?
CB: I change the program all the time. But among the composers, I'll be doing songs by Paul Williams, and Stephen Sondheim, and a country western song by the very talented singer-songwriter Ashley Monroe. It's a very eclectic group of songs. I might be telling a story about the odd, awkward things that people say to you after a show… like "I loved it, but my friend didn't get it!"… or I'll get, "I never even heard of you. I had to be dragged here!"
CB: It's very awkward talking to people after a show. I've made my fair share of blunders. One time I was doing a benefit with Bea Arthur. The show was going on so long that I was getting delirious. Somebody mentioned Rue McClanahan, and I mentioned to Bea, "Did you ever work with Rue McClanahan?" Bea gave me that classic Bea Arthur deadpan look and answered, "I did two series with her. Sixteen years!" I was mortified! I know everything about show business! At any given moment I could give you the names of 29 cast members of Gone WIth The Wind! Of course I knew about Bea Arthur and Rue McClanahan… but I was delirious!
JR: (Laughs)Luckily, she probably thought you were being funny!
CB: No, she didn't! She looked at me like I was insane!
JR: (Laughs) Uh oh! With one look, Bea could rip your heart out! (Laughs) So, as we progress with 2017, has the current turbulent political climate affected your message or direction as a performer?
CB: It is a little awkward. Our challenge is "What do you say?" And, you don't want to alienate people who have a different point of view… unless your goal is to do a political performance. But I'm not doing that. At the same time, I do have my own fears and questions about the future… so, I do address it a little bit. But I don't want to alienate anyone who comes to see me. Although, generally, if you're coming to see a drag performer, I'd imagine you'd be a little bit more progressive in your thinking! But I've never really been a political performer. One could say that just the fact that I'm trading in sexual ambiguity that I'm perhaps making a point: making people more comfortable with gender fluidity. If I have, I'm proud of that! But I've never been really an overtly political performer. I'm not comfortable with that, or articulate enough to engage in that kind of conversation. I will keep that in my own private work!
JR: Earlier, you mentioned working with Florence Henderson. She was one of many icons who we lost in 2016. Was there a fellow performer who we lost in 2016 who you had a special affinity for?
CB: The year before, or maybe two years before, it seemed like all these ladies who I loved— or who I had a connection to— had passed. Joan Rivers was one. We also lost Polly Bergen, who was a great friend of mine; and Marian Seldes, the great stage actress. There was also Geoffrey Holder: He wasn't an actor but he was a great friend of mine. I was getting very self-conscious; I was writing a eulogy every few days on Facebook about all these different people. Either I was the "angel of death" or an opportunist (Both laugh). But Joan Rivers was a real loss to me. We really were friends. I feel that a certain kind of magic went out of my life when she died. I just adored her. Her public persona was somewhat true to who she was, but she was also this enormously sensitive, generous, intelligent person who was so genuinely interested in other people. You could be with her and really feel that you were not part of an entourage; that you were really with her. She was interested in who you were and what was going on with you. I admired her as a comic my whole life, from the '60's when I was a kid. In the '90's she would come to my shows and then come backstage— but I only really got to know her in the last six or seven years of her life. That's the Joan I knew. I miss her!
JR: Oh, so do I! So, lastly: Anything else you'd like to tell your fans?
CB: Well, I have merchandise! I have my own CD, Charles Busch Live at Feinstein's/54 Below, from my show in New York. This whole tour could even be thought of as a promotional tour for this CD. I sing a lot of songs from that record. I never, ever though that I would have a CD. So, I get a real kick out of that!
JR: Congratulations on that! I can't wait to hear it! But, I think I'll wait to hear you in person!
JR: No, thank you! And enjoy the warm California sun! How jealous am I?
Charles Busch launches his California tour with Charles Busch: The Lady at the Mic at Samueli Theatre at the Segerstrom Center for the Arts, Costa Mesa, California, on March 9th through the 11th before continuing to other cities. Visit www.CharlesBusch.com for more information.