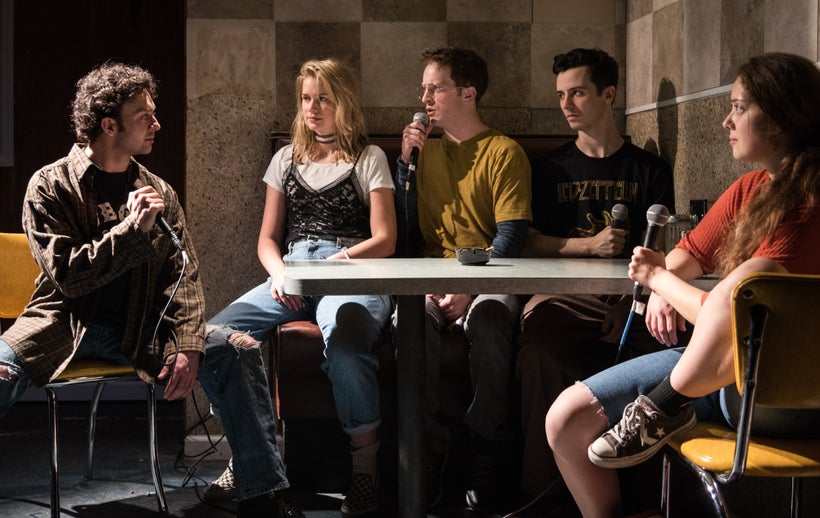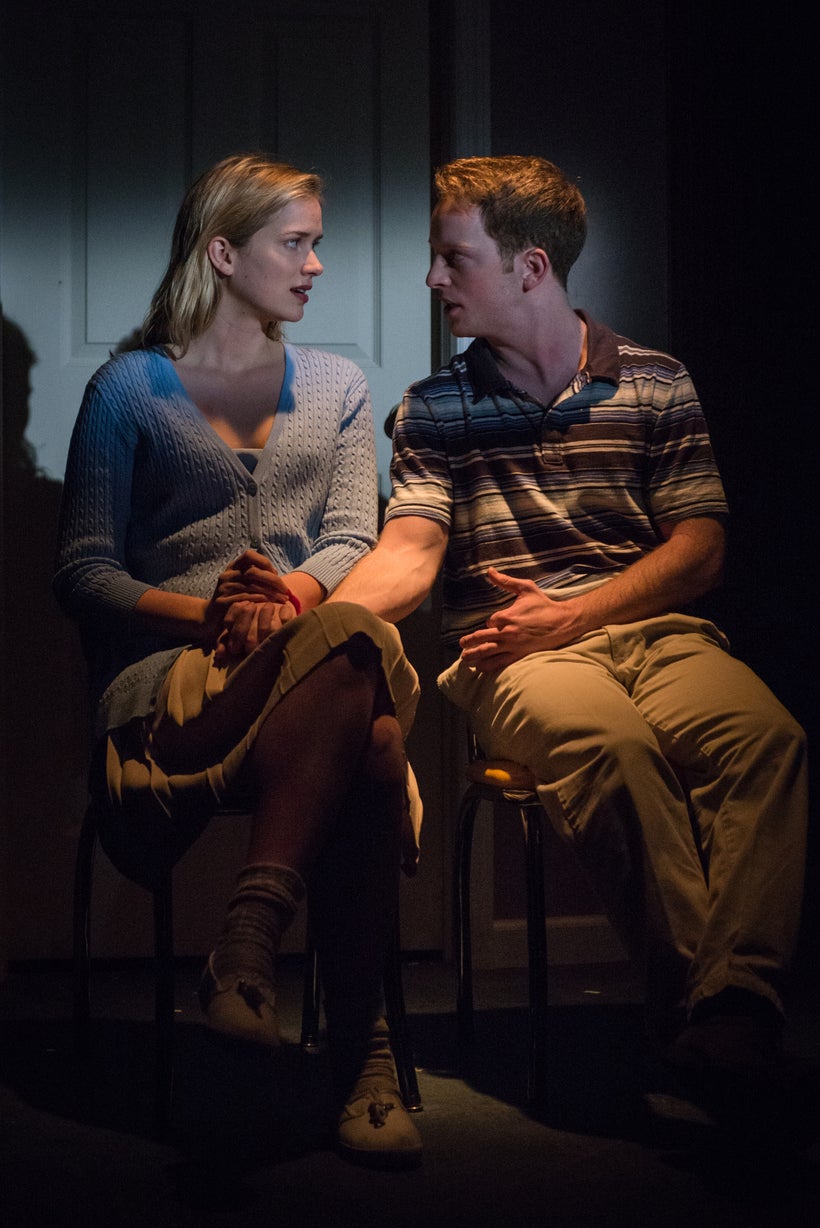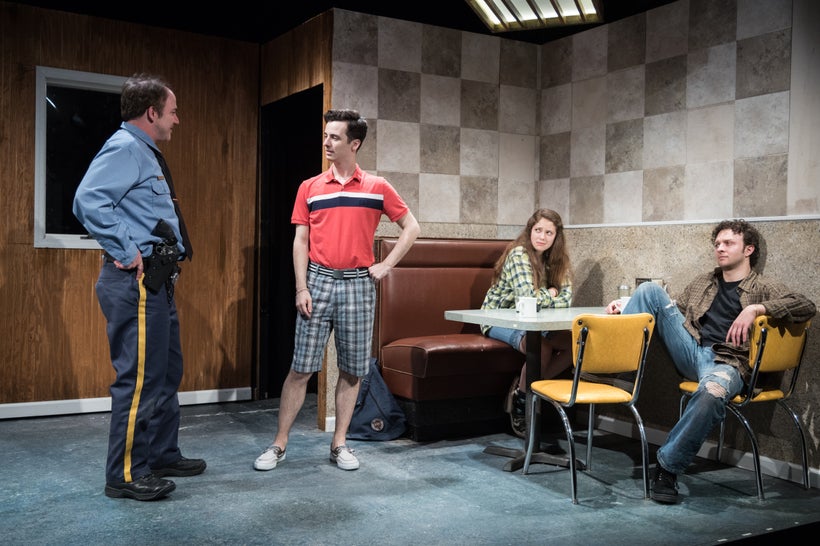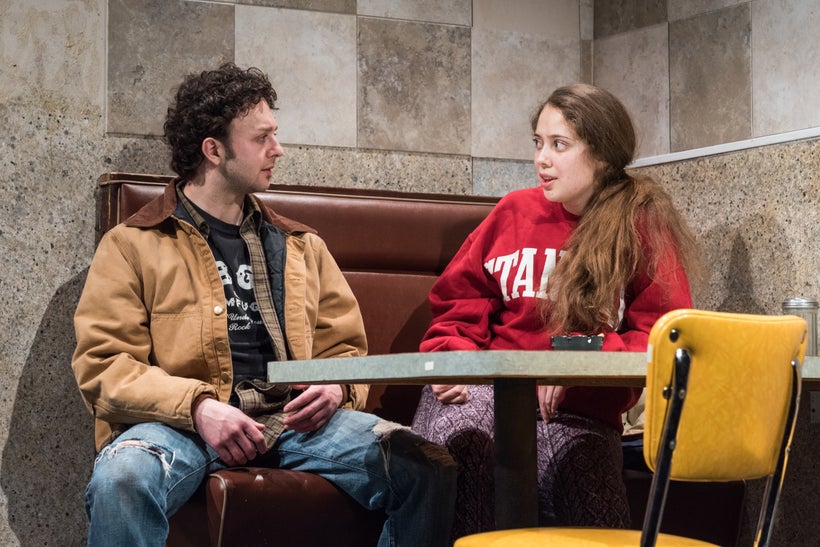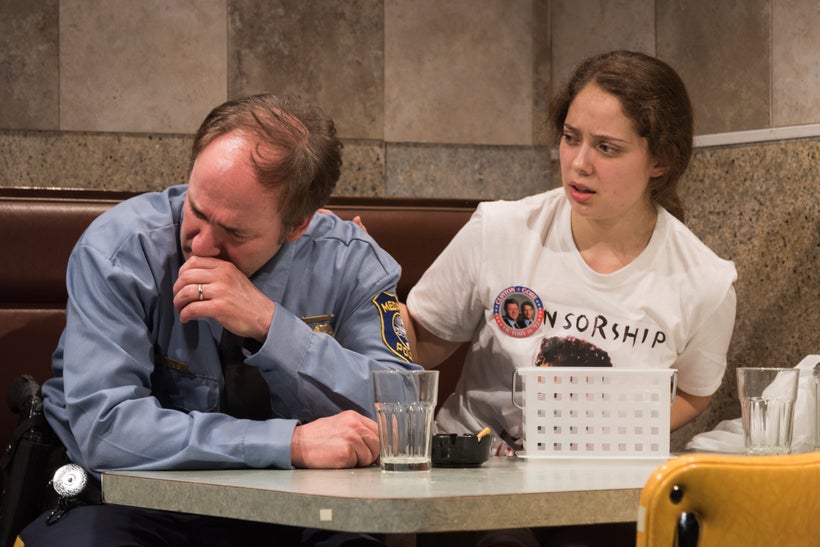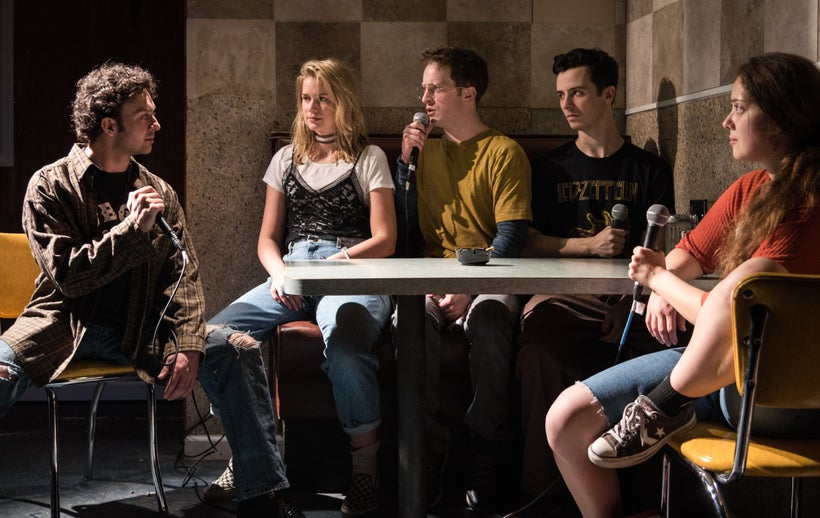 (This article originally appeared on Huffington Post on 3/3/17.)
What is the "Nibbler"?
Eighties-era gamers who spent most of their youth— and their quarters— at the arcades may remember "Nibbler" as a video game from 1982. Inspired by Pac-Man, this Nibbler was a giant snake who crawled around a maze, eating dots and growing bigger as he ate. While even joystick junkies regarded it as a pretty mediocre game, Nibbler actually became famous as the first video game where it was possible for a player to score one billion points (Weren't you just dying to know that?). The titular "Nibbler" of Ken Urban's magnetic new play, presented by The Amoralists and directed by Benjamin Kamine, is not a snake but rather an alien who also grows larger over time. The audience does indeed get to see the Nibbler in physical form on occasion. But just how real is this extraterrestrial?
A coming-of-age mix of comedy and drama (with more than a touch of fantasy thrown in), Nibbler is set in the suburban town of Medford, described sarcastically as "one of New Jersey's hidden gems, nestled within the beautiful South Jersey Pine Barrens!". We are transported back to 1992, when mix tapes were still in vogue and there was a distinct absence of I-Phones and social media. That was also the the year of the Clinton/Bush Presidential race, which becomes a pivotal aspect of the story. The audience is introduced to a group of five tight-knit friends, who are getting close to the the end of their senior year in high school. While making references to Morrissey, Depeche Mode, and other new wave groups, these fresh-faced kids gossip, clown around, and talk about their post-graduation plans at the local diner. Would-be lovers Hayley (Elizabeth Lail) and Matt (Spencer Davis Milford) have more immediate plans before Graduation Day. They ditch their friends and sneak off to an abandoned haunted house to have some, shall we say, "private time". Before you can say "coitus interruptus", their perpendicular dance is stopped short by some very odd— and possibly supernatural—happenings. The next time we see them, Hayley has traded her T-shirt and jeans for a Cardigan-and-skirt ensemble, while Matt is in his best J. Crew. More jarring than their new wardrobe, however, is their change in personalities. Matt is now spouting the Republican manifesto. By the time he declares that famous 80's catchphrase "Just say no!" to his pot-loving peers, his friends— as well as the audience— knows that something VERY strange is going on. Later on in the play, best buds Adam (James Kautz) and Pete (Sean Patrick Monahan) meet up for a night of "Michelob and Wicked Ass Blasters 4", AKA beer and porn. Their scene of "male bonding" may be a bit too disconcerting for more sensitive audience members, but it's also a boldly realistic depiction of unfiltered male friendship. Soon afterwards, Pete undergoes a surreal occurrence similar to Hayley and Matt's, but with a very different result: The incident brings out repressed sexual identity and sexual feelings. Later on, those sexual feelings explode in yet another daring scene between the two besties. Even by today's unshockable standards, it's pretty explicit stuff.
Meanwhile, the hungry-eyed and hungry-souled Tara (Rachel Franco, whose expressive face seems patently made for the stage) is longing for… well, something greater than what her suburban surroundings can bring her. She finds love or something like it with a forty-something, married policeman (Matthew Lawler). Later, she experiences an "out of this world" sexual epiphany— but NOT with her boyfriend the cop— that's accompanied by an enlightenment of another kind. Again, we ask: Is the "Nibbler" real, or just a symbolic manifestation of something else? One thing's for sure: Whenever that alien appears, things transform. As one character observes later on in the play, ""Christ, it's like everyone's just changed overnight!"
Fantastical elements aside, Nibbler is a very real story about crossing that not-always-defined line between teenhood and adulthood. The play explores the challenges of moving on. One of the young characters, however, is conflicted in that he is either unable or unwilling (or both) to do just that— and he's painfully aware of that fact. Nibbler may be set in the grunge era, but the transitional pains depicted by the five high school seniors, as well as by Lawler's sympathetic middle-aged policeman, are timeless. The sincerity and realism of Urban's script is matched by all of six of the easy-on-the-eyes human characters, who are unilaterally fearless, passionate, and energetic with their roles. Like the titular character, you'll want to sink your teeth into this one.
Nibbler continues through Saturday, March 18th at The Rattlestick Playwright's Theater, 224 Waverly Place, New York City. Visit www.Rattlestick.org for more information.