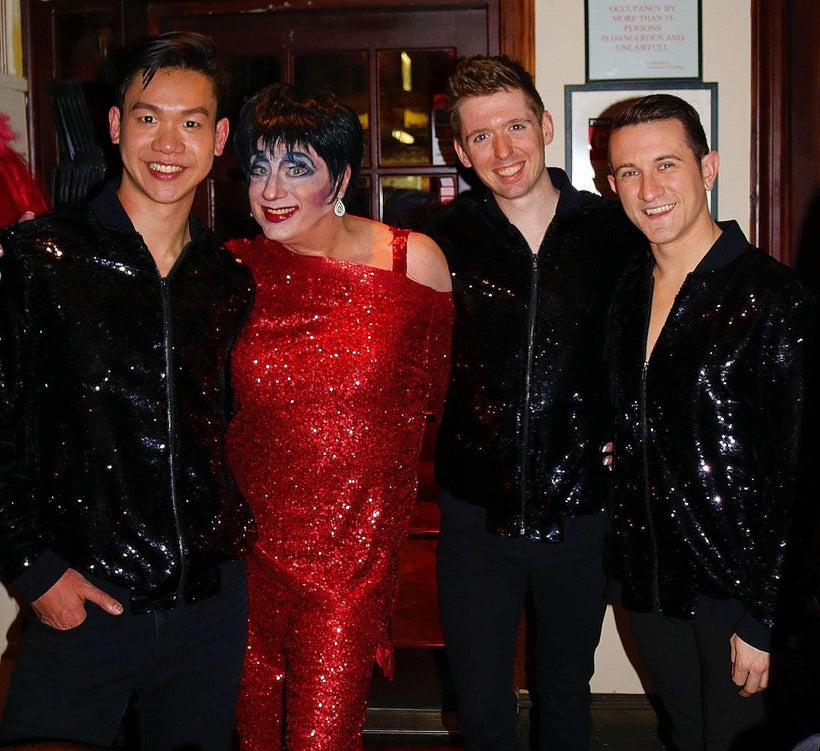 Rick Skye's delightful new musical piece at New York City's famous cabaret hotspot Don't Tell Mama is called Bazazz! A Sequined Variety Show. Far, far more than just a female impersonator "doing" a famous celebrity, Bazazz! is a both a lovingly naughty tribute to a living legend as well as a slice of trans-generational pop culture pie, with Skye's Liza as the robust cherry on top. From the moment Skye-as-Minnelli sashays (carefully!…) on stage with her trio of sexy backup dancers (The Kit Kat Boys: Matheus Ting, Ryan Lind, and Vince Peralta), the audience knows they're in for something deliciously decadent.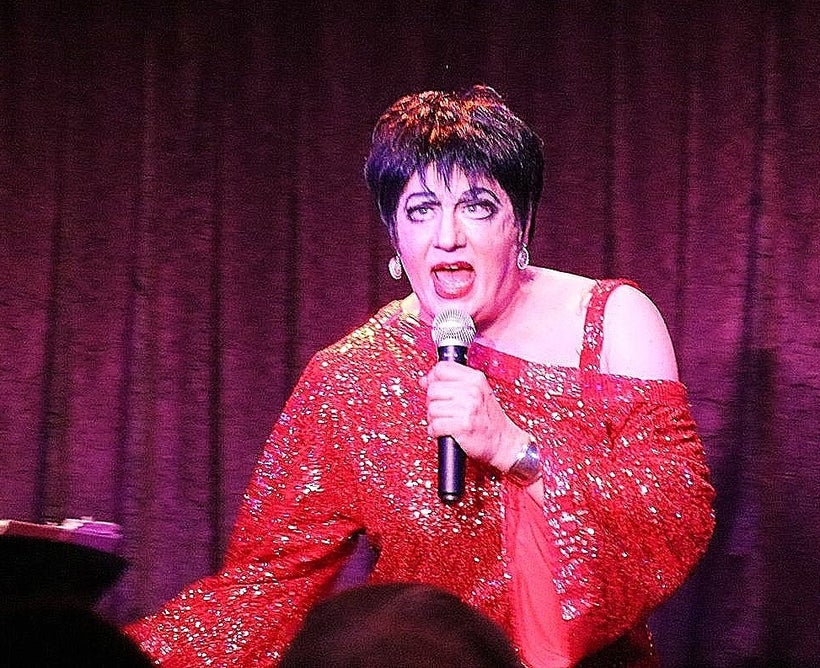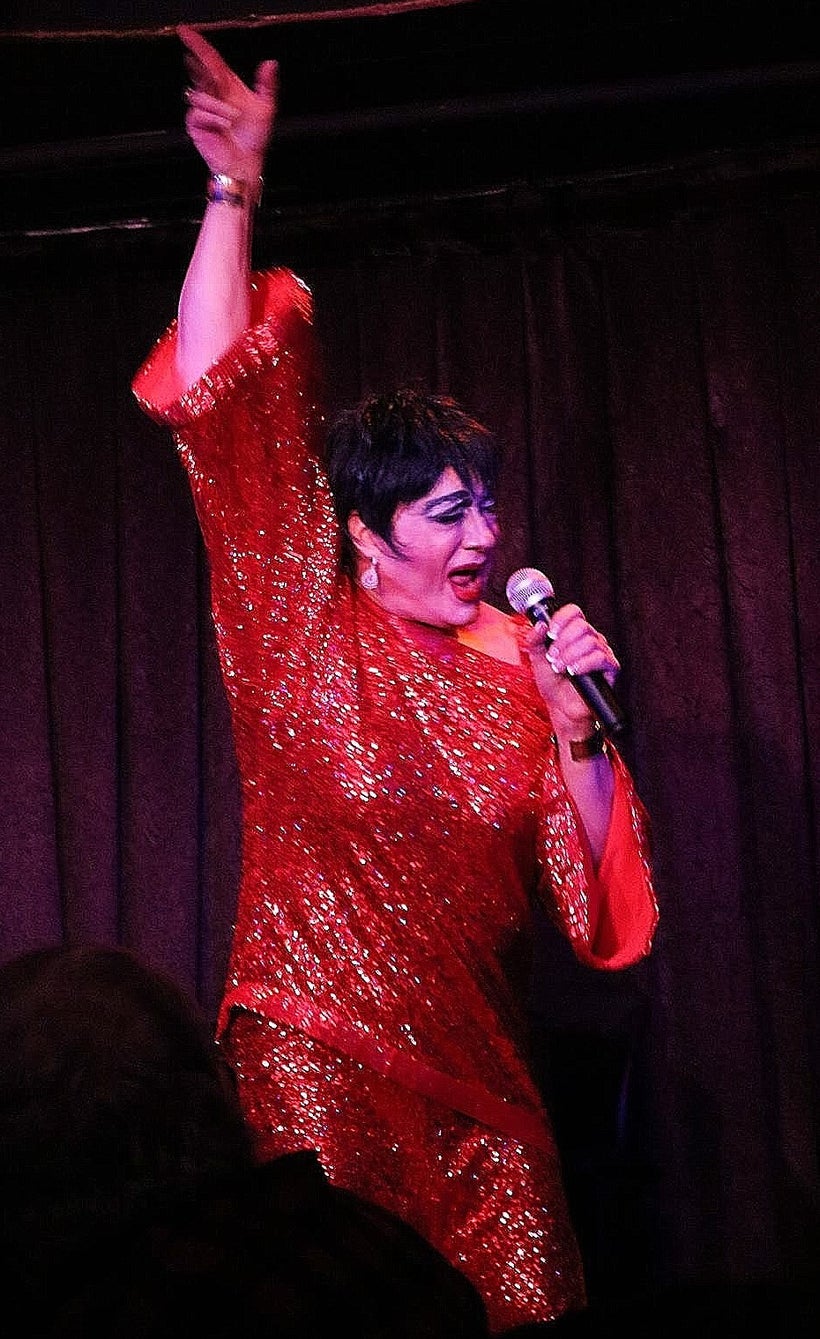 For those who've been living in a cave for the past half century or so, here's a news flash: Liza is one of LGBTQ culture's most enduring icons. Her larger-than-life persona— both her iconic look and her patented "Liza-isms" while performing— have made her one of pop culture's most imitated women and a perennial favorite of drag queens through the decades. Rick Skye knows a thing or two about imitating Liza. Since the dawn of the new millennium, he's been doing just that— and doing it, as anyone who's seen his act will agree, very well. Mr. Skye was awarded the Best Impersonation Award by the prestigious Manhattan Association of Cabarets (MAC). His previous productions have included such shows as A Slice O' Minnelli, Barbra and Liza LIVE!, and Judy and Liza Together Again.
On a personal note, I was lucky enough to see Liza Minnelli perform throughout the 90's and 2000's at venues of all sizes. But it was the rediscovering of her music recorded in the 70's— specifically, 1977's Tropical Nights and 1974's Live at the Winter Garden-– that made me realize just what made her a star. Interestingly, both these albums only became "officially" available on CD in 2002 and 2012 respectively. Because I had discovered the "later" Liza before the "early" Liza, it was certainly a shock (albeit a pleasant one) to hear her timeless songs like Cabaret again, sang with the youthful vigor of yesteryear.
Skye's Bazazz! pays wonderful homage to Ms. Minnelli in several ways. With high-spirited song-and-dance numbers, the show captures the energetic, crowd pleasing, cigarette-and-city-lights persona that made Liza the toast of New York City in the wild-and-crazy Studio 54 era. Just watch Skye and Kit Kat Boy Mateus Ting perform Arthur in the Afternoon, a naughty delight from Liza's 1977 musical The Act, for proof. Skye gets the diva's black pixie haircut, the huge mascara-adorned eyes, and the sequined pantsuits like a pro. But there's more to Bazazz! than Skye's costumes or his nailing of the aforementioned "Liza-isms". Intentionally or not, the show explores two distinct but possibly conflicting sides of the Liza persona. Minnelli represents two eras of the celebrity culture, and they're as different as can be. The generation of stars before Liza wouldn't dare be seen in a photo that wasn't approved by the big movie studio PR department, much less admitting to something as deviant as (Gasp!…) a drug or booze problem. Liza will always be closely associated with that era, thanks to her famous parents, who were considered royalty of "old Hollywood". Since those days, both the showbiz industry and the very whole concept of "celebrity" itself have changed. Liza may have been a poster girl for 70's-style vintage vice, but her ties to the glossier days of celebrity and her inherited aura of classic Hollywood glam seem to have influenced her into trying to keep her private life—well, as private as possible. This, of course, only adds to her mystique— and increases her appeal to pop-culture-addicted-and-old-school-diva-loving-gay-men worldwide (like me, DAMN IT!). It's also why Skye's good-natured pokes at the star's peculiarities hit their mark so well: the occasional facial tics, the heavy breathing, the blanking out, and the occasional titillating in-jokes about booze, pills, sex, middle age, etc… It's a delicious combination: (1) the Liza we know and love, and (2) the Liza we're not supposed to know, but still love. We speculate that if the REAL Liza Minnelli returned to performing and decided to poke some fun at her own now-famous idiosyncrasies in a new show, that show would look a lot like Bazazz!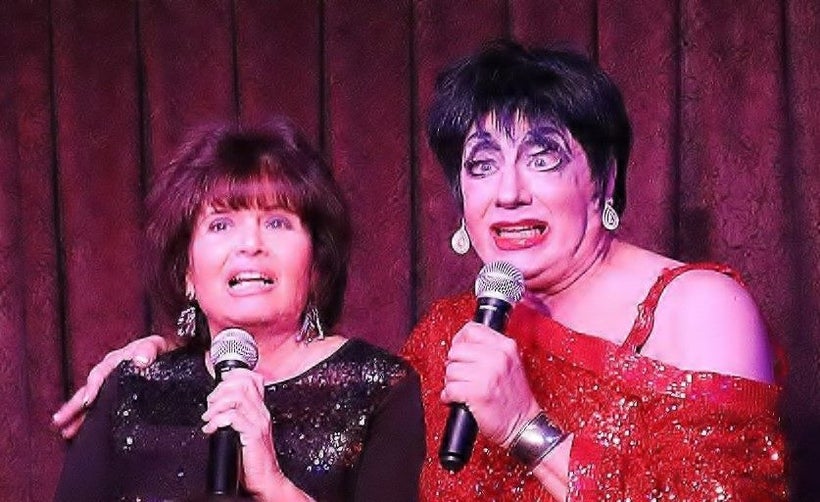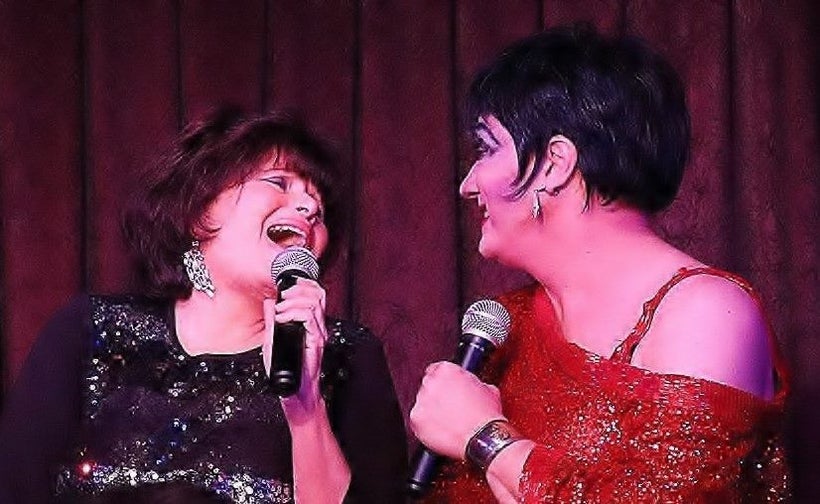 But psychoanalysis aside… What's a variety show without special celebrity guests? Indeed, Bazazz! is bolstered by some amazing visitors. Multi-hyphenate performer (actor, singer, comedian, lyricist, and composer) Rick Crom was the first. Nominee for Drama Desk Award for Outstanding Lyrics, the funnyman offered a mix of stand-up and music, taking to the piano for some truly laugh-out-loud hilarity. The first question that I asked myself was, "Why haven't I heard about this man before?" If the humor and observations on life in 2017 seemed custom made for Crom's distinctly un-PC charms, it's because the comedian revealed to me that he writes all his own material and only performs his own original stuff. Let's just say: It works!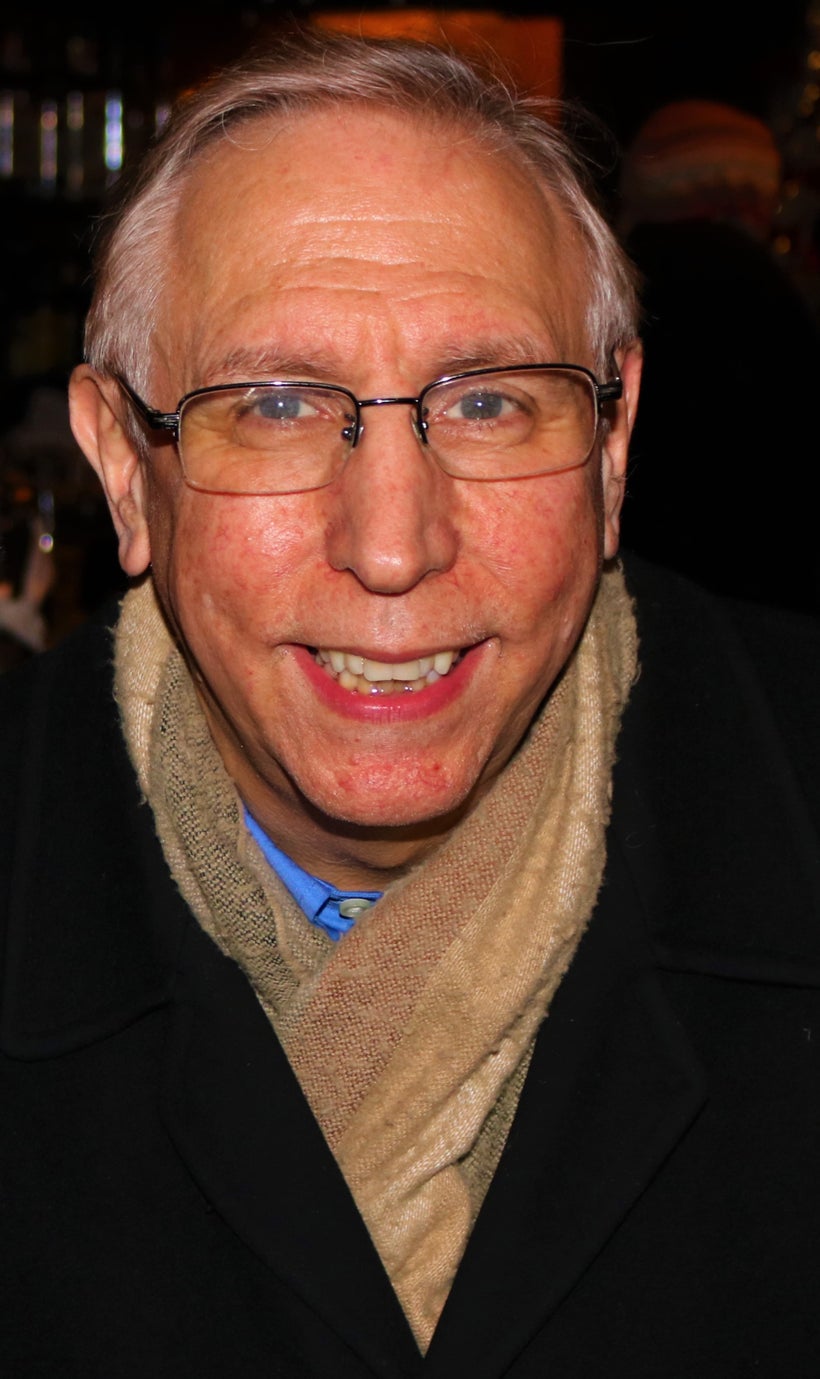 The second of Skye's guests was lovely singer Karen Wyman. Reading her impressive bio, the audience knew that she'd have no problem keeping up with the bomb cyclone of Skye's Liza. In 1969, when Minnelli was starring in The Sterile Cuckoo, Karen was a wide-eyed 16-year old girl from the Bronx. Her life changed in a big way when she appeared on national television with entertainment legend Dean Martin. Wyman wowed both Martin and the masses with her larger-than-life voice. Many more TV appearances followed— as did club gigs, seven albums, and enough celebrity stories to fill a tell-all book (Hint, hint!). Wyman took some time away from performing to have a family and to do some self-discovery. She came back to show business in 2014, lovelier and livelier than ever. Wyman became famous for her ability to, well… belt! Her vocal talents remain strong and smooth. She opened with James Arthur's You're Nobody 'til Somebody Loves You, which was made famous by— appropriately enough— Dean Martin. Wyman then performed a heart-tugging rendition of Lionel Bart's As Long as He Needs Me, the torchy love song from the musical film Oliver! It was an unsung classic just aching to be heard again. The rapport between Skye and Wyman was no less than priceless, especially when the two joined talents for a medley which included Cole Porter's eternal Friendship. When Ms. Wyman mistakenly called Skye "Judy", the look on his face was worth the price of Don't Tell Mama's two drink minimum alone— and then some!
But of course, what's a Liza show without those famous emblematic hits? And of course, we get to hear them. As if you couldn't guess already, they were Cabaret and New York, New York.
The performances of Rick Skye, his Kit Kat Boys, and his guest stars were wonderfully over-the-top. But what was most incredible was how much talent, laughs, and, well… "bazazz" that Skye's show packed into one hour.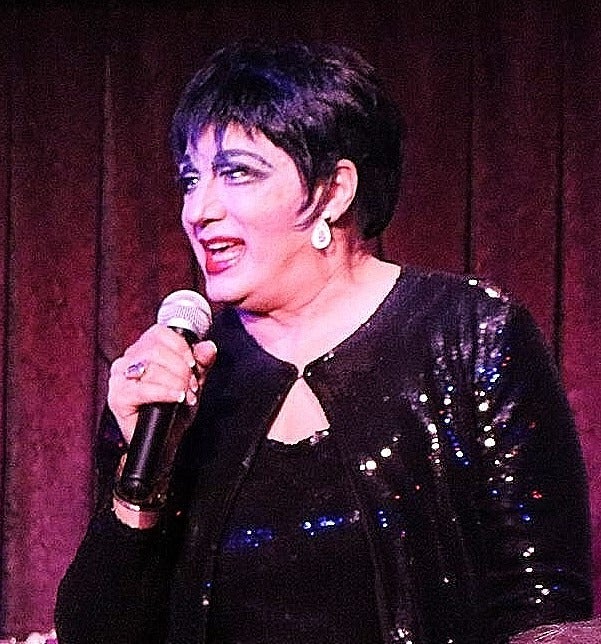 Bazazz! A Sequined Variety Show returns Saturday, February 24th at Don't Tell Mama, 343 W 46th St, New York City at 8PM with guest stars Nancy Witter and Molly Pope. Visit www.DontTellMamaNYC.com for tickets and more information! As Rick Skye's Liza would say, "Don't MISH it!"