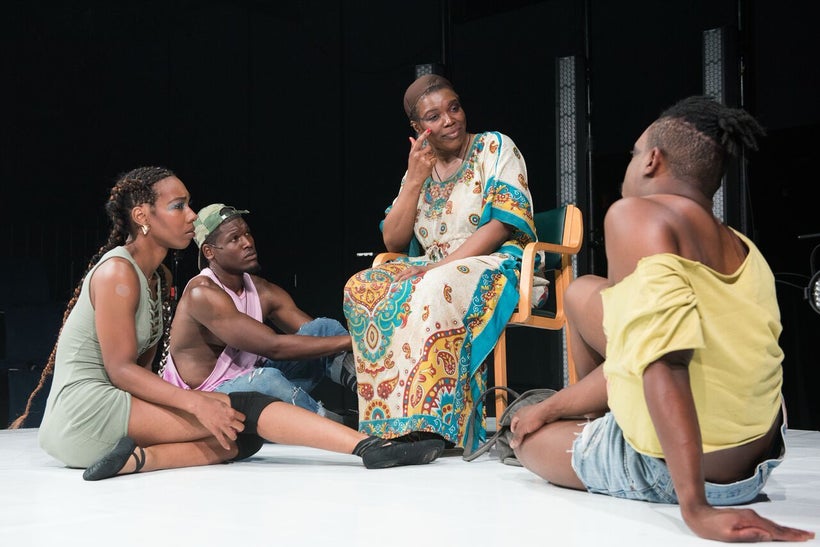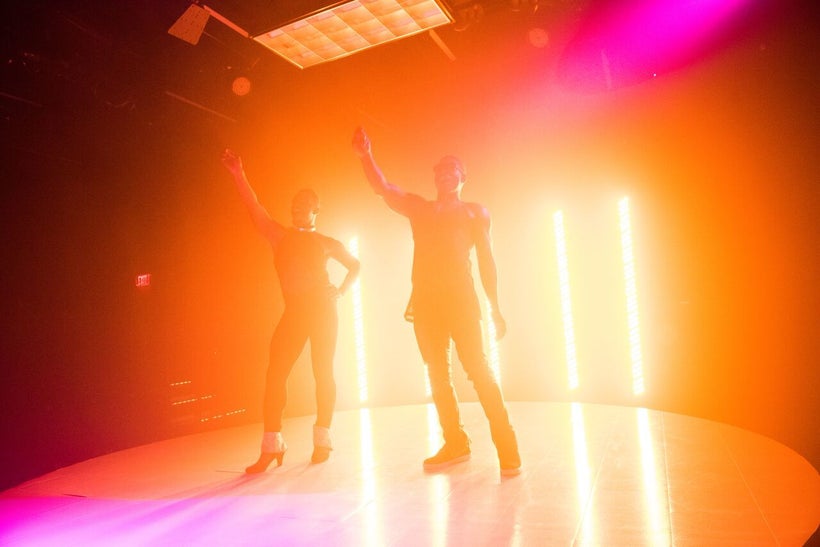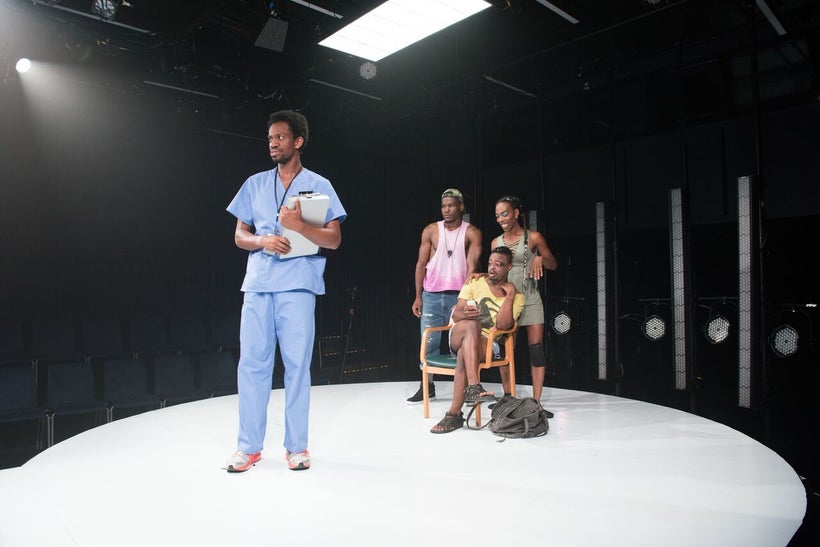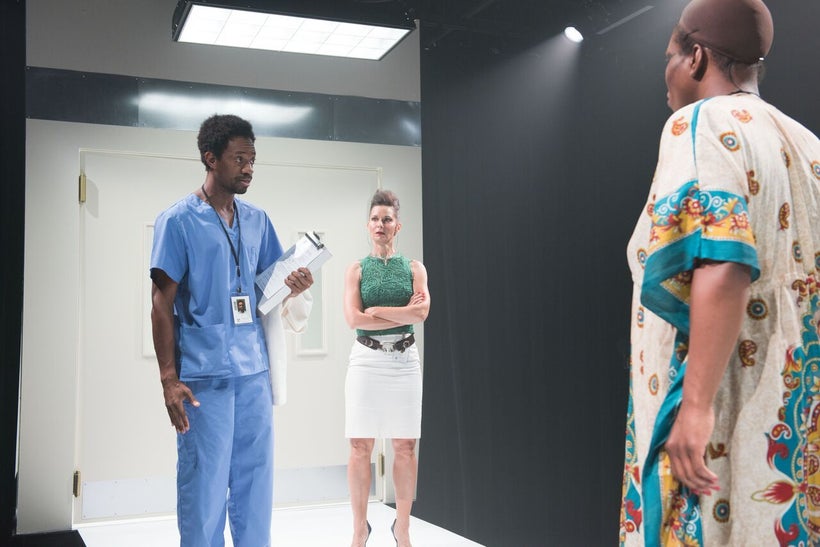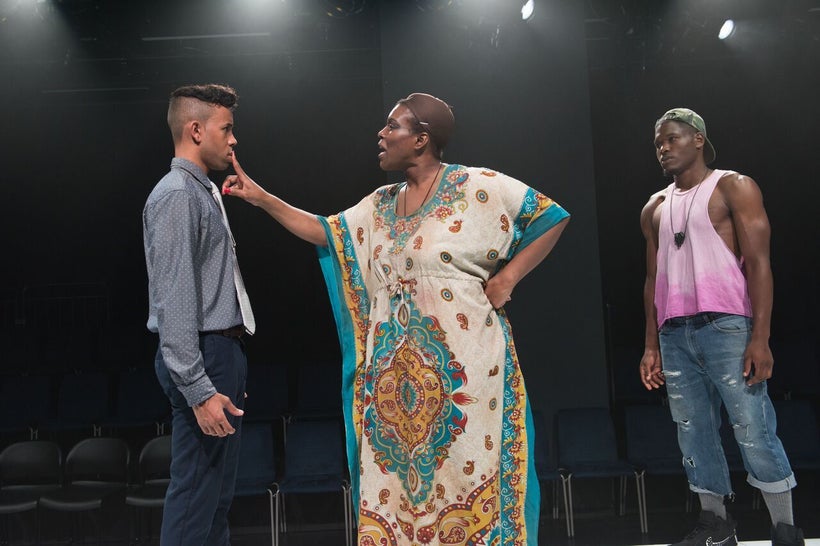 (This article originally appeared on The Huffington Post on 7/16/17.)
Based in part on Euripides' 415 BC tragedy The Trojan Women, Harrison David Rivers'stunningly poetic drama And She Would Stand Like This transports the audience back to a more recent but no less turbulent time in GLBTQ history: the 1980's. Those who were "out and about" during that era remember that it was a time of soaring highs alongside crippling lows. For the opening scene of The Movement Theatre Company's new production of Rivers' play, directed by David Mendizabal, we are allowed inside an invitation-only, high-spirited soiree— complete with strobe lights, fog machines, and pulsating house music. To re-quote the announcer of the show, "Get ready to WORK!" This is a Paris Is Burning-style ball, complete with a runway (Yes, the stage of A.R.T./NY's Mezzanine Theatre DOES have a runway…) and an exclusive fashion show. What a show it is! The characters sashay and shante in some deliciously decadent creations: "after midnight"-style fetishwear combined with haute couture-inspired elegance, heavy on the sex appeal. They're the kind of renegade ensembles that the "big name" designers of that time would have created if they only— pun intended— "had the balls". (It was also clearly the antecedent for looks made famous by Madonna, Gaga and Rihanna generations later.) Of course, fashion means nothing unless whoever is wearing it OWNS it— and these boys and girls know how to turn it out. Their self-styled fabulousness is matched by their street-smart personas and their endless ammunition of sassy one-liners. These kids delight in making their own rules, just to break them as they go along. The combination of the setting, the music, and the eye candy on stage puts the audience into an intoxicating trance.
As if awakening from a dream, however, the lighting instantly goes from seductive nightclub-style dimness to the harshly unforgiving brightness of a hospital, which is now the setting. The mood changes from buoyant to that of a post-battlefield wasteland. There is indeed a war raging, and the enemy is an invisible and enigmatic one. Being the '80's, we are witnessing "the dawn of a mysterious, unknown disease with unprecedented characteristics" that's hitting gay men and trans women of color particularly hard. We meet Hecuba (Julienne "Mizz June" Brown), the larger-than-life adoptive matriarch of a trio of urban youth, who— in a creative directorial touch— also serve as the "chorus" to this Greek tragedy-inspired story. Those charismatic youth include Grace (Tamara Williams), whose life of poverty led her to start turning tricks; Baby (Cornelius Davison), who was caught in a bad romance with an older closeted married man; and Miss Scott (Darby Davis), a hair artist whose wide-eyed yearning for unconditional acceptance led him to find a new family. There are other "children" in this tight-knit tribe as well. Hecuba is waiting at the hospital for news on her daughters Cassandra (Ashton Muniz) and Andromache (Cherrye J. Davis), who she fears may become two more fatalities of this new illness that doesn't even have a name. The words "HIV" or "AIDS", in fact, are never even said throughout the play; the disease is often referred to only as "it". For those whose memories have been diluted by time, a few moments in And She Would Stand like This— such as a doctor wearing latex gloves to hold a child's hand, or a hospital worker dressed in a Hazmat suit— send a spine-chilling reminder about the early days of the epidemic.
But our Hecuba is a soldier who will not retreat easily. When Talthybius the doctor (Reggie D. White, playing the role of "messenger" so often seen in Greek plays) delivers a morbid prognosis about her daughters, she tells him "I cannot, I will not, I DO NOT accept death!" His response is, "Death does not care." Sadly, he turns out to be right, as Cassandra becomes the first casualty of this war. Andromache faces not only her own personal battle, but also the fear that her young son Astyanax (played by the engaging 10-year old Dasan Turner) may also be affected. Muniz delivers a stunningly powerful scene; and as Andromache, Davis' nakedly vulnerable performance is a revelation. The drama is heightened by the appearance of Elena (played with exciting vigor by Florencia Lozano), a fiery childhood acquaintance of Hecuba's who is now a hospital administrator; and her handsome son Honesto (Michael-Anthony Souza). The unexpected reunion of Hecuba and Elena quickly turns antagonistic, while Baby's gifted ability to identify any guy from his booty alone reveals Honesto' s "alter ego". Explosive secrets are revealed, pasts are revisited, and the lives of mother and son Elena and Honesto soon show themselves to be intertwined with the lives of Hecuba's children— with equal parts tragedy and hope. Through it all, critical themes are explored in And She Would Stand Like This— including what really makes a "mother", and the importance of family. In the case of these queer and trans characters of color, make that "the importance of your CHOSEN family."
The performances in And She Would Stand Like This are superb, with a dynamic and dedicated cast. All of the actors get their chance to deliver some truly ascendant moments, with many of their scenes worthy of being expanded to a one-man or one-woman show in themselves. As Hecuba, Julienne "Mizz June" Brown is a true force of nature. Even when her character doesn't say a word, Brown's presence is as commanding as a tigress atop a hill guarding her cubs; her persona, in fact, is the inspiration for the play's title. Despite the dark cloud of HIV/AIDS moving in on the setting, And She Would Stand Like This is not just a heavy-handed pity party. The moments of humor and hope— as we learn, so essential for these characters' survival— are abundant. Playwright Rivers and director Mendizabal don't waste a single line of dialogue or a minute of running time. The play packs so much passion and emotions of all varieties into its 90 minutes that the symbolic and stunning explosion of an ending, while disturbing to watch, seems like the only fitting way for the story's pressure cooker of intensity to conclude.
The Movement Theatre Company's And She Would Stand Like This continues through Sunday, August 6th at A.R.T./NY Theatres, The Mezzanine Theatre, 502 West 53rd Street, New York City. Visit www.TheMovementTheatreCompany.org/upcoming-shows for tickets and more information.