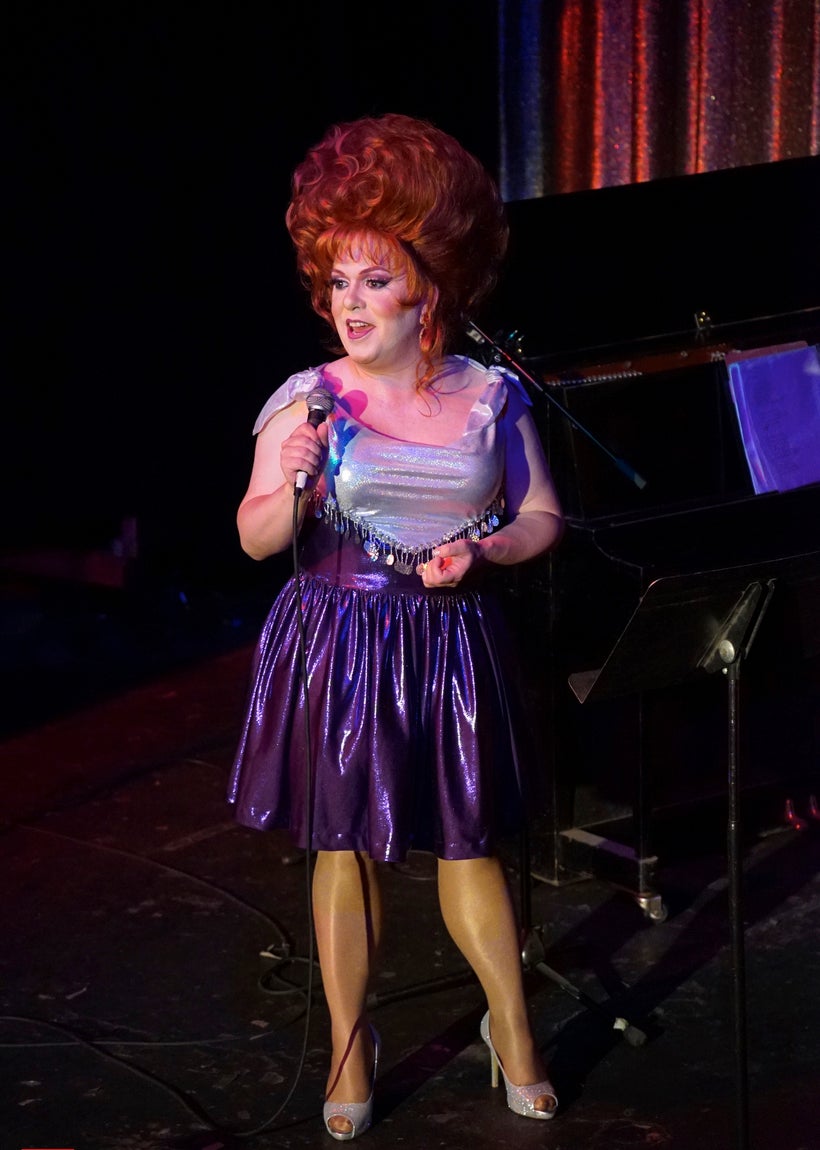 (This article originally appeared on The Huffington Post on 8/15/17.)
New York City drag star Candy Samples (not to be confused with the busty 1970's adult film star of the same name!) is heading south this Labor Day Weekend for one of the world's most notorious annual gay events: Southern Decadence in New Orleans, Louisiana. For Ms. Samples, however, Southern Decadence isn't just about the four days (and five nights!) of testosterone-fueled partying in The Big Easy. The flame-haired multi-hyphenate (singer-songwriter-pianist-activist) is bringing her oh-so-wholesome charms to "Nawlins" for Sunday Services, a grand fundraiser for NO/AIDS Task Force's Food For Friends, produced by Decadent Ducks Events.
Who is Candy Samples? The "man behind the curtain" is Will Harrell, a boyish resident of New York City's outer borough of Queens who is as shy as Candy is extroverted. For Harrell, HIV/AIDS awareness is personal. When performing, in between the music Harrell-as-Candy often shares the story about his father contracting HIV after receiving a contaminated blood transfusion in the 1980's, and ultimately succumbing to the disease in 1991. The Atlanta, Georgia native Harrell found his true calling as both a popular performer and a successful HIV/AIDS activist in New York City, largely thanks to his new alter ego— the self-described "good Presbyterian woman" with the sweet name and sassy attitude. Southern Decadence 2017 will be the ninth year that Candy Samples has performed Sunday Services. What is it like to do full drag in the season where the temperature will be hovering around the 90's (with the unrelenting humidity to match…)? Candy tells me, "I sweat like a whore in Church! I have a bigger space than I usually have when I perform in New York City. There's more room to spread out. But I still worry about the people who sit in the very front, because I WILL sweat… and I WILL fling it with an arm movement, or with the hair I'm wearing. There will be a splash zone, so watch out! Unless you're into that thing— then sit in the front!"
Candy tells me, "Next year will be the tenth Sunday Services. It will be a milestone. It's crazy… and I'm only 26!" She then admits, "Will Harrell is 41… but Candy has always been a middle-aged woman. I was 19 when I decided that Candy would be 45 years old, with about 10 years "wiggle room"… so I think she'll stay 55 for a long time!" Harrell's inspiration for Candy Samples clearly came from the "interesting, dynamic, strong Southern women" who he grew up with in his home state of Georgia. "These women really owned their age in a time when everyone wasn't getting plastic surgery. These women were going gray, and they were OWNING it. They were living the fantasy, and being cool. My grandmother was walking around wearing that roller set like she was 'in it to win it'! She did the blue rinse, and she got that stuff done every two weeks. She didn't touch it. She had her little pantsuits, and she thought she was somebody. Work it, own it, BE it! I grew up with cool Southern women. They were like, 'Don't go outside without lipstick!' (Laughs)… but not a face full of makeup! In that way, Candy Samples stirs the pot. Y'all think I'm real conservative, but I'm the Madonna of Candler County! (Laughs)… But I always wear bloomers!"
Through her years of performing at Decadence, Candy Samples always takes the opportunity to tell her unique story, including what she does for HIV/AIDS awareness and why she does it. She sees the progress since she started, including the advent of PreP and the U=U Campaign. She's also happy to see the changing role of gay men in the world. "We have a seat at the table. People want to go and do some good.", she tells me. She then adds, "They have been going to Decadence for 20 years, and may want to leave the orgy room for a minute! I welcome them to come to my show for that little respite!" This year's Southern Decadence will be a bittersweet one due to the unexpected death of Rip Naquin, one of the founders of the event and publisher of Ambush Magazine. Naquin also made history when he and his partner Martin Greeson(AKA Marsha Delain) become the state's first legally recognized gay couple in 1993 when the city of New Orleans allowed couples to register as domestic partners. Candy tells me, "Rip was the sole proprietor of Ambush, which came out every two weeks. He ran a small operation that served many, and he passed away suddenly. Ambush would always including a center spread of all the girls from RuPaul's Drag Race who would be in town for Decadence… and Candy Samples was always featured among those queens! He was a great publisher. He treated everyone with great respect. He came to one of my shows a few years ago. New Orleans and the Gulf region has just lost a great source of information about what's going on. Here in New York City, if we lost one publication, we could pick up another… or we know that we could just go out and see if there was something going on. But what do you do if you live in a red state? How do you get your information? I mean, people would just walk into the bars, grab an Ambush, and leave. It has everything."
Candy Samples took the time to speak to me about her upcoming Sunday Services, The Decadent Ducks, and her love affair with New Orleans:
JR: Hello, Candy. Thanks for speaking with me. So, New Orleans is…
CS: … a blue city in a red state! (Laughs)
JR: (Laughs) Yes it is! So, how does being a blue city in a red state color gay life in New Orleans?
CS: Southern Decadence is a huge gay event. The French Quarter is a very popular place for gay people… and New Orleans is a very popular city for people on the fringe of society in general. That's how it came to be. In the South, like the Bear runs or the gay rodeos, people are dedicated in going to Southern Decadence every year. It has become— for me, and for a lot of other people— like a family reunion. You know the people who are going, you're making plans to have lunches and dinners… It is much more than what it was for me when I was in my 20's!
JR: Let's start at the beginning! How did you discover Southern Decadence?
CS: From straight people! I knew some straight couples who had settled in New Orleans: They were like, "Let's live in New Orleans and just be fun hippies!" One of those couples had moved to New Orleans just as I had moved to New York. We had all moved from Atlanta. It was Labor Day weekend, and they told me, "You have GOT to come here! We were unpacking the truck and there was this party, and they were all gay men and they were all your type! You need to come down here and have a good time!" This was 2000. I did not go until 2003. That was my first Decadence, and it was amazing! I "couch crashed" with all these straight couples in the Quarter, so I had a place to sleep and to grab a sandwich. I did the very bohemian version of Decadence, with only a few bucks in my pocket. It was wonderful. Then Katrina happened, and all my friends were displaced. The next year, no one was living in New Orleans anymore. I didn't know what I was gonna do. I had been talking online to Troy Richardson, who puts together the Decadent Ducksgroup. He had mentioned the year before that they were having a pool party… and would I like to come? I started staying with the Decadent Ducks.
CS: They have become that way because of Sunday Services. Troy always had some kind of event that made a little money to be able to write a check for the community. When I started staying with the Decadent Ducks, there was a welcome party with silent auctions… and the money raised went to New Orleans AIDS (NO/AIDS) Task Force's Food For Friends. Troy and I became fast friends. He asked me, "Could Candy do a show?" I said, "Candy does not come to Decadence! This is WILL'S party… and I'm a boy here!" I had grown my chest hair in, and I was going to have a good time as a man! (Laughs) I did not have time to be bothered with drag at Decadence! But Troy hounded me for a while, and then I said, "OK, I'll try it!" Decadence is like Christmas, in that there are so many events happening. With Christmas, we have the Eve, the Day, the Epiphany…! Likewise with Decadence. There is not just one promoter, there are MANY promoters and many events. So just when could Candy do a show? We knew it couldn't be Thursday or Friday or Saturday… So, it had to be Sunday morning before the big parade. We did a Sunday Services nine years ago at 700 Club, a bar affiliated with the Decadent Ducks. It's still there! It was a small set. I think I did seven or eight songs. There was no tech. It was all really quick: a little gift for the Ducks, something special for the group of us that were staying at the hotel. We sold some raffle tickets for Food For Friends. Troy and I talked through the rest of the year, and decided that we could make the show a little bit bigger, and make it a dedicated benefit for Food For Friends. I said, "I get it. OK, I'm in!" Candy Samples was birthed from an AIDS benefit pageant in 1995, the "Miss Pool Slut" Pageant. Grassroots AIDS fundraising is how you do it! This show grew and grew and grew. We did two years at 700 Club. Then we moved to Michael's on the Park. We outgrew Michael's on the Park and went to a small room at the House of Blues. We outgrew that space the first day we walked in! Now we're doing One Eyed Jacks and that's an impressive place. When I'd tell my friends in New Orleans that we were playing One Eyed Jacks, the best response I got was from a friend from kindergarten who said to me, "Dude, that's where bands play!" I said to myself, "I think I've arrived!" (Laughs)
JR: (Laughs) Wow! And you've been to New Orleans for Labor Day weekend every year since then?
CS: Yes. Before I started Sunday Services, I was there in 2008 when we had to evacuate for Gustav. We were late with Sunday Services in 2012 because of Isaac. There were so many. But it's been a great time. I know it sounds corny (Laughs)… but Sunday Services has made me a better person and has made Southern Decadence more meaningful and made it a better experience! I sing a song in my show called Man Behind the Curtain, and it's about traveling all around and seeing smiling faces. It's about my New York audience too, but mostly it's about coming "home" to New Orleans!
JR: What would you tell people who are coming to Decadence for the first time?
CS: First I'd say, "Come to Sunday Services!" Come on: We all want to go to New Orleans to see cute boys, and kiss cute boys, and do Lord knows what with cute boys! Is that my first priority? No! My first priority is to serve Sunday Services. My second, third, fourth through the 20th is to do all of that with the boys! If you want to be wild and crazy, you can. If you want to hang out and let your hair down and meet wonderful people and eat good food, then that's all there too!
JR: Don't forget the architecture! Hey, I've seen A Streetcar Named Desire!
CS: It's beautiful! As a New Yorker, when I walk down the street the first thing I do is put my headphones on and get my pace. The first thing I have to learn when I get to New Orleans is to unplug the headphones and put them in my bag. I'm going to listen to the sounds of the street musicians in the French Quarter. And, it's too hot to walk at a New York pace… so you STROLL! You see the shop owners and locals and natives that you pass in the street— like the old man in the seersucker suit with the hat saying, "Hey, how're you doin'?" Everyone is friendly. It is their nature and their life there. It's a very hospitable town. People go there to experience New Orleans: to eat the food, drink the drink, go on the tours… There's magic at every corner. They have touristy places in New Orleans, but even the garishness of the touristy places have so much character compared to Times Square, for example. There have been some changes over the years— the bars close now and it's much more expensive— but New Orleans has mostly stayed itself. And that's what's fun! There's this place I love to have breakfast, called Cafe Fleur De Lis. It's off the beaten path, just around the corner from the old courthouse. It's just a very no-frills place, but I have only had the best service and the best food there. There was one morning when I just needed my New York breakfast— something healthy, some yogurt and granola. I asked, "Do you have a yogurt parfait?" The girl answers, "Baby, you in Nawlins! Is your stomach bothering you? I'll make you up some grits!" (Laughs) "Would you like some butter and cheese?" I was like, "I'm in heaven!"
CS: By the way, I make a great grits casserole.
JR: I can't wait to try it! So, speaking of food, tell me more about Food For Friends.
CS: Food For Friends is an offshoot of New Orleans AIDS Task Force. It's similar to the Meals on Wheels program, and it's for people living with HIV/AIDS. They have a dedicated chef who plans the meals that are delivered to families in need, with strict concern to the ingredients. There are no additives and it's limited in salt, yet seasoned to a great New Orleans standard. It's healthy, flavorful, and nutritious…. and I think that's amazing, because that's what you need to sustain yourself. And that's what we're using our powers for good to do: to sustain! Candy is all about a "Green Bean Casserole", but I can tell you that Food For Friends ain't servin' it! Only I am, and only at Sunday Services! There's your tag line!
JR: (Laughs) Love it! It's just about to get much hotter in the Deep South come September!
Decadent Ducks Events' Sunday Services with Candy Samples will be on Sunday, September 3 at 11:00AM, at One Eyed Jacks, 615 Toulouse St, New Orleans. For more information about Southern Decadence, visit www.SouthernDecadence.net. Visit Candy Samples' official website at www.SampleMyCandy.com. Learn more about the Decadent Ducks at www.DecadentDucks.com.