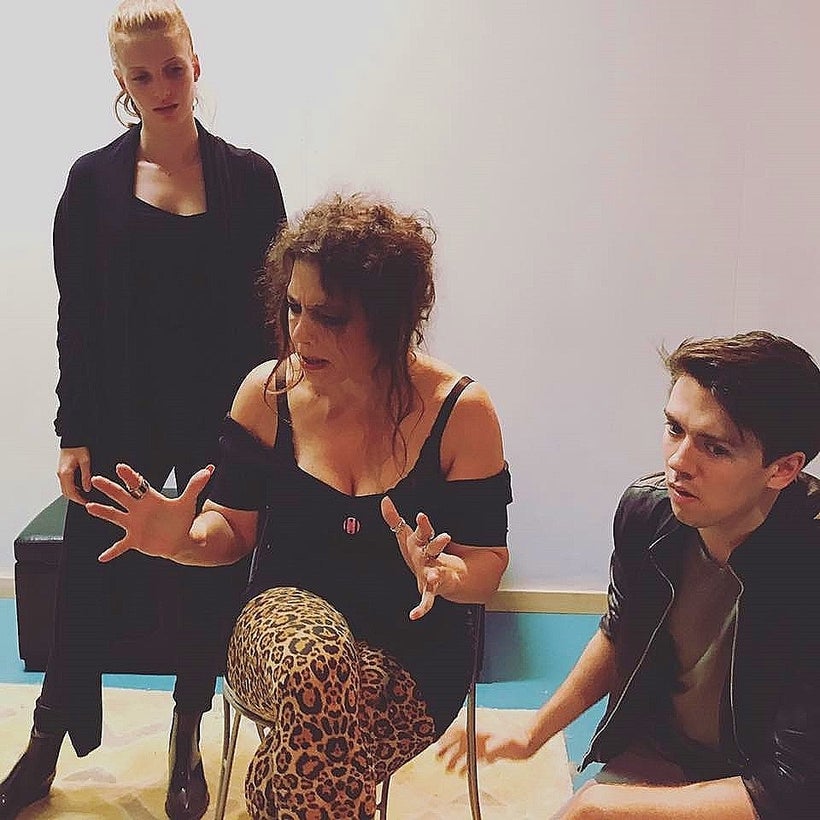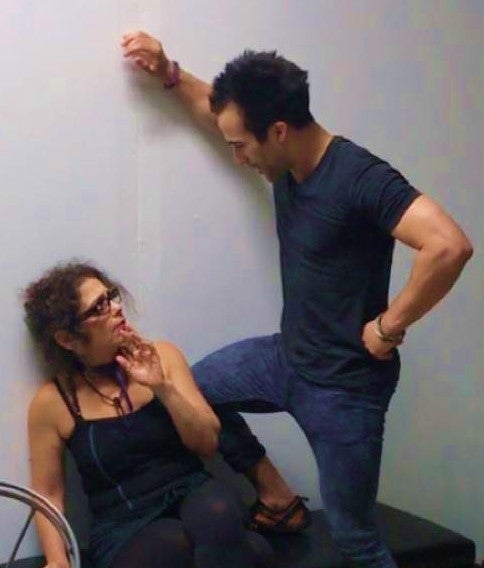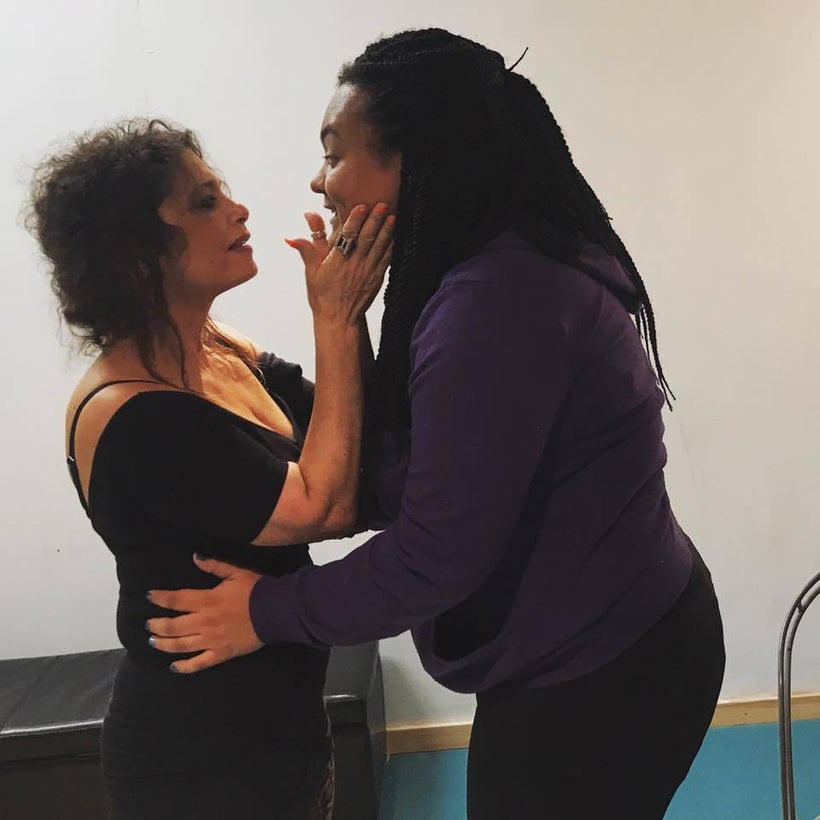 (This article originally appeared on The Huffington Post on 10/4/17.)
The central character of Ash Sanborn's one-act play Maximalista is Davi— a painter, writer, and occasional community activist in an unnamed city. It's often a cliche in theater and cinema that artists are… shall we say, "just a lil bit crazy" by nature— but the audience soon learns that in this artist's case, there's a thin line between free-spirited abandon and emotional instability. Davi is played by New York City actor/musician Rew Starr, whose symbolically wild eye makeup makes its impact even in the back row of the theater; We almost expect Starr's Davi to start impulsively spray-painting the plain black walls of the stage that encase her. Davi's patient, seemingly level-headed children— daughter Violet (Claire Friesen) and son Finny (Oliver James Burke)— pay her a visit after getting notice from Davi's no-nonsense landlady (April Leonhard) that their mother is not paying her rent. The artist's exasperated ex-husband Joe (Michael Iannuzzi) also drops in, accusing Davi of wasting her money on online shopping or Skyping with psychic hotlines. But Davi is addicted not to shopping or psychics, but rather to… sex. We soon learn that Davi's self-proclaimed need to "fill this hole with anything— like another person!" is actually a desire for a deeper emotional human connection. Regardless of motivations, her mission of Looking for Mr. (or Ms.) Goodbar leads Davi to engage in a variety of dalliances with both men and women. She writes quirky yet unambiguously direct adults-only online personal ads, and holds "auditions" at her apartment ("Hashtag 'horny'!"). One of her "candidates" is Brandi (Alexandra Taylor), a cute girl who wears her unapologetic sexuality as easily and carefree as a teenage earth goddess. While Davi tries to stay in control of her encounters, she meets her match in a big way with "Auditioner #2" (Travis Schweiger), a hunky but sexually aggressive guy who may be a not-so-thinly veiled male version of Davi. Adding to the mix of hot-to-trot characters is Davi's sympathetic yet endearingly old-school therapist (Lisa Rabinowicz, modeling her performance after Dr. Ruth Westheimer), who makes house calls and who tries to offer her restless patient some common-sense advice about her renegade lifestyle.
Maximalista enjoyed its premiere at New York City's Manhattan Repertory Theatre, and is directed by New York City actor Cammerron Baits. Playwright Sanborn states that she has modeled Davi after Dymphna, the the patron saint of the nervous, emotionally disturbed, and mentally ill; as well as after King David, who some historians have opined may have suffered from either major depression or bipolar disorder. Sacrificing food and sleep for art and sex, Davi may be living on the edge of sanity, but it's hard to deny that she's also charming and fun: the person you'd want to show up at your party. Speaking of parties, Maximalista even throws in a guitar-and-vocals performance by Starr as Davi (As mentioned before, Rew is also an established musician), which serves as the soundtrack for an impromptu pan-sexual orgy— albeit one that's shown quite discreetly on stage. The conclusion of Maximalista has our protagonist as the new object of interest for a couple who wants to add her as the third person in a potential "throuple". The ending is open, and given the unpredictable nature of addiction (sex or otherwise), we can't forecast which direction Davi's story will take— although it will make for a lively post-show discussion.
Underneath its moments of genuine humor and its more indulgent segments, Maximalista is a provocative exploration of female sexual addiction as well as the larger environment of modern sexual mores in 2017— a world where virtual interactions open the road to body-to-body contact but recklessly speed past the mind and the soul. (The play's conclusion, with a swinging couple played by Julia Neveu and Trevor Cody Lyons, is a perfect example of this.) So often in pop culture, woman's sexuality in all its varieties has been presented through men's eyes— and, sadly, those presentations have often been reduced to fantastical, exploitative, or unrealistic depictions. Maximalista, written by a female playwright, makes for a more organic but no less direct depiction… and it's even more refreshing that the piece has a male director who paints the situations and characters in a zesty yet also smart and sympathetic light. The play packs a wallop into its brief running time. If there's any flaw, it's that the piece deserves the greater character development and more stage time for its gifted cast which that longer running time could bring.
Maximalista continues as part of the Manhattan Repertory Theatre's Playwright's Showcase series on Saturday and Sunday, October 6th and 7th, at Manhattan Repertory Theatre— with Paula Berwanger as in the role of Violet, Cassidy Layton as "Auditioner #3", and Rick Koch as Joe. The theater is located at 17-19 West 45th St, Third Floor, New York City. Visit www.ManhattanRep.com for tickets and more information.