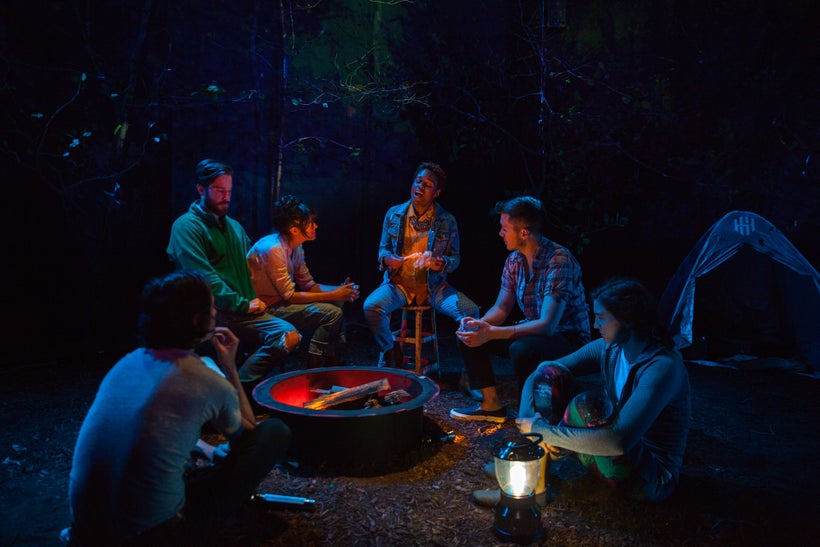 (This article originally appeared on The Huffington Post on 11/13/17.)
It's a hot weekend in June, and a group of six twenty- and thirty-somethings are gathering together for a "throw-down" on a small farm in upstate New York— complete with booze, music, and even a pig roast. The occasion is the summer solstice, the longest day of the year. Only a two hour drive north from New York City but feeling like a separate universe, the deceptively tranquil environment is the setting for Susan Soon He Stanton's Solstice Party!. The new drama/thriller is directed by Tyler Mercer and is making its world premiere at New York City's A.R.T./New York Theatres.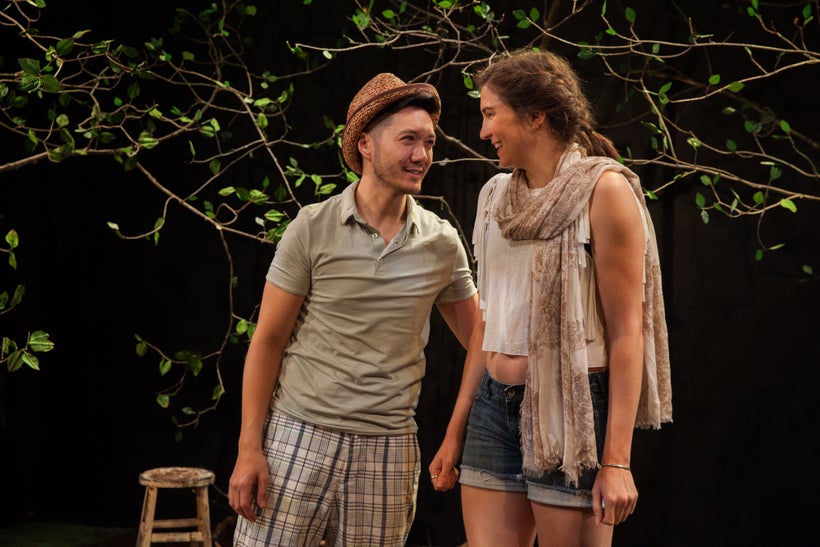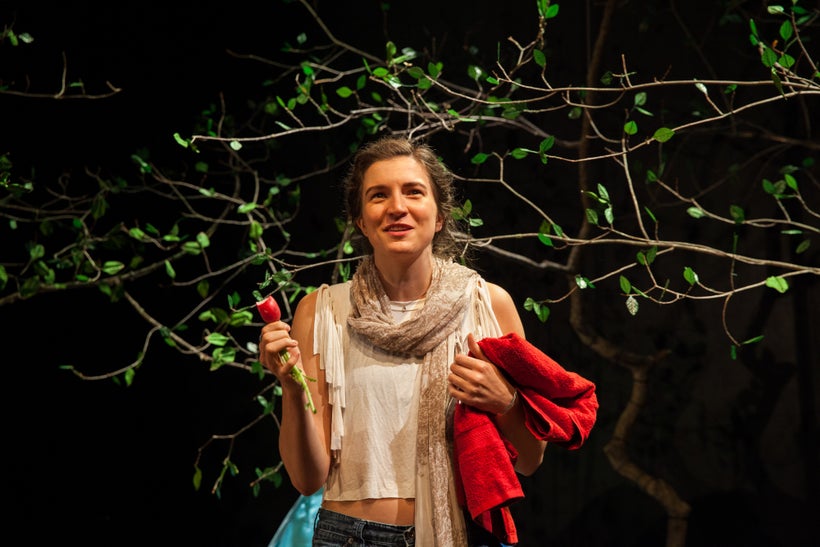 The hosts for this shindig are French-born chef Dominic (Patrick Andrew Jones) and wife Jo Ann (Satomi Blair), who have been married for seven years. The audience learns that the couple used to own a successful restaurant in Manhattan. They now live a far simpler, rural life due to economic circumstances brought on by Hurricane Sandy in 2012. Joining Dominic and Jo Ann for the planned festivities are their old friend Andrew (Chris Ignacio) and his new girlfriend of of four months, Pipi (Phoebe Dunn). Pipi, a self-described "yin energy based yoga instructor", is young, idealistic, and eager to be accepted by her prospective new friends— but her ingratiating nature borders between perky and annoying. She immediately becomes the "odd woman out" among this tribe of established comrades. The blunt-spoken and deliciously sarcastic Jo Ann, for one, has no patience for her guest's sycophantic personality. There's also relationship tension between Pipi and Andrew, and Pipi even contemplates a six-hour bus ride back home to New York alone— but she begrudgingly stays. Later, we meet the neighbor Stan (Michael Vitaly Sazonov) and another friend, Trish (Stephanie Weeks), one half of a happy lesbian couple and a new mother. The characters open up about their lives and fears by sharing candid anecdotes, but there is still an undercurrent of secrecy running underneath. Adding to the suspense is the fact that the farm is close to a mysterious religious retreat, or "ashram", which may or may not be a cult. It becomes clear that something weird is a-brewing, and it's not the mushroom tea.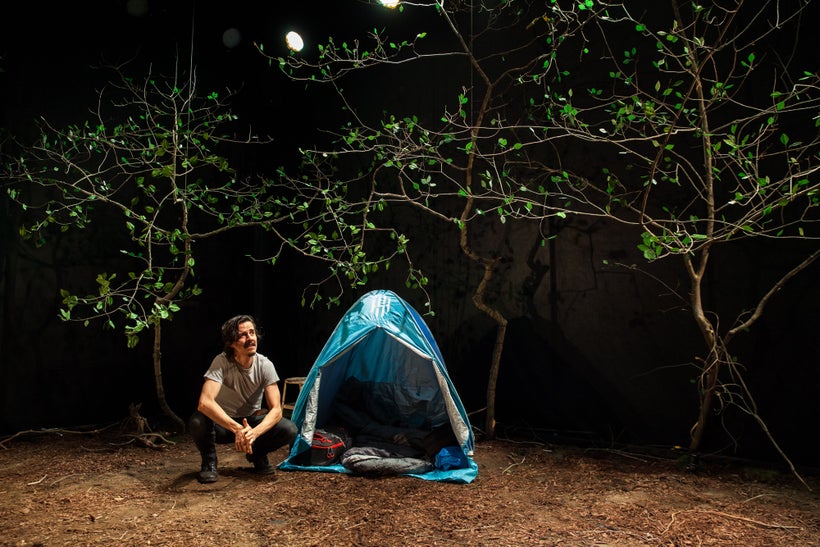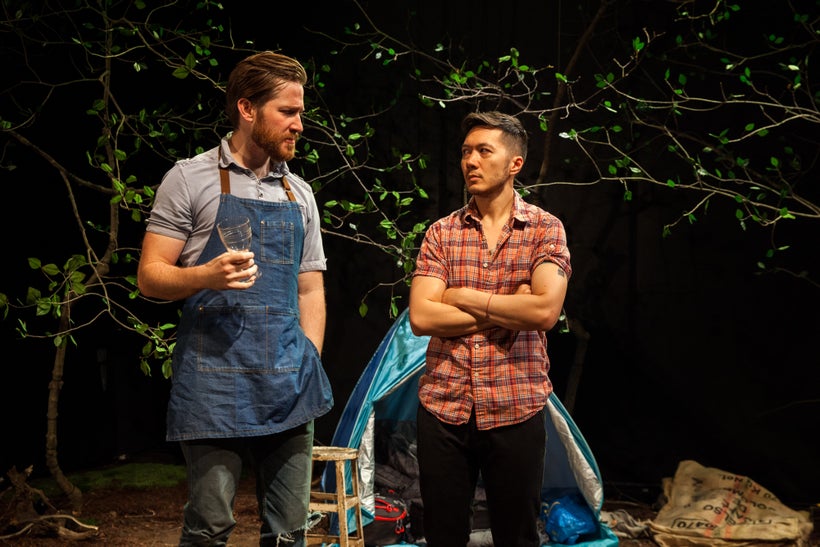 All seven main actors in Solstice Party! deliver engaging performances. Jones and Ignacio are two appealing actors playing two very likeable characters. However, they get overshadowed by the personas of their respective girlfriends. Blair's Jo Ann owns a seemingly infinite amount of sardonic one-liners. ("I love-hate you so much!", she tells her kind husband.) She's a good foil for Dunn's Pipi, going head to head with the fragile naif hiding behind a New Age dogma. Sazonov and Weeks are seemingly perfect for their roles, convincingly blending spirit, pathos, and humor. In fact, Solstice Party! works best when exploring the mores of modern-day late 20-somethings/early 30-somethings: the struggle between idealism and harsh reality, between bravery and fear, and between individuality versus conformity. And of course, there's the characters' having to play the complicated game of relationships in 2017. The dialogue is refreshingly real— at times, brutally so— with frequent moments of dry wit. Solstice Party! even throws in some musical performances, some being enjoyable and others being… shall we say, non show-stoppers. Kudos must also be given to visual design/sound team of Solstice Party! The cleanly designed yet meticulously detailed scenery is superb. With the expert lighting, projections, and sound effects, the setting really looks alive.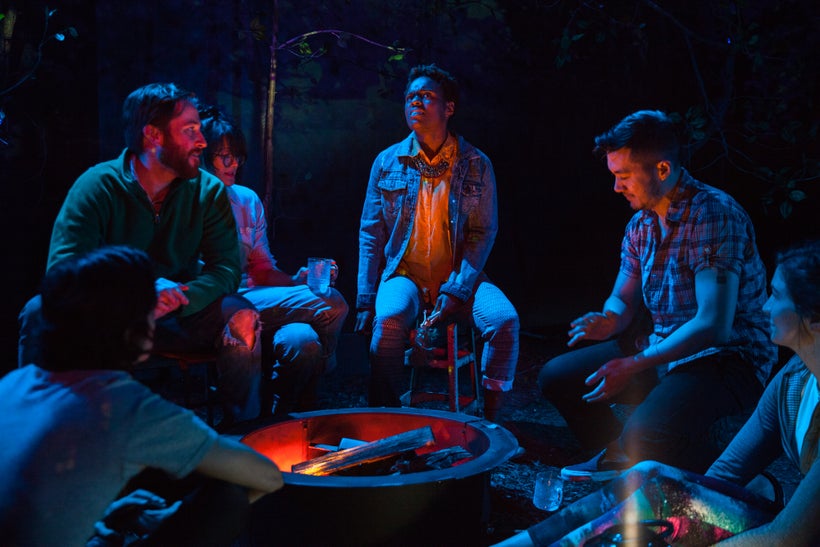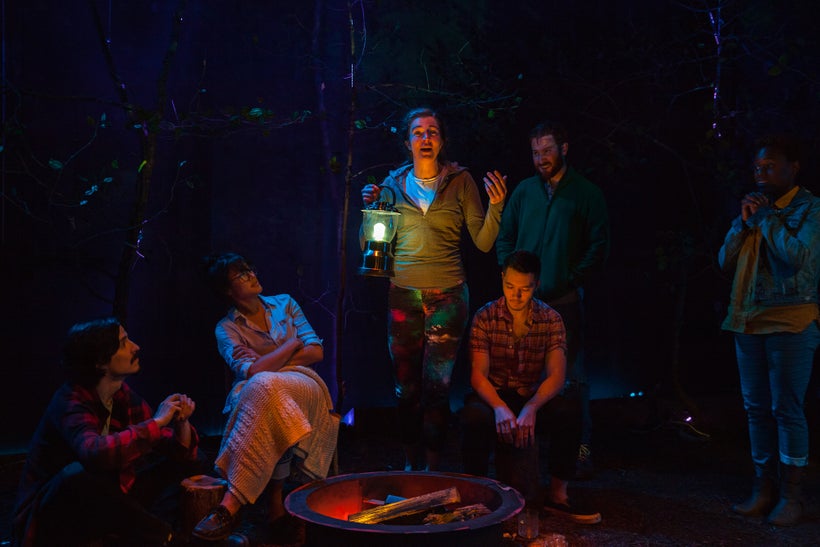 Solstice Party! takes an unexpected and not very smooth turn, however, with its game-changing climax of horror movie-style violence, featuring a late-appearing character named Ashley (Hallie Hadara, who excels at deadpan delivery of humor even when menacingly wielding a knife). Is it real? Is it a dream? Is it a bad trip brought on by drugs? Or, maybe, it's simply a mindf*ck for the audience, courtesy of the playwright and the creative team. A note on the program of Solstice Party! titillatingly states, "The stories told herein are true. The contexts have been enhanced and manipulated for theatrical effect."— which make us wonder just how much of Susan Soon He Stanton's play is based on reality versus fantasy. Fantastical elements notwithstanding, the aforementioned climax requires a generous portion of the proverbial "suspension of disbelief". Although the audience is aching for some action to break the play's psychological tension, some may find the shows abrupt transition from smart reality to occult-flavored thriller a bit jarring— not to mention a bit unintentionally campy and humorous at times. Others, who may be bewitched by the cast and who dig the play's black humor, will be lining up for the Solstice AFTER-Party!…
Live Source Theatre Group presents the world premiere of Solstice Party! The play continues through Sunday, November 19th, at The Jeffrey & Paula Gugal Theatre at the A.R.T./New York Theatres, 502 West 53rd Street, New York City. Visit www.Live-Source.org/SolsticeParty for tickets and more information.