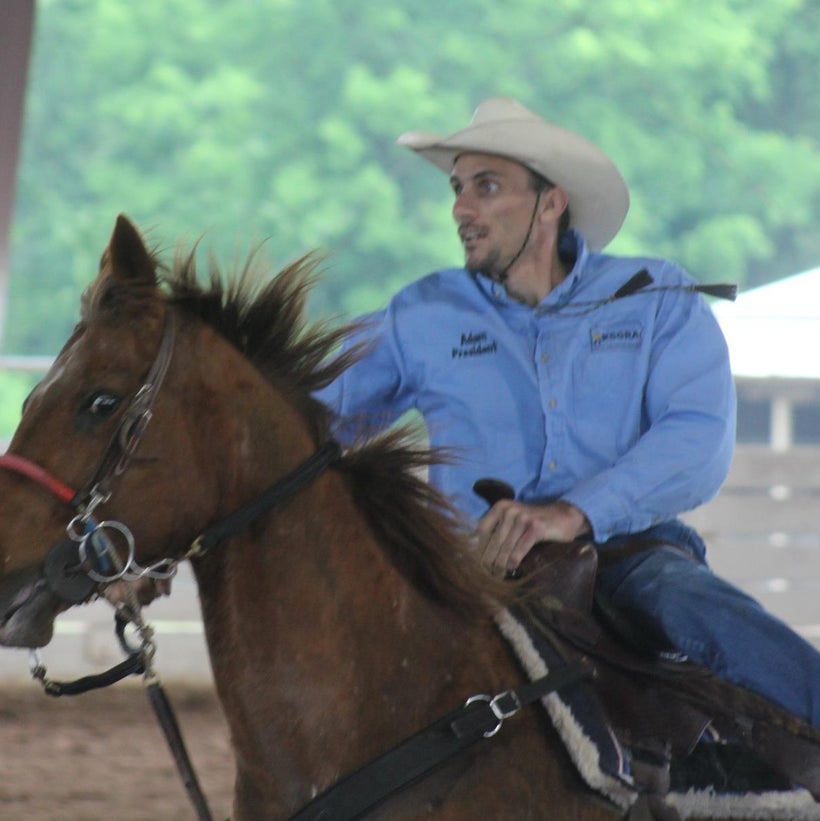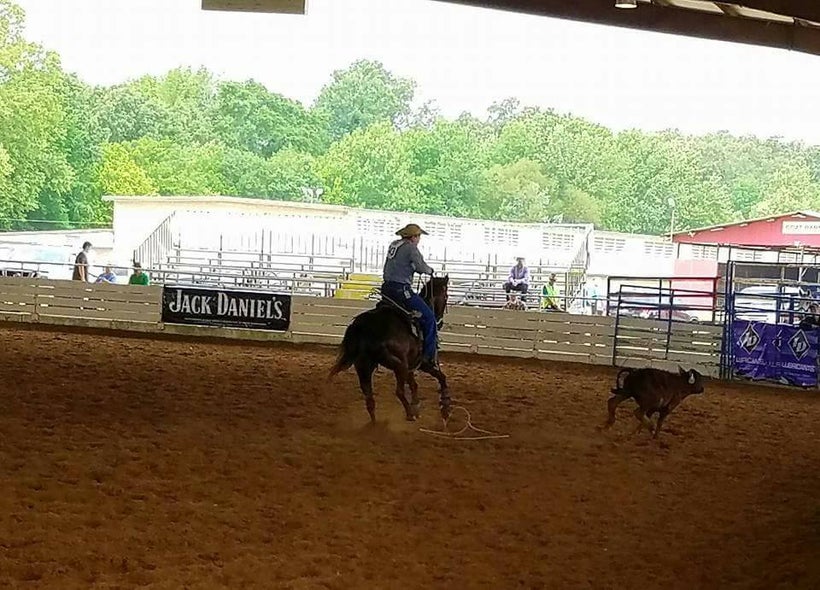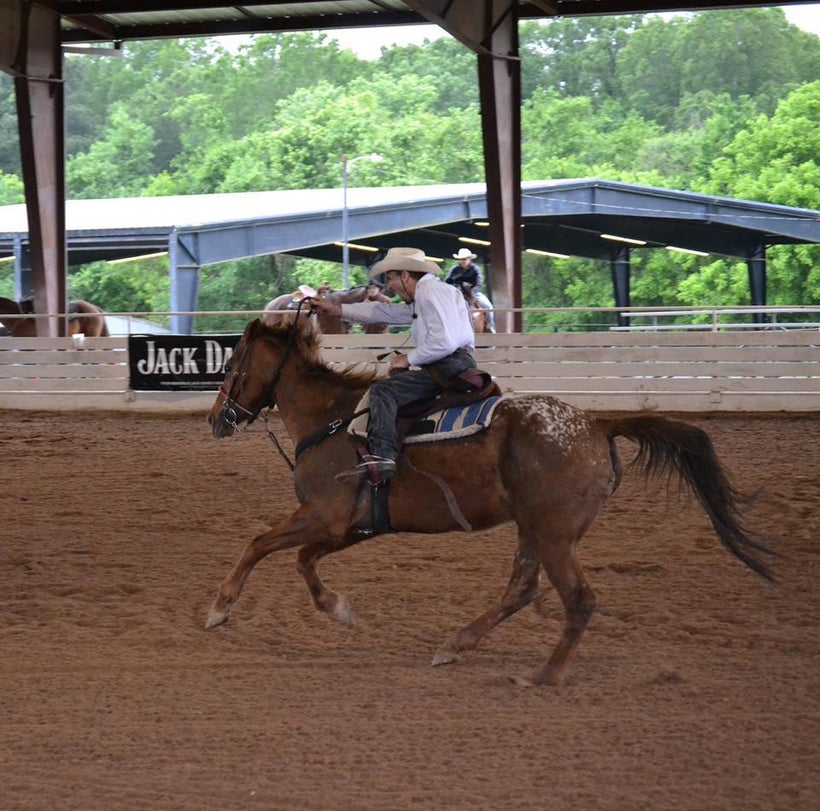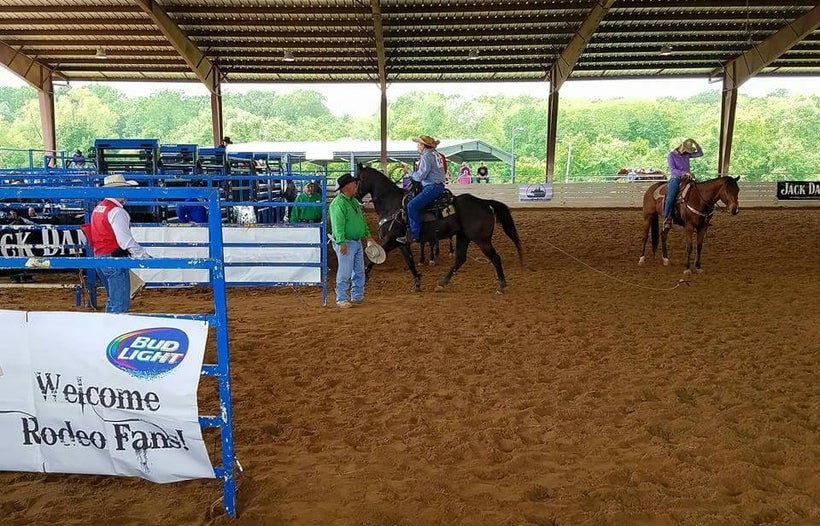 (This article originally appeared on The Huffington Post on 5/30/17.)
For many gay men, the cowboy is something of a fantasy figure: a classic yet enduring American icon of traditional masculinity.  For others, the idea of putting on a cowboy hat, wild rag, and boots may just be an idea for a cute Halloween costume.  But for many in the LGBTQ community, the country western lifestyle is not a fantasy but rather a reality. With so much of the mainstream media focusing mainly on the lives of LGBTQ's in the big cities, it's easy to overlook the ones who live in rural areas, and/or the ones who embrace the country-western lifestyle and the timeless sport of rodeo.  It may even be a surprise for many to learn that there is indeed a vast and thriving gay rodeo community, bonded by their love of horses and of the great outdoors.  The community may be spread out from coast to coast, but it is indeed a tight-knit family: Many men and women travel throughout the country from one event to another— to network, make new friends, compete, or just watch the high-spirited action from the stands.  As we see 2018 on the horizon, social media and websites such as Homorodeo.com have made it easier for rodeo aficionados in every state to connect with each other— but the sport itself has largely maintained its classic traditions through the decades.  Gay rodeos are weekend-long events, complete with pre- and post-rodeo parties, vendors… and, of course, lots of handsome men in cowboy hats and boots!
Founded in 1985, The International Gay Rodeo Association (IGRA) is the sanctioning body for gay rodeos held throughout the United States and Canada. They are the largest group which coordinates rodeo events specifically welcoming lesbian, gay, bisexual, and transgender participants as well as their straight allies. IGRA is composed of many regional gay rodeo associations,  They sanction a season of rodeo events which culminates in an annual World Gay Rodeo Finals.   In addition to spreading awareness and appreciation of rodeo and country- western culture, IGRA events raise money for a wide range of philanthropic causes.  There are currently over 20 regional associations of IGRA in North America. One of them is the Keystone State Gay Rodeo Association (KSGRA), representing Pennsylvania. Many miles (2,556 to be exact…)  from the site of the very first gay rodeo (Reno, 1976), Harrisburg will be the host city for the Keystone State Gay Rodeo Weekend this upcoming June.  Being one of the rare chapters in the northeastern states, KSGRA  gives the opportunity for those living in the concrete jungles of New York City or Philadelphia, for example, to get some much-needed fresh air… and to discover a subculture which is just as welcoming and exciting, but likely quite different from their urban gay world.
Adam Romanik is President of the Keystone State Gay Rodeo Association.  Like many of his fellow riding enthusiasts, he travels all over the country to compete and to meet up with his fellow rodeo brothers and sisters.  In anticipation of the upcoming rodeo this June, Romanik is busier than ever.   He took the time to speak to me about his own affinity for horses, the LGBTQ rodeo scene, and some of what neophytes can expect at their first rodeo:
JR: That's great to hear!  When we first spoke, you told me that you— and your horse— travel all over the country to attend rodeos.  What city has been your favorite "home away from home"?  AR: Of all of the places that I have been to, I would have to say that Chicago was the most intriguing.   I grew up in very rural northeastern Pennsylvania, and have been to many cities including New York, Philadelphia, Harrisburg, Pittsburgh, Minneapolis, Little Rock, etc.   The thing that I found so profound about Chicago was the "gayborhood".   In all of the cities that I have traveled to, I had never been in a place where the whole section of that city was known as the "gay" side of town.  It amazed me with how huge it was, with all of the restaurants, bars, and other places that were included in it.  What I also found so interesting about that situation was that an hour outside of the city, where the Windy City Rodeos were held, was country.  It was a real mix in a fairly short distance, and being there in both places really made me feel welcome.
JR: Agreed!  Chicago is one of my favorite cities too.  So… The Keystone State Gay Rodeo Association was founded in 2015.  It's one of the few IGRA-affiliated organizations in our Northeast.  What was the most challenging thing about bringing KSGRA to life? AR: One of the most challenging things about bringing KSGRA to life has been the amount of distance between spaces when planning events and fundraisers.   KSGRA represents the whole state of Pennsylvania.   We have over 70 members spread out all across Pennsylvania, but also other states including New York, Ohio, Texas, New Jersey, Maryland, and Massachusetts.  So with the distance involved, it's difficult to be able to get everyone together and have lots of help in whatever venture that we are planning.    Also, it means that being the voice of KSGRA means traveling all around the state to events, clubs, campgrounds, et cetera to get the word out about KSGRA, the rodeo, and the events that we are doing.
JR: A man in a cowboy hat is ALWAYS sexy!  But fantasies aside, many guys like myself who live in the cities want to know: What is unique about the men who live "the country lifestyle"?  Is there a different kind of personality or mindset? AR: I believe that there is a different kind of mindset for those that live the country lifestyle.  Our farms and animals are a part of everything that we do and plan.  That includes the types of places we live to the types of work that we do.  It's all based around the love of our animals.  There is a lot of hard work and labor that goes into taking care of animals.  Whether we are doing things locally or traveling away to rodeos, a lot of planning, time and hard work have to go into the whole operation.
JR: Along those lines: Many people see cowboys as sex symbols— the epitome of traditional masculinity and strength.  What do you personally find attractive in a guy? AR: I find all of those qualities of masculinity and strength attractive— as well as the tight cowboy jeans, boots, and a hat.  For me, I also find anyone that has a heart for animals a quality that is extremely attractive.  Animals can't talk, but their eyes and other body language say a lot.
JR: How true.  So, a lot of people may wonder about how gay rodeos are looked upon by the rodeo world at large, particularly in the "red" states.  Have you had any negative experiences as a gay man and as a leader of a gay rodeo association? AR: I have had some negative experiences.   I can remember a few times when going after sponsors, or trying to network in the community, of not receiving phone calls or e-mails back.  I had one business actually who said they would sponsor us, wrote out the check, sent it, and then a day later contacted and said that they didn't realize that we were a gay rodeo association.  I'm not sure how they missed it, since it's in the name.
JR: That's sad.  So, on a brighter note:  For those reading this who are still contemplating going to their first gay rodeo… What would you tell them?  Or… Why should they get their tickets to the upcoming Keystone State Gay Rodeo after they finish reading this? AR: For those sitting on the fence: This event is more than a rodeo.   It's a community event for anyone that is interested in the western lifestyle and even for those that aren't.  Some of the rodeo events have been modified to be laugh-out-loud fun!  You should be prepared to see a great group of people who love to rodeo, who want to share that with you, the spectators.  The rodeo takes place both Saturday and Sunday during the day.  There are other events planned as well, including a barbecue-style dinner, line dance lessons, and a country ho-down on Saturday evening as well as a rodeo worship service before the rodeo Sunday morning.  During the rodeo weekend, there will be vendors on site as well as activities for kids— including a stick horse race, a feed bag race, and an opportunity to get their picture taken with Destiny the miniature horse.  This all takes place in one venue, under one roof.  Spectators should expect to see some rodeo events that you would expect to see at any rodeo, including barrel racing, bull riding, saddle bronc, calf roping, and chute dogging.  Some events that you will only see at an IGRA-sanctioned rodeo include goat dressing, steer decorating, and the wild drag race.  The whole event is a charity event, and a portion of the proceeds will go directly to our charity partner, Alder Health Services, in Harrisburg.  Alder Health Services is a non-profit organization that improves the health and well-being of individuals living with HIV/AIDS and members of the LGBTQ community, by providing a culturally competent and affirming environment that empowers the people we serve.
JR: Sounds great!  Thanks again for speaking with me, Adam!
The Keystone State Gay Rodeo rides into Harrisburg, Pennsylvania, from June 23-25, 2017.  All are welcome.  Visit www.KSGRA.org for tickets and more information.