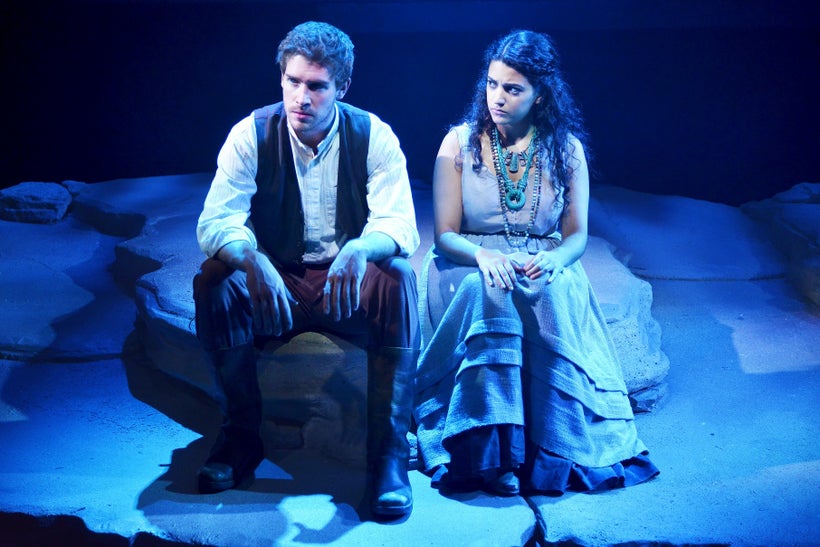 (This article originally appeared on The Huffington Post on 11/6/17.)
Born in New York City in 1859, Henry McCarty adopted the name "William Bonney"… but became both famous and infamous as the outlaw Billy the Kid. For over a century, the gunslinger's status has been cemented in American history and pop culture— as evidenced by the large number of books, movies, and songs created about his life. He was viewed as a hero by some, as a villain by others, and even as a "victim of circumstance" by a few. What is rarely argued is that Billy the Kid was killed in 1881 in New Mexico Territory, at age 21… and even that has been disputed. We do know that he killed eight men. Must, a new drama playing at New York City's Theater at St. Clement's, makes a point of having Billy the Kid himself (Brendan Dooling) tell us that he was indeed a "killer"… but definitely not a "murderer".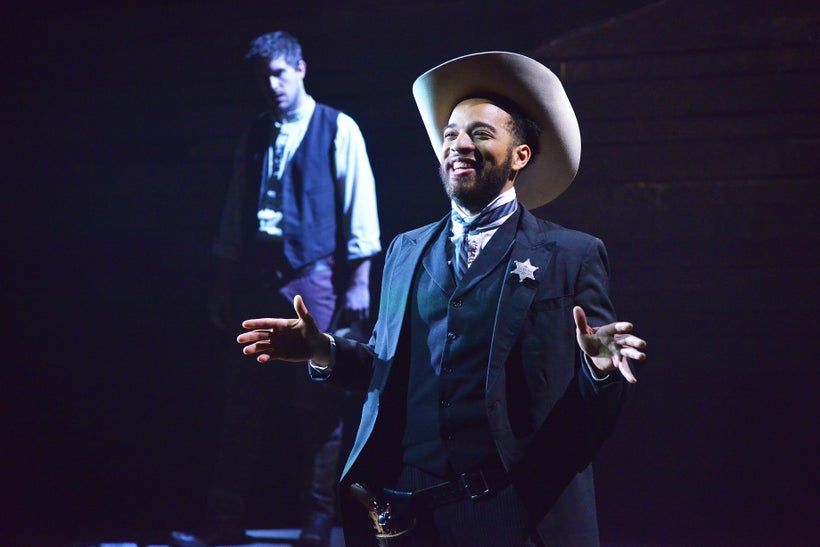 Billy the Kid's own words, in fact, form the basis of Must. Written by Charles Cissel and directed by Gabriel Vega Weissman, the play takes a personal look at one of America's most analyzed yet most enigmatic historical figures. The play is set in in the Wild West: a distinctly American world of the past which had its own unwritten traditions, laws, and moral codes. Knowing when to whip out your gun was an essential instinct. Loyalty between friends— usually codified by only a strong handshake— was mandatory, often to the point of determining survival versus death. As many who have studied Billy the Kid learned, however, loyalty did have an expiration date— particularly in the case of friends Billy and Pat. That "Pat" is Sheriff Pat Garrett (John Clarence Stewart), the first character we actually meet in Must— complete with white cowboy hat and the familiar sheriff's star badge. Garrett greets his already notorious friend with "You smell of gun powder… again! Another beer?!" The two drink hard, and live every day as if it's their last— because, in the Wild West, you never really know if it may be. Unfortunately, these two friends get caught in a bad bro-mance, Old West style.
Cissel's Must, however, doesn't aim to be all-inclusive story of Billy's turbulent but short life. This experimental drama, which spotlights Billy the Kid's last day alive, is driven by words rather than action. Characters from the Kid's past appear, either as flashbacks and/or as apparitions. They include his long-suffering mother Catherine (Sally Ann Triplett), his passionate girlfriend Louisa (Meredith Antoian), and a mystery man who may or may not be his father (Mark Elliott Wilson). Billy's mother retains her protective nature ("I want to help you!…" she passionately begs.), but also asks her son for some type of understanding and closure. Billy is not quite as accepting of her. ("You are asking me for forgiveness?… I can't GIVE you forgiveness… Life is unforgiving!" he responds.) We then meet Louisa: a high-spirited, dark-eyed beauty who offers our anti-hero some reflective, tender moments while bringing out some rare gold nuggets of gentleness from him as well. The fifth character in Must is an unnamed middle-aged man: a hard-drinking roamer who can go from amusingly affable to tempestuous faster than you can say "Who's your daddy?" This may be Billy the Kid's last day on the physical earth; but for this troubled soul, it may also be the first moment of true clarity in his 21 years. Along the way, revelations come into consciousness, and the outlaw contemplates his own past as well as his future. He even ponders the choice of leaving "the life"… before history ultimately makes another choice for him. As the play progresses, the character of Pat Garrett is slowly transforming as well. The same intense, overpowering persona that we saw in Stewart's Garrett in the opening scenes continues as the sheriff becomes an unhinged "man on a mission". That mission is the desire to make a name for himself, an identity separate from his famous drinking buddy. As history has proven, however, that goal ultimately backfired in a big way.
Must is propelled by the intense acting. As Pat Garrett, John Clarence Stewart rivals Brendan Dooling's Billy the Kid for the spotlight. At one point, the two friends-turned-adversaries face each other on stage, and the audience sees both of them in profile. The polarity between the two men as they stare each other down is intense: Both are striking to look at, but are contrasting: one has a sharply defined face and a transparent psyche; the other is fine-featured and simmering with ominous thoughts underneath his cowboy hat. Stewart's acting, in particular, seems perfectly suited for the stage. As he gazes into the audience, his huge eyes alone say a million words. As Billy the Kid, Dooling is brooding and quietly charismatic. The supporting cast is equally magnetic, with Mark Elliott Wilson's character adding some occasional moments of fragile levity.
Wild West history "purists" may balk at the significant artistic license taken with this interpretation of Billy the Kid's life story— particularly the last scene. And, as mentioned before, Cissel's play is more about dialogue than about actions or plot— which may be off-putting for audience members expecting a more so-called "traditional" dramatic structure. Overall, however, the creators of Must realize that to truly understand any larger-than-life character (whether real, fictional, or somewhere in between thanks to decades of lore…), you have to let them speak in their own words. In this case, words indeed speak louder than actions.
Charles Cissel's Must, produced by Bruce Willis and The Burgess Group and directed byGabriel Vega Weissman, continues through Sunday, November 19th at The Theater at St. Clement's, 423 West 46th Street, New York City. Visit www.MustThePlay.com for tickets and more information.