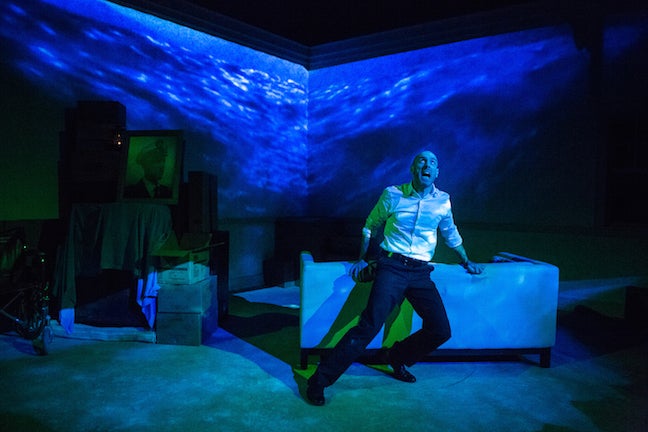 Pericles is arguably one of William Shakespeare's most underappreciated (and under-produced…) works, with a historical backstory that rivals the ancient adventure tale itself. It's also one of the Bard's most polarizing works, with many of Will's fans having a love/hate relationship with the play. As critics have pointed out, reading and interpretingPericles is not always smooth sailing. There are a seemingly infinite number of subplots, and some rough waters of dialogue that are hard to navigate through. Pericles: Born in a Tempest, a new version courtesy of Hunger & Thirst Theatre and the Guerilla Shakespeare Project, takes the author's meatiest bits and recreates the story as a transcendental adult fairy tale. The creators and cast indeed honor Shakespeare's original vision, complete with the Bard's genuine dialogue in all its deliciously quaint glory. But through this new re-imagining by creator/director Jordan Reeves, THIS Periclestakes on a vibe that's both fantastical and heart-tuggingly real for 2017. The piece is accented with humor and performed with zest by a young cast of five, all playing multiple roles. Reeves lets the child-eyed imaginations of its modern day characters run wild, and the actors really seem to be having fun playing them. Despite the treacherous waters we occasionally encounter in Pericles' ancient world, the audience will want to dive right into the fantasy as well.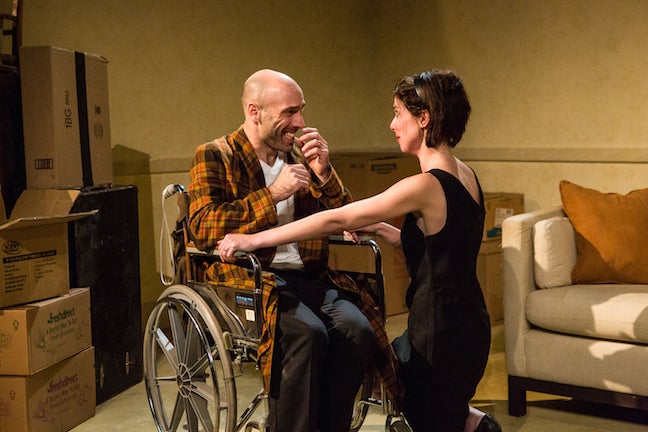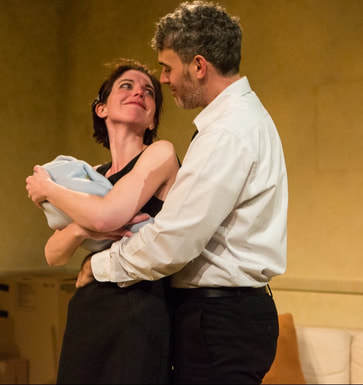 The first character we meet in Pericles: Born in a Tempest is a young woman (Patricia Lynn) who's very pregnant but also very despondent: She's visiting her wheelchair-bound, silent father (Jacques Roy), who's in an advanced state of dementia. From the window, we see a storm a-brewing. Fast forward to the next scene, and the rain and wind continue unabated. But now, the young woman is a new mother of an infant— and her elderly father has apparently succumbed to his illness. With her kind husband (Jordan Kaplan) and the baby's aunt and uncle (Kathryn Metzger and Tom Schwans) by her side, the grieving family goes through the post-funeral rituals. That includes cleaning out her father's house, and one of the items they find is a book: "Pericles: Born in a Tempest". With a huge vintage portrait of her father looking back at them from the wall, the husband begins reading from the book, starting with narrator John Gower's intro:
" To sing a song that old was sung, Imagined ancient Gower is come;
Assuming man's infirmities, To glad your ear, and please your eyes.
If you, born in these latter times, When wit's more ripe, accept my rhymes.
And that to hear an old man sing, May to your wishes pleasure bring.
I life would wish, and that I might, Waste it for you, like taper-light…
the true tale of Pericles!"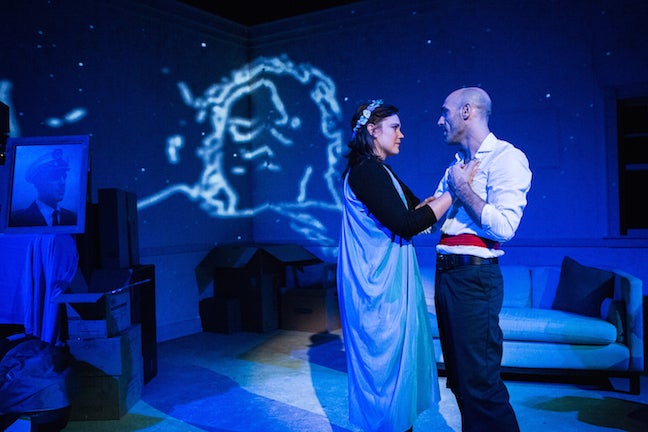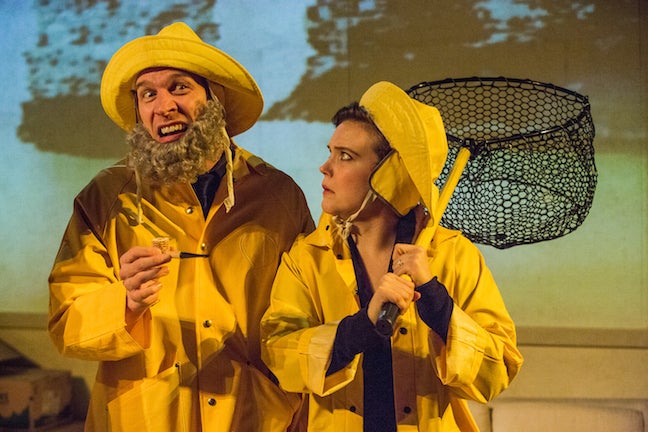 Of course, there's a perfectly-timed power outage… and before you can say, "This ain't your Daddy's 'Pericles'!", both sets of couples are drawn into a parallel universe of the ancient Mediterranean, guided by Kaplan's reading of the best scenes of Shakespeare's tale. Jacques Roy soon reappears as a young reincarnation of the famous Prince of Tyre. Our Pericles has just fled Antioch and finds himself in Tarsus, a city besieged by famine. Pericles gives the governor of the city, Cleon, and his wife Dionyza grain from his ship to save their people. He then moves on to Pentapolis, where the charismatic prince wins the affections of Thasia, daughter of "the Good King Simonides". There's a jousting match with a "dark knight" (In a piece of pop culture camp, their fight is set to the famous Batman TV show theme— complete with the "Bam!', "Pow!", "Whack!", etc…), and Pericles wins the princess' hand in marriage. Sadly, Pericles' new marriage isn't made to last. Thasia tragically dies at sea during a tempest… but not before giving birth to a girl, appropriately named Marina.
Up until this point, the grieving mother played by Patricia Lynn has been quietly watching the goings-on— silent, except for her huge eyes which speak volumes even when she doesn't say a word. But in the second half of this show, she gets transported into the action herself in a big way. Lynn now embodies Marina, who has grown to become a striking young woman. Pericles departs to reclaim his rule of Tyre, leaving his daughter in the care of old friends Cleon and Dionyza. But thanks to their resentment of Marina's beauty, the deceptive couple soon plot to murder the princess. Marina gets "rescued" by a group of pirates, only to find herself sold into prostitution. The scenes in the brother —run by the seedy team of Pander and Mistress Bawd— are played with over-the-top comedy, including a bawdy gender-bending touch would make Shakespeare proud. Marina, however, resists the attempts to have her virginity sold, and escapes "the life" by convincing her clients (including the politician Lysimachus, who visits the brothel incognito) to stay virtuous.
As the play alternates between the ancient world and 2017, the young mother we met in the first scene slowly starts to see some haunting parallels between herself and her metaphysical counterpart Princess Marina. Ultimately, there is a happy ending for father Pericles and daughter Marina, true to the original Shakespeare story. The question is, will their characters in 2017 meet a similar form of closure?
Bolstered by the creative adornment of music, sound effects, lighting, and projections, the modest space of the West End Theatre is transported into Pericles' world surprisingly well. Just what is the creative team trying to teach us with this version of the Bard's story? Is it a statement about the everlasting power of the printed word? A testament to the century-spanning might of Shakespeare? Or, maybe, it's a reminder that imagination can be the greatest medicine. Indeed, both Hunger & Thirst Theatre and the Guerilla Shakespeare Company prove that imagination— with a good dose of creative passion— can go a long way in reinventing a classic.
Pericles: Born in a Tempest continues through Saturday, November 18th at West End Theatre, the second floor of the Church of St. Paul & St. Andrew, 263 W. 86th Street, New York City. Visit www.HungerAndThirstTheatre.com for tickets and more information.