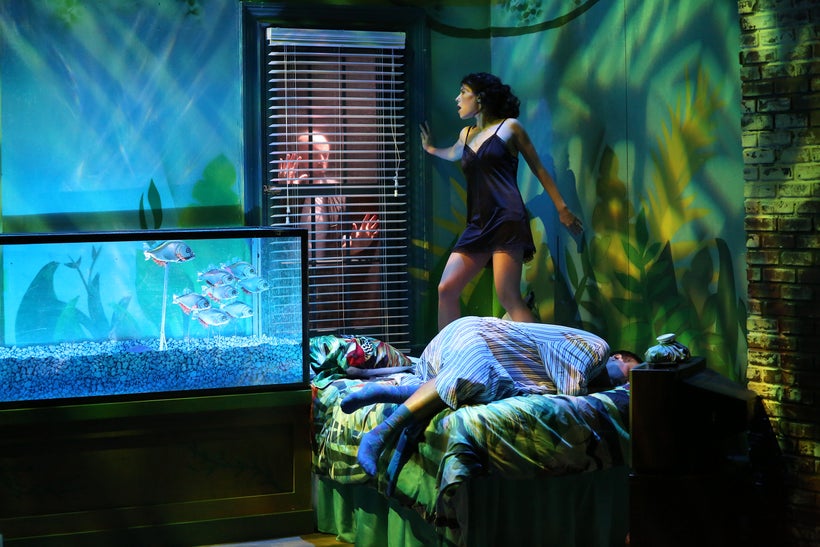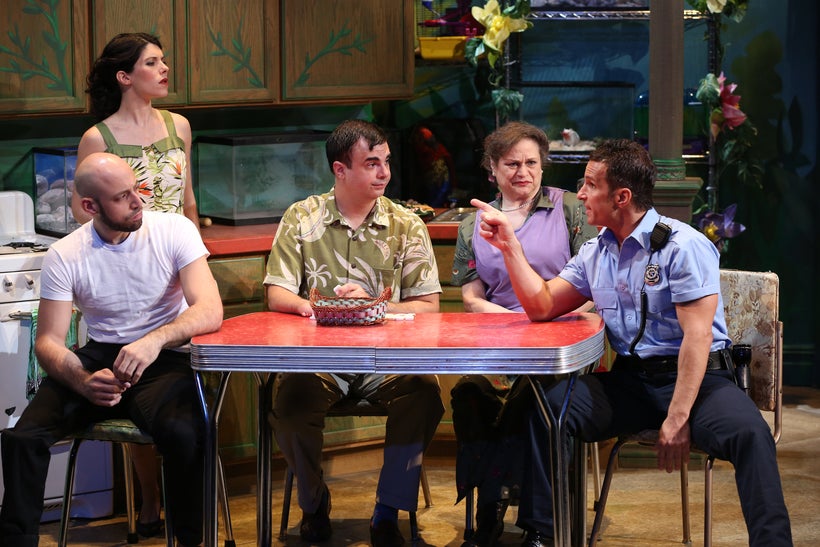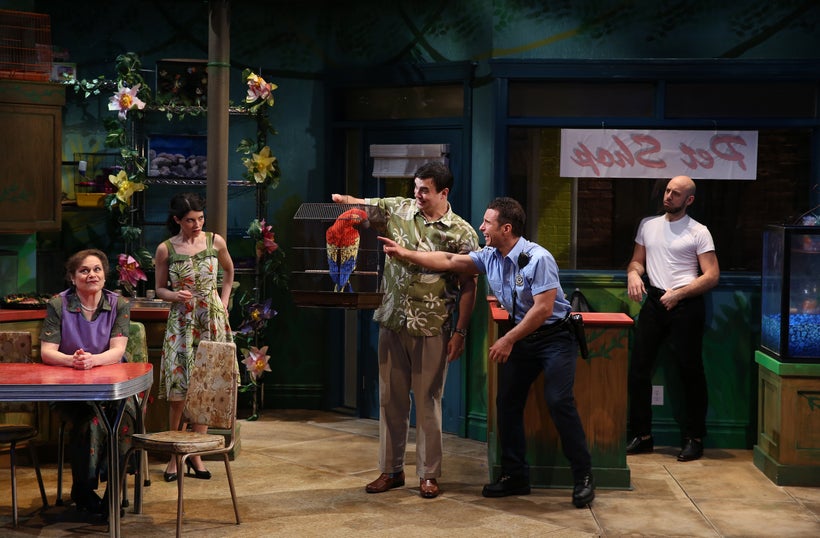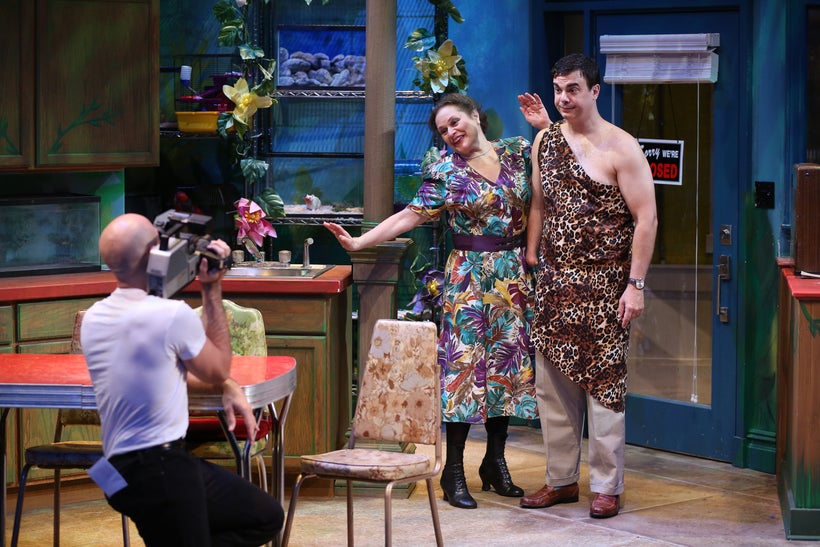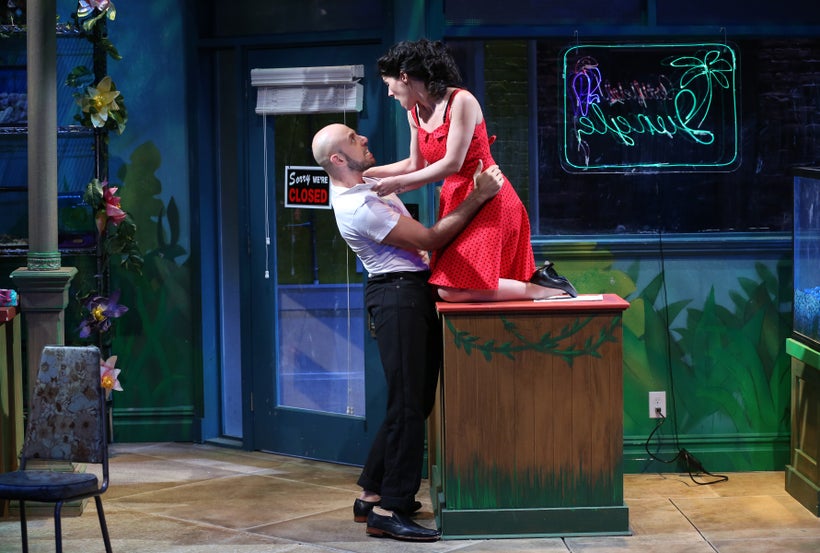 (This article originally appeared on The Huffington Post on 6/7/17.)
Charles Ludlam is a true icon of the New York City theater world: a playwright, director, and actor who boldly followed through on his own renegade artistic visions. Among other accolades, Ludlam was a six-time Obie Award winner. Breaking the rules of both gender and genre, he was clearly a creative inspiration for future artists and fellow gay icons such as filmmaker John Waters and playwright/performer Charles Busch. Ludlam wrote 29 full-length plays, one of his last being the comedy The Artificial Jungle in 1986. Thirty years after his passing, and 50 years after the founding of his Ridiculous Theatrical Company in 1967, Ludlam's over-the-top queer spirit and in-your-face style is still alive and kicking in the New York City theater world, thanks to Theater Breaking Through Barriers' new production of The Artificial Jungle, directed by Everett Quinton. The play, a parody of film noir set in a low-rent Lower East Side pet shop, is enjoying its first off-Broadway revival ever at The Clurman Theatre on New York City's famous 42nd Street Theater Row.
Almost immediately, the audience knows that they are in for a garishly grandiose experience. Set designer Bert Scott's attention to detail ("MICE- $1!") is beyond impressive. Before a single actor even appears, the stage already seems alive— complete with a tank of hungry piranhas staring back at us and noisy birds squawking away. We almost expect the large-leaved plants in the background to start talking or singing, a la Little Shop of Horrors. And indeed, the horrors come soon enough in this little shop— along with the laughs. Being a Ludlam play, we can expect no less than a batch of colorful characters (as colorful as the "Platycercus eximius"—That's Latin, kids!— which adorn the pillowcases) engaging in one over-the-top scenario after another.
Being a family business, we soon meet the family. The opportunistic store owner, Chester Nurdiger (David Harrell), uses his second-rate ventriloquism skills to trick people into buying "talking" parrots. His bored, restless wife Roxanne (Alyssa H. Chase) barely tolerates Chester's attempts at humor (also second-rate, by the way…) and can no longer stomach having to handle the slimy worms used as fish food. Also living in the pet shop/family home is the scatterbrained Mother Nurdinger (Anita Hollander), whose high-pitched nasal screeches rival those of the store's resident macaw. The day-to-day doldrums of the pet shop are disturbed by the arrival of a hunky but rough-around-the-edges stranger (Anthony Michael Lopez) who applies for a job. His name is Zach Slade (Could that sound any more like an adult film star?)… and his first appearance is enough to get the sex-starved Roxanne to long for more than just a can of Tab to quench her thirst. Zach's first accomplishment is to christen the pet shop "The Artificial Jungle", complete with a swanky new fluorescent sign. His second is the seduction of Chester's restless wife with such romantic lines like, "It isn't easy for me… going home to the flophouse every night, laying on the bed counting the cracks in the ceiling and the roaches in the cracks, trying to think of something else while all the time I can still smell you on me!" Roxanne retorts with equally classy dialogue such as "I didn't get these lips from sucking doorknobs!" Rounding out the cast is the handsome but clueless cop/family friend Frankie Spinelli (Rob Minutoli).
Before you can say "malachite green", Zach and Roxanne are soon planning to murder Chester, collect the insurance money, and run away together— a la The Postman Always Rings Twice and Double Indemnity. But Postman's Cora and Double Indemnity's Phyllis didn't have the fortune of having a tank of piranhas on hand. The two jungle lovers soon learn that murder is never easy (Chester has more lives than a stray cat.), but getting away with it is even harder. Crazy s**t starts to happen, including but not limited to Lady Macbeth-style guilt, hallucinations, and a mute witness who is hellbent on revenge. Frankie the cop suspects that something suspicious is going on— but sadly, he's more brawn than brains, proving to be just as oblivious as the other characters.
The Artificial Jungle is lovingly and faithfully directed by award-winning actor/playwright Everett Quinton, who was at various times Mr. Ludlam's life partner, muse, and fellow provocateur in The Ridiculous Theatrical Company: Quinton co-starred in the original 1986 premiere of Jungle and was the Artistic Director of The Company from 1987 to 1997. The energetic, dedicated cast seems to be having as much fun as the audience. All of the players excel at both the faced-paced physical comedy as well as with their dead-on delivery of the script's endless comedic torpedoes, fired so fast that the audience often doesn't see them coming.
One of the characters suffers an untimely ending that would make the killings in Jawsseem merciful. Luckily, the audience of The Artificial Jungle is likely to suffer a more enjoyable fate: Death by laughter.
The Artificial Jungle runs through July 1 at Theatre Row's Clurman Theatre, 410 West 42nd Street, between 9th and 10th Avenues, New York City. For tickets, call 212-239-6200 or visit www.Telecharge.com. For additional information, visit Theater Breaking Through Barriers' site at www.TBTB.org.