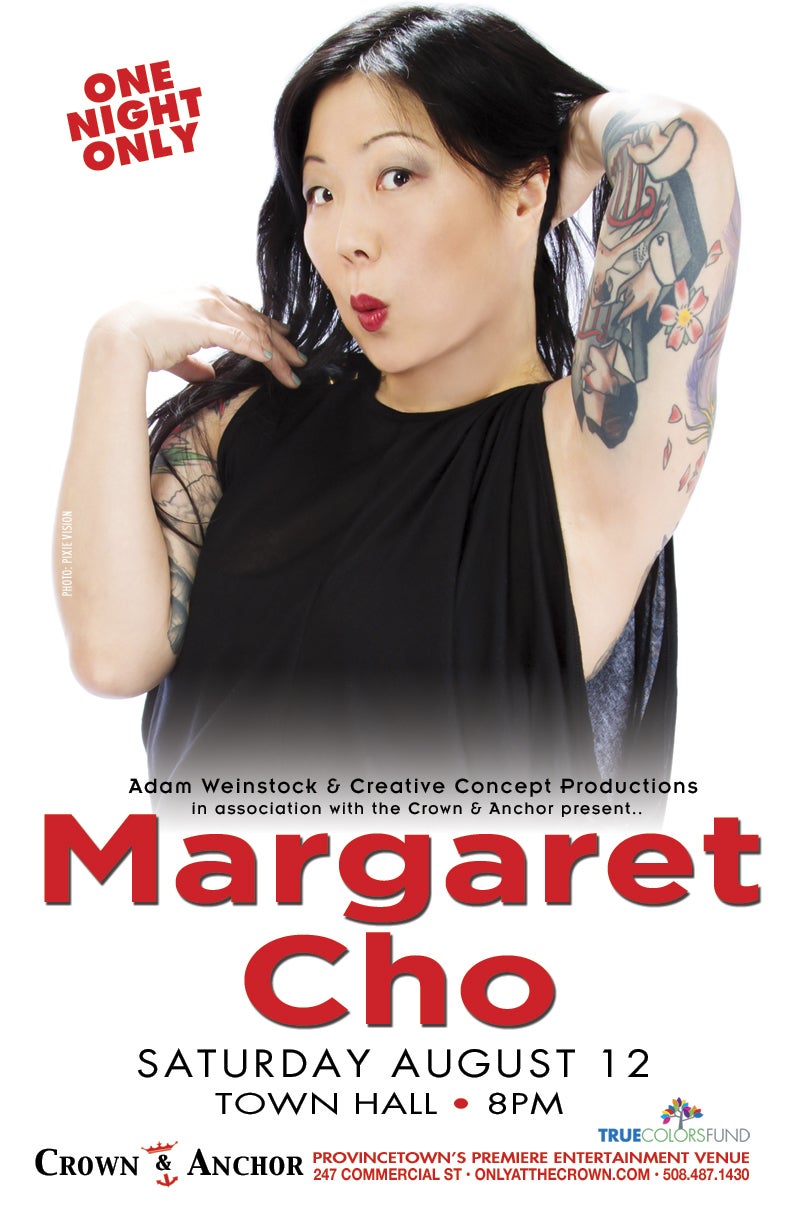 (This article originally appeared on The Huffington Post on 8/10/17.)
Provincetown, Massachusetts is known throughout the world as a gay and lesbian hotspot. It's famous for its beaches, art galleries, shopping, nightlife, and even its legendary cemetery. P-Town is also known for Carnival Week, an annual celebration which promises enough outrageous eye candy to sugarcoat your designer sunglasses. The theme for Carnival 2017 is "Gods and Goddesses"… so who could be more fitting to kick off the week-long festivities than the divine Ms. Margaret Cho? The multi-hyphenate entertainer (comedian-actress-fashion designer-author-singer-activist-pot stirrer) is coming to the gay paradise for (cue Dreamgirls soundtrack…) "one night only" at Provincetown's famous Town Hall on Saturday, August 12th. Cho's smart and sassy brand of humor couldn't be more timely as we approach the last few months of a turbulent year. As her fans know, Ms. Cho is not afraid to joke about sex, politics, race, or anything in between. In fact, this rebel with a cause is declaring that ALL subjects are fair game. When I ask Cho if there are any subjects that are "off limits" in her comedy, she responds with an emphatic "No!" She adds, "I do a big exploration of my mom talking about the AIDS crisis, which I think is something that we as a family faced and hadn't really dealt with out in the open. That's a big part of the show. I think that's really important. We should be able to talk about ANYTHING!"
After Provincetown, Margaret continues her "Fresh Off The Bloat" tour throughout the remainder of 2017, with performances from coast to coast. She'll then bring her show to Europe. Margaret took the time to speak with me about such topics as Trump, Kathy Griffin, and being a gay icon… as well as a teaser of what fans can expect at her P-Town show this Saturday:
JR: Hello, Margaret. Thanks for speaking with me!
JR: So, I know that you're no stranger to Provincetown! Screw Disneyland… I've always believed that P-Town is really "The Happiest Place on Earth"!
MC: Oh, God, it really is! It's so fun. When I go there, I'm always in tune with what's happening in town. I'm a real townie. I run around with Ryan Landry off season. I was there all through the winter. It's crazy and I just love it. I'm always trying to get everyone to pitch in for a funeral plot there for when I die, just to have a sundial! (Laughs)
JR: (Laughs) Wow! So, like any good burlesque performer, we don't want to give too much away. But what surprises do you have in store for your fans who are coming to see you in P-Town this weekend?
MC: A lot of it is about Trump. It's hard to understand, especially now with his transgender forum on the military. This is like "Guillotine!" He can't make decisions like that, because he's never been in the military, he's never done boot camp, he's never been anywhere NEAR a boot camp… so I don't see how he would be able to speak on who should be there. Certainly, it's a real insult to the 15,000 active trans people who are serving. It's like, what the hell?! It was a very weird decision out of left field that makes no sense… but nothing he says makes any sense. So what I'm gonna do is try and make sense out of what's happening!
JR: Right! Now, it seems that politics has actually become a lot like comedy. It seems nowadays that, like as the song says, "Anything goes!" Do you think that our culture has become unshockable?
MC: Well… Yes! Especially when it comes to this particular issue: whether it's Trump's actions, or any of his staff, or anything he says. It's all of that! I look back at George W. Bush, and some of the things he said actually aren't so bad compared to what we're dealing with now! I'm almost looking back fondly at both Bush administrations, which is definitely scary (Laughs).
JR: That IS scary! (Laughs)
MC: And so, as with comedy, anything goes as well! We were going through a period where people were very quick to defend it, especially on social media. And now it is kind of like the stakes are raised… like with Kathy Griffin getting in trouble for holding up Trump's decapitated head, which I thought was very "hashtag TBT French Revolution"!She got in a lot of trouble… but I always get excited when Kathy gets fired, because I'm next in line! (Laughs) I'm blowing up Anderson Cooper's phone: "What are you doing for New Year's, girl?"(Laughs) Kathy's my friend. I really love her… and I don't understand why a joke like that is so offensive when there have been millions of threats and similar visualizations from this particular administration as well. I don't know what it's about!
JR: We have a President who talked about grabbing pussy, and the invention of "alternative facts", and a former White House appointee who talks about sucking his own cock. As a comedian, it must be hard to compete with that!
MC: It is! We'll see. It's so weird. I'm hanging on to all of the great protests. The Resist March was amazing. I love seeing all the women's marches all over the world. It's really powerful. So, something good is bound to happen!
JR: Agreed! So… You've always been such an unapologetic advocate for LGBTQ rights. I remember how back in 2005, you performed at an event called Wedrock, which was a benefit for marriage equality. The idea of the legalization of gay marriage seemed so "pie in the sky" at that time, and now it's a reality!
MC: Yeah! That was crazy. That was fun!
JR: Lately, within our community, there's been a lot of discussion about "cisgender male privilege" and "white male privilege" on social media and elsewhere. Many minorities feel left out, or feel that their voices are not being heard. As an Asian-American woman and a gay icon, what are your thoughts on that? How can we all come together for the greater cause?
MC: There has to be a way where we come together. We need to point out disparity. We need to ask, "What is minority status?" and "What is power?"… That's certainly always been my excuse. I always play the race card, and the gay card, and the woman's card. I play all the cards! (Laughs) Outrage definitely has its place in comedy too. We do have to come together in ways that are going to help us. This is a very difficult time!
JR: After Provincetown, you're continuing on a very extensive tour. One of your stops is in Edinburgh at a venue called "The Queens Hall". Given your audience, that's a series of one-liners in itself!
MC: Yes! It's so fabulous. I love Edinburgh and it's great to be able to go there. Whenever I play other countries, I always feel so fabulous as a patriot. It's really awesome. I love that. Yeah, Edinburgh is a lot of fun. We're touring all over the world. We're going to Dublin, which I have not been to yet. It's exciting.
JR: What city are you looking most forward to?
MC: I love London. London is always a real favorite for me. It's really magical. I fell in love with British new wave… so I'm going to Sheffield, home of The Human League! (Laughs)
JR: (Laughs) Ahhh… 80's flashback! So… back to Provincetown! When you go there, especially in the summertime, do you ever feel, "(SIGH!) Oh my… I'm surrounded by all these scantily clad, hot men… and none of them like girls!"?
MC: No, no, no! It's great! It's always been that way. (Laughs) I always feel so safe, and it's always hilarious and so fun. I love it!
JR: Gotcha! Anything else you want to tell your fans?
MC: Well, I am glad that we can have hope, and that we have each other, and that we have activism, and that we have protests. It's going to be OK! History is on our side. It's a really important time and a great time… and we know we'll always win! Every time we grow, there's gonna be a challenge, and we have to meet it. And that's great!
JR: How true! We're living in scary but exciting times! By the way, how fitting that you're kicking off Carnival Week in Provincetown. It looks like it's gonna be "The Greatest CHO on Earth"!… Oh my God, that was corny! That's why YOU'RE the comedian!
MC: (Laughs) No, I love it! By the way, I haven't figured out my costume yet… but It's gonna be great!
JR: No doubt! Thanks again for speaking with me, Margaret! See you on tour!
Adam Weinstock and Creative Concept Productions in association with the Crown & Anchor present Margaret Cho at Town Hall, 247 Commercial Street, Provincetown, MA, on Saturday, August 12th. Cho-time is at 8PM! Visit www.MargaretCho.com for tickets, more tour dates, and much more. Also visit www.OnlyAtTheCrown.com!